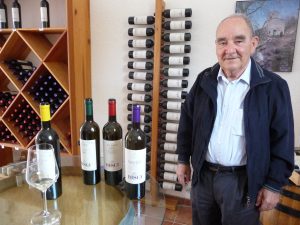 It was December of 1998 when the client came knocking on Bisci's doors. He wanted wine, naturally, but not just any. He wanted young wine, vino di annata. But at that time, Bisci didn't release their Verdicchio until two years after the harvest. Giuseppe Bisci sent him off empty-handed, but he was perturbed. The high-elevation, calcareous clay soils of Matelica, his mountainous home, didn't make just quaffable wine for everyday consumption– it was capable of much more! The combination of continental climate and their Verdicchio grape produced wines of intense complexity and minerality with a backbone of acidity that allows it to age for many years– something more or less unheard of in Italian white wine at the time.
Giuseppe Bisci, feeling challenged after this exchange, said immediately to his cellar master Aroldo Bellelli, "let's make a wine for the next client who asks for vino d'annata so we can tell them that we make Riserva and it is released only after seven years of aging!" Thus, Senex Verdicchio di Matelica Riserva DOCG was born.
---

---
A selection from the oldest Verdicchio vines in Bisci's original Fogliano vineyard, Senex Verdicchio di Matelica Riserva DOCG 2015 was fermented and aged 48 months sur-lie in cement tank, and then rested another nine months in bottle before release in 2020. Winner of Italy's prestigious Tre Bicchieri award for 2021 and blessed by Vinous with 93 points as "a pretty and pure special expression of Verdicchio," it doesn't want for praise. In fact, it's easily one of the most special (and age-worthy) expressions of an indigenous Italian variety in our portfolio.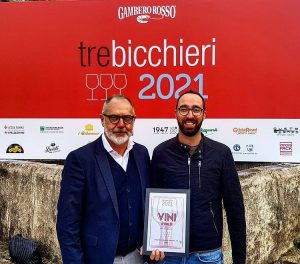 But Bisci isn't only Senex. The Fogliano vineyard, planted in 1978, also produces the Verdicchio di Matelica 'Vigneto Fogliano'. It was first made in 1988, ten years after planting, to strike the perfect balance between richness, freshness, and maturity— both of fruit and bottle age. It's aged for fifteen months sur-lie and rested three months in bottle prior to release.
If Senex is the elder statesman that shows the aging potential of Bisci's terroir, Fogliano is the cuvée that elevates Matelica to the grand cru status that it deserves! Of the 2018, currently available, Eric Guido of Vinous writes, "there's really so much to like here," awarding it 92 points.
To discuss the "entry-level" wines of the estate is at best misleading. They are great wines in their own right! Many learned this last year when Gambero Rosso chose the 2018 Verdicchio di Matelica as the estate's prestigious Tre Bicchieri winner for 2020. And of the 2019 vintage (currently in stock), Eric Guido of Vinous said "All is in perfect balance here," and made it a Vinous Favorite selection with 90 points. This demonstrates how Bisci's interpretation of Matelica terroir punches far above its weight class. Minerality, complexity, and acidity find perfect harmony. Like the other wines, it is vinified in cement tank though it rests only a few months before bottling. Lastly, the winery's IGT Marche Rosso, an estate blend of Merlot with a touch of Sangiovese, completes the lineup; it's fermented in stainless steel and aged in cement tank before release.
We proudly welcome Bisci to our portfolio in California, and celebrate our long collaboration in New York, New Jersey, Connecticut, Ohio, Kentucky, and Indiana!
The Wines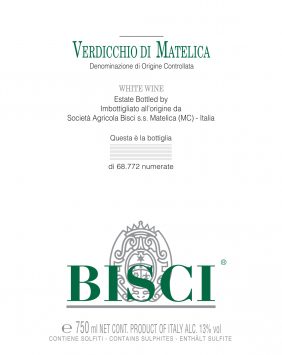 100% organic Verdicchio from estate vineyards
Bisci is tucked into the Apennine mountains of Le Marche
Calcareous clay soils with a southern exposure
Fermented and aged in glass-lined cement tank
1982 First Vintage
Approximately 5,500 cases produced annually
Honied florals, honeydew melon, crisp yellow apple and hints of citrus set the stage for soothing textures that balance ripeness of fruit against stimulating mineral tones. There's a sweet-and-sour sensation here that creates further intrigue, as well as lending a drink-me-now persona to the wine. All is in perfect balance here.90 Points, Eric Guido, Vinous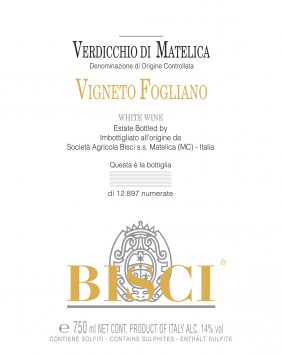 Verdicchio di Matelica 'Fogliano', Bisci
100% organically cultivated Verdicchio
Entirely from the four hectare Fogliano cru vineyard
Fogliano was planted in 1978 – vines now 40 years old
300-350 meters above sea level
Calcareous clay soils
Fermented in glass-lined cement tank
Aged sur-lie for 15 months, and refined 3 months in bottle before release
First vintage 1988
1000 cases produced on average annually
The 2018 Verdicchio di Matelica Vigneto Fogliano is floral and elegant, showing yellow and green citrus, with wonderfully pure ripe melon and a hint of raw honey. Its medium weight hosts silky textures which are perfectly matched by ripe stone fruits, with saline-minerality adding complexity and grip, while riding a core of stimulating acidity. There's really so much to like here. Its body, richness and primary fruit speak of the calcareous clay soils these vines grow in, at an elevation between 300-350 meters and with a full southern exposure…It's a gorgeous wine.92 Points, Eric Guido, Vinous
Verdicchio di Matelica Riserva 'Senex', Bisci
100% Verdicchio from the oldest vines (forty years, planted 1978) in the Fogliano vineyard
Picked with the highest possible acidity while attaining phenolic ripeness
Fermentation in glass-lined cement tanks
48 months on the lees in tank, followed by another 9 months in bottle before release
The name "Senex" means old in Latin!
Only 600 cases 6pks are produced annually
First vintage 1998
It enchants with its multifaceted nose, elegant layers of aniseed, aromatic herbs, river stones and hawthorn flowers; in the mouth it's harmonious in its gait and three-dimensional on the finish.Gambero Rosso Tre Bicchieri
The 2015 Bisci Verdicchio di Matelica Riserva Senex isn't shy, nor is it simple in any way, wafting up from the glass with a complex mix of spicy and sweet florals, dried peaches, honey and a spritz of lime. The density of its textures is remarkable, while being perfectly balanced by brisk acids and saturating minerals that linger on and on.
The Senex hails from vines that are nearly forty years old and spends four years on the lees in cement tanks before bottling, of which only 3,600 are produced. It's a pretty and pure special expression of Verdicchio.93 Points, Eric Guido, Vinous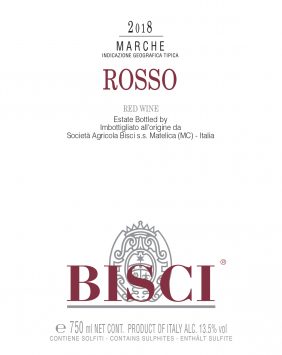 From estate vineyards planted in 2001
80% Merlot & 20% Sangiovese
Calcareous clay soils
360 meters above sea level
Fermentation and maceration in temperature-controlled stainless steel for 7 days
Aged in cement tank prior to bottling
Approximately 1000 cases produced annually
Fast Facts:
Family-run estate
Organic Certified
20 hectares of vineyards
300-360 meters above sea level
Calcareous clay soils & southern exposure
Total annual production: 100,000 bottles/year – Roughly 8,000 cases
Bisci: A Timeline
1967: Verdicchio di Matelica appellation awarded DOC status
1972: Bisci was founded in with 15 hectares
1974: Fogliano vineyard planted
1982: First bottles under the Bisci label
1992: Aroldo Bellelli joins estate as agronomist (19 years old), eventually becomes cellarmaster and winemaker
2000: Reached 20 hectares under vine
2010: Verdicchio di Matelica Riserva appellation awarded DOCG status
2013: Started conversion to organic
2014: Fogliano 2010 won Tre Bicchieri
2017: Fogliano 2013 won Tre Bicchieri
2018: Fogliano 2015 won Tre Bicchieri
2019: Official organic certification in vineyards and cellar
2020: Verdicchio 2018 wins Tre Bicchieri
2021: Senex 2015 wins Tre Bicchieri