Three Star Producer. One of only two three star grower Champagne producers, alongside Selosse.
Revue de Vin de France
Among grower-producers today, Egly-Ouriet has a reputation in the region second only to Anselme Selosse.
Peter Liem, "Champagne – The Essential Guide to the Wines, Producers, and Terroirs of the Iconic Region"
No winemaker in Champagne is more precise or meticulous, from vineyard to cellar [ . . . ] While the quality of Egly's wines is an open secret at this stage, I believe that his latest releases number among his best to date.
William Kelley, Wine Advocate
The Egly-Ouriet Champagnes are built on maniacal attention in the vineyards, vinification in oak, long aging in bottle before disgorgement and low dosage, all of which yield rich, vinous Champagnes of tremendous density and power. These wines confirm Egly's standing among the elite grower estates in Champagne.
Antonio Galloni, Vinous Media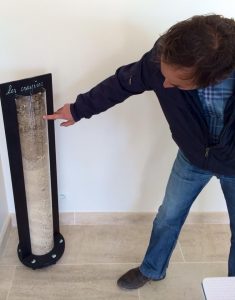 It was dusk in Ambonnay, home to some of the greatest Pinot Noir in all of France, when I pulled up to Egly-Ouriet on February 4th. Like his father Michel, Francis Egly uses every second of light to be in the vineyards, making late visits the norm here. Francis has a forceful yet soft-spoken confidence that washes over you as he conducts his barrel tastings. His words are carefully chosen and he's never one to use too much flowery verbiage in his commentary. He generally lets the wines speak for themselves, and at this historic address, they all have quite a bit to say.
Francis took over from his father in 1982, and along with his friend Anselme Selosse, was one of the first in Champagne to make 100% estate-bottled wines – foreshadowing the entire grower Champagne movement. His first steps were to improve the farming by using organic vineyard practices, dramatically reduce yields, and extend lees aging. The use of gentle and non-interventionist tactics in the cellar have also been a mainstay of his process, including non-filtration, low temperatures, and low levels of S02. Time in bottle has become an integral part of the full Egly experience, where following a vintage from the start ends up being a true test of patience. In certain vintages the wait has been downright painful – 2008 immediately comes to mind, which is a vintage that was only released in late 2019 after resting almost ten years.
After many visits with Francis in his cellar, it is rare that he goes too far in talking about the quality of the young wines during a barrel tasting. With the 2019 vin clairs, however, he was as enthusiastic as I can ever recall:
2018 is an outstanding year as well, but even with our very old vines and green harvesting to lower yields, the vintage was prolific. The fruit is outstanding and the quality superb, but the volume is nonetheless evident. Now 2019 has it all: perfect fruit, density, energy, tension, and balance. It is a truly great year. With all of the challenges that global warming has presented in recent years, it is so gratifying to have something special like 2018 and 2019 in the cellar – and some quantity to alongside the quality! This makes me incredibly happy. Now we just need to wait…
Francis Egly
Francis also previewed two new cuvées which will soon be joining his lineup. The first was a tank-aged blend from a sandy site in Trigny, right next to Merfy, in the Petite Montagne. Made from 40-year-old vines of Pinot Noir, Meunier, and Chardonnay, the first release will be the 2016 base dosed with two grams. It delivers that signature Egly vinousness in a pure, lively, fruit-driven package. The second was a stunning Chardonnay-based Grand Cru bottling from vines planted in 1902 in Verzy. This newcomer is destined to join Egly's groundbreaking Blanc de Noirs Vieilles Vignes Les Crayeres at the top of his lineup. Echoing Francis, now all we need is patience.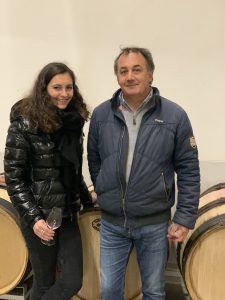 A visit at Egly-Ouriet is never complete without tasting his unique and rare Coteaux Champenois Rouge. The next two vintages of this Grand Cru Pinot Noir from Ambonnay are easily the most exciting this domaine has produced. After Francis finished talking about 2018, which in Burgundy is already getting praised as a year for the ages, he admitted that the 2019 is easily the best red he's ever made. Since the 2010 vintage, this has become one of the must-find rare Pinot Noirs from France – a wine that is impossible to compare to anything but the greats from Burgundy. Only a few hundred cases exist of this silky perfection from multiple lieu dits in the Chemins des Grandes Cotes that Francis has been curating and fine tuning over the last ten years.
Francis is the fourth generation of the Egly family to make wines in Ambonnay, and the future at Egly-Ouriet is as bright as any domaine in France. During the visit, I was treated to meeting the next generation, Francis' children Clémence and Charles. It is a thing of beauty to watch Francis taste vins clairs with them as he subtly pointed out the nuances of each barrel that we tasted, all while listening carefully to their opinions and observations. In the case of the 2019s we tasted, those conversations were centered around serious fireworks to go along with the new cuvées which will only add a new layer of luster to this already legendary lineup.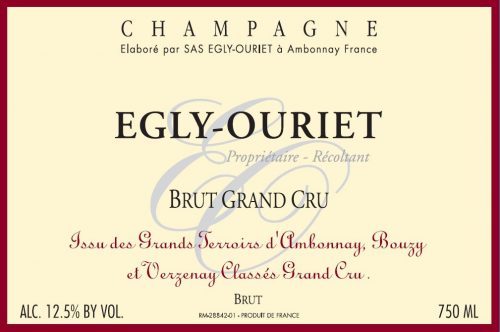 70% Pinot Noir, 30% Chardonnay
50% 2014, 20% 2013, 20% 2012, 10% 2011
From 90% Ambonnay, 10% Bouzy and Verzenay
No malo
Fermented and aged in older barrels
Aged 48 months on the lees
Dosage: 3g/L
Unfined and unfiltered
"The latest release of the NV Brut Grand Cru (which will no longer be known as "Tradition") was disgorged in June with three grams per liter dosage and is based on the 2014 vintage, complemented by reserve wines from 2013, 2012 and 2011.
Opening in the glass with aromas of warm bread, fresh peach, green apples and dried white flowers, it's medium to full-bodied, elegantly textural and layered, with refined structuring extract, a bright spine of acidity and excellent concentration, concluding with a long and precise finish. This cuvée amounts to some 50,000 bottles, effectively half the domaine's production,and it remains one of Champagne's finest values."Wine Advocate - 93 Points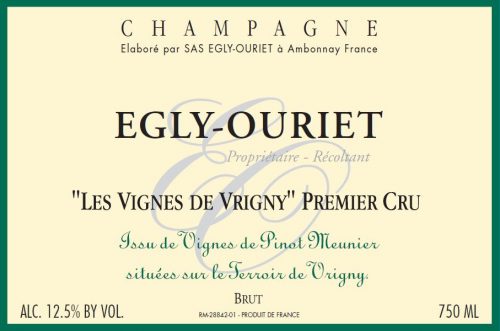 Egly-Ouriet 'Les Vignes de Vrigny' 1er Cru Brut NV
100% Pinot Meunier
50% 2015, 30% 2014, 20% 2013
From an east facing single-parcel in Vrigny
50+ year old vines
No malo
Fermented and aged in tank
Aged 36 months on the lees
Dosage: 2g/L
Unfined and unfiltered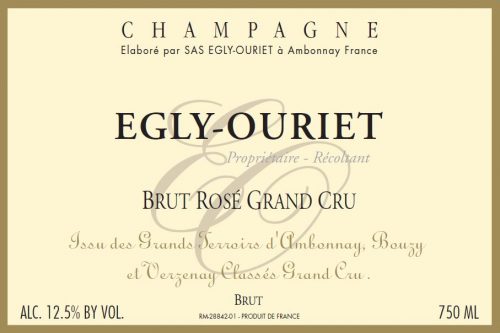 Egly-Ouriet Brut Rosé Grand Cru NV 
70% Pinot Noir, 30% Chardonnay (with still Ambonnay Rouge)
50% 2013, 50% 2012, 2011 and 2010
From 90% Ambonnay, 10% Bouzy and Verzenay
No malo
Fermented and aged in older barrels
Aged 60 months on the lees
Dosage: 4g/L
Unfined and unfiltered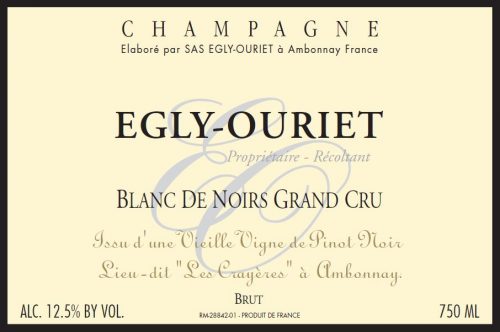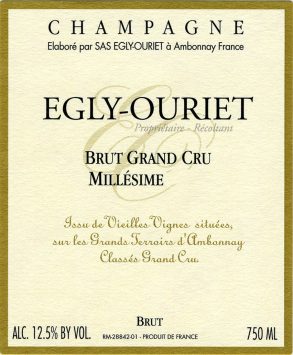 Francis Egly and I tasted a bottle trial disgorgement of the 2008 Brut Grand Cru Millésime that saw six grams per liter dosage, and the wine surpassed even my high expectations.
Wafting from the glass with scents of crisp orchard fruit, meyer lemon, praline, warm bread and walnuts, it's full-bodied, deep and multi-dimensional, with an immensely layered, concentrated core that cloaks its racy but ripe spine of acidity, abundant but refined structuring dry extract and an incredibly long, precise and sapid finish. It represents the confluence of a great vigneron at the peak of his powers with a historic vintage, and it's unquestionably the finest 2008 Champagne that I've tasted to date. Egly and I agreed that it might be even better with only five grams per liter dosage, but we'll see what he finally decides when he disgorges the wine later this year.
What is clear is that the 2008 Brut Grand Cru Millésime will be worth any and every effort to seek out once it arrives on the market."Wine Advocate - 100 Points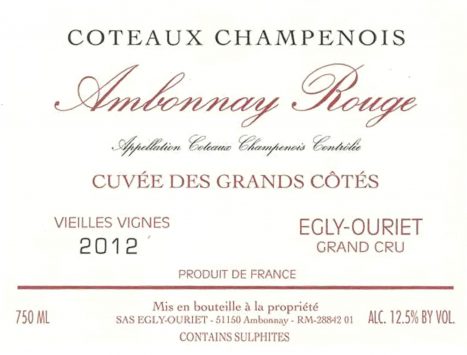 Egly-Ouriet Coteaux Champenois Ambonnay Rouge 2017
100% Pinot Noir
From a single vineyard directly below Les Crayères in Ambonnay
60+ year old vines
South facing, with more clay – a perfect site for Coteaux Champenois
Fermented and aged in barrel (30% new)
18 months in oak on the fine lees
Unfined and unfiltered