On March 2nd, Skurnik Wines & Spirits will be holding its annual Grand Portfolio Tasting here in Manhattan.
When we attempted to narrow down how many GPTs have been hosted by Skurnik thus far, an exact number wasn't immediately apparent. When, precisely, did the word "grand" become the appropriate qualifier for an event that, in the company's 33-year history, has grown from a modest affair to what attendees will experience this coming Monday?
The exhibition will encompass nearly 200 tables featuring over 1000 different bottles of wine and spirits presented by a highly coordinated team of Skurnik employees and many of the producers themselves, most of whom have traveled from all over the globe to share their stories with the 1000-plus attendees expected to join us throughout the day.
Impressive? We like to think so. Potentially overwhelming? Absolutely.
But not to worry— if distillates are your objective, you're friendly Skurnik Spirits Team is here to help.
DOWNLOAD THE TASTING BOOK HERE
First, some practical advice:
Wait a minute…

Don't forget to spit. Even tiny sips of spirits (and wine!) can add up and catch you off-guard.

Take advantage of one-on-one time with the producers. Many of these talented distillers have traveled a long way and this is a rare opportunity to hear production details straight from the source.
If possible, don't wait until the end of the day for Spirits. These tables tend to get rushed from 2–4 PM, so if you'd like to take your time chatting with the presenters, earlier in the day may be your best bet.
Don't let the wine intimidate you if it's not your area of expertise. No other time in the year will see so many delicious bottles simultaneously open and the entire Skurnik workforce will be on hand to offer recommendations. All you have to do is ask!
For those looking for more specific direction,
we've narrowed down three "tracks" to help customize your GPT plan of attack:
GPT Spirits Track 1: Visiting Before Work

Perhaps Monday is a workday. You'd like to check out the room but need to be in fighting shape come 4 PM. In that case, Skurnik has a vast array of Aperitivi/Digestivi and Low-ABV options for you to explore that won't fatigue the palate or send you directly into nap mode.
MANNEN BOSHI 25 BARLEY SHOCHU (Table 162)
Truthfully, you could spend your entire afternoon exploring the Japanese Portfolio. But starting with this cereal grain-rich and mixable shochu is a great gateway to the larger world of Japanese distillates.
'PINEAU PARK' PINEAU DES CHARENTES (Table 175)
This Pineau des Charentes from Cognac Park, our newest French Brandy partner, is aged a minimum of one year and destined to become one of your favorite summer sippers.
ETNA BITTER (Table 192)
Starting with ingredients such as Sicilian oranges, sweet mandarins, and almonds, and with a flavor reminiscent of a bitter creamsicle, this white-wine-based aperitivo is appropriate for both beer/wine & liquor licensed establishments. 
EMILIO LUSTAU VERMUT ROSÉ (Table 95)
The newest addition to Lustau's Vermut stable, blending Fino & Moscatel sherries and Tintilla de Rota wine with botanicals such as chamomile & nutmeg—all with that irresistible pink hue that brings all the aperitivi drinkers to the yard.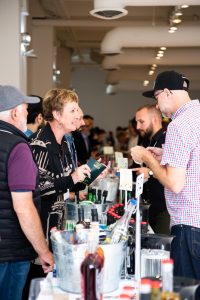 VERMOUTH ROUTIN BLANC (Table 175)
Routin, one of the last remaining vermouth houses in Chambéry, starts with local grapes and a relatively low sugar content resulting in an incredibly versatile blanc vermouth.
VOLUME PRIMO VERMOUTH (Table 192)
This friendly fortified is the house specialty of beloved Veronese cocktail bar, Archivio, and was discovered by Skurnik as a result of many a convivial hour spent there during Vinitaly. 
ANTICA TORINO VERMOUTH DI TORINO ROSSO (Table 194)
This Piedmontese vermouth is big and bitter yet nuanced and elegant, and decidedly unique compared to its Torino counterparts.
CONTRATTO APERITIF(Table 193)
This is one of Skurnik's core aperitivi and perfectly suited for spring. Even if you've tried it before, it's time to revisit and get those Spritz ideas rolling.
CAFFO RED BITTER (Table 195)
A workhorse bitter ready to bring balance to all sorts of classic cocktails, complete with a dazzling garnet-red hue due to its old-school use of cochineal for coloring.
VICARIO COFFEE (Table 196)
Bias aside, this coffee liqueur cannot be beat. Finish your tasting with a little jolt of caffeine and take the opportunity to peruse Vicario's full lineup of bewitching flavors.
GPT Spirits Track 2: Day Off

The world is your oyster— you've nowhere to be and your palate's primed for business. High-ester, cask strength, or simply too special to waste—you're ready for spirits of all kinds followed by an early dinner and a pat on the back for doing it right on a Monday.
GROWER CHAMPAGNE (Table 77)
May as well dive in with a sampling of Champagnes representing a range of styles and an impressive lineup of passionate producers.
WORTHY PARK 12 YR (Table 175)
A 12-year-old expression from one of the last single estate producers in Jamaica.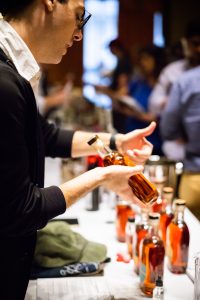 RHUM J.M 110 PROOF (Table 178)
A high-proof expression from our favorite Rhum Agricole Distillery. Your tropical mixing needs have been met.
DAKABEND (Table 192)
Pot still rum made in mezcal country. Widen your view of Mexican distillates, starting with this vibrant selection. 
BARRELL 9th FLOOR SELECTION RUM B750 (Table 185)
Hand-picked by the Skurnik Spirits Team, this one-off, cask strength vatting shows that Barrell Craft Spirits has a deft touch with more than just whiskey.
KOMAGATAKE LIMITED EDITION 2019 (Table 190)
This lightly peated whisky is a delicious look into the evolving, house-single-malt-style from Mars Shinshu Distillery in Nagano.
KILCHOMAN MACHIR BAY ISLAY SINGLE MALT WHISKY (Table 189)
The only independently operating distillery on Islay and the first to be built on the island in over 120 years. Their flagship whiskies are a must-try for any Scotch lover. 
PINHOOK 'RYE HUMOR' CASK STRENGTH (Table 184)
Start strong with a brand that proves their talent for blending and unique approach to 'vintage' whiskies with this killer cask strength rye.
AD LAWS RYE BOTTLED IN BOND (Table 182)
For an eye-opening example of the influence of terroir on American whiskey, try this Bottled in Bond Rye from Colorado.
NUESTRA SOLEDAD LACHIGUI (Table 174)
No brand better illustrates—and in such an approachable way—the wide varieties of style available in Mezcal. And this bottling is consistently one of our favorites.
REY CAMPERO COYOTE (Table 173)
This one-time bottling gives a rare glimpse at distillate made from a wild, hybrid agave, and it tastes like butterscotch pudding. Need we say more? 
GPT Spirits Track 3: New to Skurnik

Perhaps this isn't your first Skurnik rodeo and you'd like to high-spot recent additions to the portfolio. Although this list is only a snapshot of things here and on the horizon, it's a delicious place to start.
OKA KURA JAPANESE BERMUTTO (Table 190)
The first sake-based vermouth in the US market. Fortified with shochu and combined with Sancho Peppercorn, Japanese Mugwort, Yuzu, and a citrus fruit called Kabosu. Lightly bitter, and delicate with an intriguing, savory finish.
THE JAPANESE BITTERS CO. (Table 190)
Three expressions including Yuzu, Shiso, and Umami; your cocktailing game will never be the same.
ASKUR YGGDRASIL (Table 168)
From the same producers as our go-to well vodka, Helix, this workhorse, London Dry style uses the same high PH, Icelandic water for proofing, resulting in a bright distillate with a silky mouthfeel.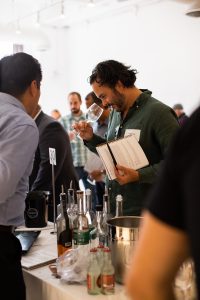 STRAY DOG WILD GIN (Table 192)
This savory Greek gin employs botanicals like wild sage and mastiha, and proceeds from every sale are donated to The Humane Society.
COGNAC PARK (Table 175)
This Cognac house with history dating back to 1880 offers a number of exciting bottlings including a Borderies expression finished in Mizunara oak.
CRUZ DE FUEGO MADRECHUISHE (Table 191)
The newest release from Mezcalera Margarita Blas and her son Carlos is truly lovely, bursting with fresh aromatics of honeydew and watermelon rind.
SIGLO CERO POX (Table 192)
The traditional spirit of Chiapas, made from heritage varieties of corn, wheat bran, fresh sugarcane juice, and something called piloncillo—essentially a sticky brick of raw sugar. You've never tasted anything like this.
FORT HAMILTON DOUBLE BARRELL (Table 180)
A marriage of Fort Hamilton's signature NY Rye and Rye from Indiana, this whisky bursts with dark cocoa, caramel, and stemmy herbs, and is primed for mixing.
NEW RIFF (Table 183)
So new to Skurnik that it's not even here yet, New Riff will be pouring their whiskies at the GPT as a preview before going live in April. Get the scoop on this family-owned Kentucky distillery breathing new life into this beloved category of whiskey.
---
When I go to Skurnik Grand Portfolio tasting I always go with the mindset of tasting what makes sense for our beverage program. It's a very high-energy environment, so you gotta stay focused [and have a plan]!
I make sure to visit specific tables, taste new products, re-taste more familiar ones, compare, and hear about them directly from their distillers and producers. Make sure to hydrate… oh! and visit the cheese table.Natasha Bermudez, Head Bartender at Llama San
---