Ah, holiday season!
Just because the mercury is low doesn't mean our spirits can't soar high. This is the time of year when we all host friends & family the most, when we enjoy the most rich and delicious culinary delights, and when we have the most excuses to indulge a bit extra — from celebratory toasts, to taking the edge off an ornery relation. It's December now, and no month more loudly demands that we have a few mixed drinks up our sleeve to wow all our guests and soften all the corners…
Thankfully, the Skurnik Spirits team is here to help, with a few of our favorite cold weather cocktails!  From toddies to nog, the following tipples are sure to put a little pink in your cheeks.
---
Of course, our first go-to when the temperature starts to drop is a hot toddy — or some variation thereof. While we love a whiskey or rum toddy as much as anyone, our favorite style lately gets a little extra sweater-worthy by using apple or pear brandy as a bedrock. From Neversink's delicious local apple eau-de-vie, to an elegant and rich expression like Lemorton's apple & pear Domfrontais Calvados, the season's favorite fruit simply sings in this context.
And while sipping apple brandy is as historically American as baking apple pie, the history of toddies and hot drinks is, of course, universal. The traditional Greek liqueur Rakomelo, for example, is most often served as a hot drink; it's pomace brandy base is complimented by honey, clove and vanilla, making it essentially a ready-made toddy on its own!
We like to mix the two together. A little Calvados, a little Rakomelo — a little fruit, a little spice — a little bit of tradition, and maybe a little bit more of that apple pie, please!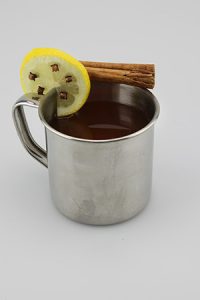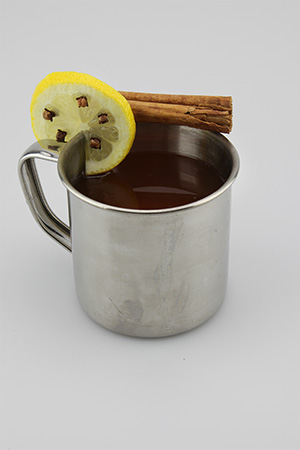 Mediterranean Toddy
In a mug, combine all the liquid ingredients. Top with approximately 5 oz hot water. Stir briefly. Garnish with a clove-studded lemon wheel and  a cinnamon stick.
To make honey syrup, simply dilute 1 cup honey with 1/2 cup hot water, stirring until integrated.
---
From our dear friends at Pouring Ribbons, this tropical toddy gracefully combines our need for that boozy winter warmer with the desire for a bit of escape from the frost on the windowsill. Nothing lifts the doldrums quite like a dash of coconut and banana, right? Except maybe a dash of rum.
Don't be intimidated by the extra preparation this mixture requires — it's deliciously easy to prepare!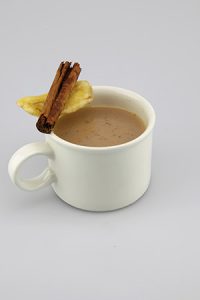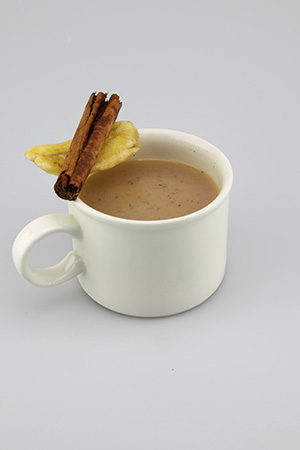 Hot For Teacher
Credit: c. 2015, Matthew Belanger & Shannon Tebay at Pouring Ribbons
Combine ingredients in small pan & cook together over low heat; dump into mug or teacup; add cinnamon stick & dried banana to garnish.
To make "Gardenia Mix":
In a small saucepan, combine 5 oz of honey with 2.5 oz of water, stirring until they fully integrate. Next, add a whole cinnamon stick, 5 oz of butter and one ounce each of Crème de Vanille (or vanilla syrup) and Pimento or Allspice Dram (we prefer Hamilton's for this recipe). Continue stirring until fully integrated — you're good to go!
But if all these ingredients, and the effort of using the saucepan to add butter to your rum is just a little too much work for this holiday host, we have you covered…
---
Butter up that booze, people. It's decadent and deliriously good; talk about a bit of holiday comfort. Our bodies are built to interpret butter and sugar as basically love in a glass; adding a bit of warm water and strong liquor to the mix is like wrapping that love up in a big, soft blanket. And it's easy, too.
The Greeks really know how to make warm spice spirits, too, so rather than using a spiced rum that might cover up the earthier, savory qualities of Rhum J.M's glorious aged V.O. Agricole Rhum, we like to incorporate Roots Tentura — basically, spiced tincture — for all its cinnamon & vanilla spice notes.
Be sure to give your butter time to melt thoroughly; the top of the mug should look a bit like a sunset in the Southwest. Embrace those hazy colors – this drink is soul food.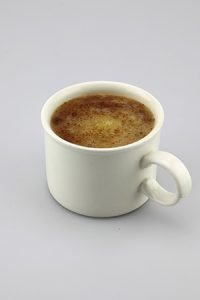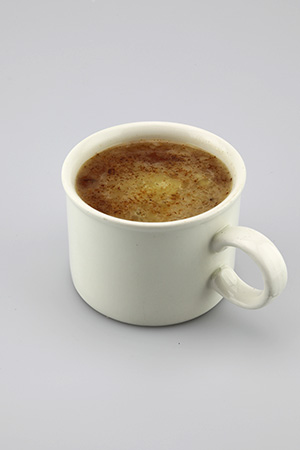 Hot Buttered Rhum
Place the butter at the bottom of the mug and add honey, bitters and spirits. Top with approx. 5 oz boiling water. Wait patiently as the butter is melted and dispersed across the surface of the drink. Grate the spices fresh on top to garnish.
To make honey syrup, simply dilute 1 cup honey with 1/2 cup hot water, stirring until integrated.
---
One more hot drink for cold days; this classic from our friends at James in Brooklyn is an inspired balance of the traditional hot toddy and another yule time favorite, the vintage Grasshopper cocktail.
Whiskey and hot water mesh with soft cream and refreshing mint flavors, from El Dorado's Golden Rum Cream (if you don't have a bottle of this in the fridge all winter long, you don't know what true indulgence can be) and Giffard's Menthe Pastille (the world benchmark of Crème de Menthe). Nostalgic like an Andes mint by a crackling fire, this winter warmer is given a little extra maturity — an adult appeal — with the bitter grounding of Contratto's delicately refined Fernet, and if you're really committed to quality, a spritz of legendary distiller Hans Reisetbauer's Hazelnut schnapps. Talk about decadent.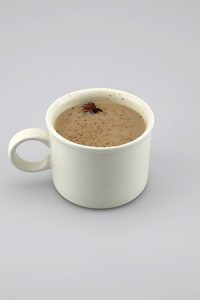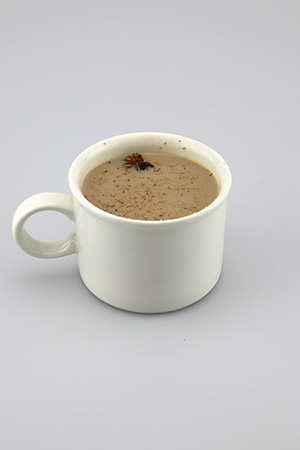 Hot Jiminy
Credit: c. 2014, James Restaurant (amended for Skurnik Spirits)
Build in a mug or teacup; top with 2-3 oz hot water. Spritz Reisetbauer Hazelnut (optional) on surface of drink and garnish with fresh ground nutmeg & a single piece of star anise.
---
 Meanwhile, however, the really serious host knows that there is no more rapid or effective means for getting the light of life into a large gathering of friends than a bowl of punch (or egg nog — up next).
One of our favorites for the season is the Providence Punch. A bit of aged Demerara rum and a bit of Rapa Giovanni's Nocino, a rich walnut liqueur, marry brilliantly; meanwhile, the gentle tannins of earl grey tea give a nod to tea-based punches of the 17th Century. It's got everything. Plus, there's bubbles. Nobody sane will ever complain about bubbles.
Best of all, it works equally well as a sour cocktail — essentially, a personal sized portion of punch — or, with a little simple math, as a heaping punch bowl. Simply multiply this recipe by the number of guests you expect, and go to town. If you're welcoming 8 or more guests to the party, we recommend dumping in the entire bottle of sparkling wine when you've finished your punch bowl. Nobody sane will ever complain about more bubbles!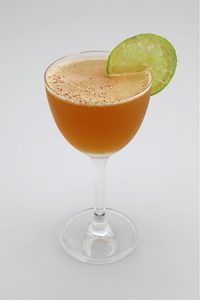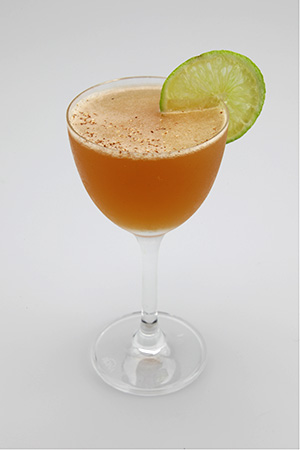 Providence Punch
Combine ingredients in mixing tin; add ice and shake. Strain into chilled cocktail glass. Top with a float of Gruet Brut and garnish with a lime wheel and fresh grated nutmeg.
To infuse rum with tea, steep 6g (3 sachet) Earl Grey tea in 750 mL of rum for 20-25 minutes (taste for balance).
---
OK, let's get real here. The crown jewel of holiday cocktails — the pinnacle of holiday hosting – is a big bowl of real, traditional, boozy-as-hell eggnog. Yes, some of these other drinks are boozy, some are decadent, some other drinks have dairy and seem rife with holiday cheer and holiday calories. But come on. Who are we kidding? If a thing's worth doing, it's worth doing right.
So let's bust out that eggnog.
A holiday tradition that arguably dates back to Medieval monks and their ale, milk & egg concoction known as posset, we've been enjoying eggnog in American whenever a chill is in the air since at least 1775. So, since before we called ourselves a country. It's a labor intensive little bowl, so give yourself a little extra time before your guests arrive to make sure it's all done and delicious, but rest assured — people will be talking about your eggnog (and thus, your party) for weeks if properly prepared. Good eggnog can be an unforgettable bit of excess.
This same basic recipe will work with or without sherry, and you can sub other spirits in easily (try it with a little Medley Brothers bourbon, a little Grateaud Cognac or Pellehaut Armagnac, or even *gasp* a little Azteca Azul reposado tequila)… but we really love the sweet twang of the Lustau Pedro Ximenez sherry and Solera Reserve brandy against the slight ester and funk of El Dorado's 8yr old, wooden-pot-distilled Demerara rum.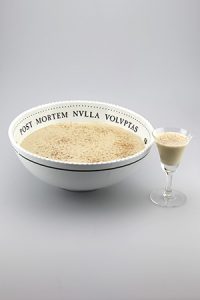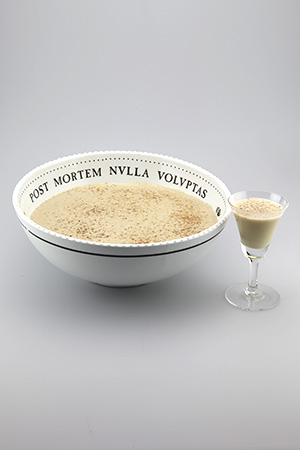 9th Floor Egg Nog
Crack open the eggs and separate the yolks and whites. In a mixing bowl, beat the yolks together until frothy, folding in the sugar until fully incorporated. Add sherry, rum and brandy, pouring slowly to avoid shocking the eggs. Add the dairy and set aside in refrigerator to chill.
In another bowl, beat the egg whites until their froth stands tall and proud, without collapsing. Now fold these egg whites into the previous mixture of egg, booze, sugar and dairy.
Finally, grate whole nutmeg into the mixture to taste, stirring all the while. We like to add about ½ teaspoon to the whole thing.
Serves up to 10 people, depending on how hard your holiday revelers like to roll.
---
Whatever little helpers you enjoy this holiday season, make sure you craft your drinks with care and use ingredients worthy of your table and of your guests. We hope these recipes will give you pleasure, and perhaps even inspire some variations of your own —share them with us, if so! The holiday season is all about gathering, sharing and giving, and what better way to put the icing on that proverbial cake than to come together and raise a glass in unity.
From all of us at Skurnik to you and yours, a very happy holiday season!