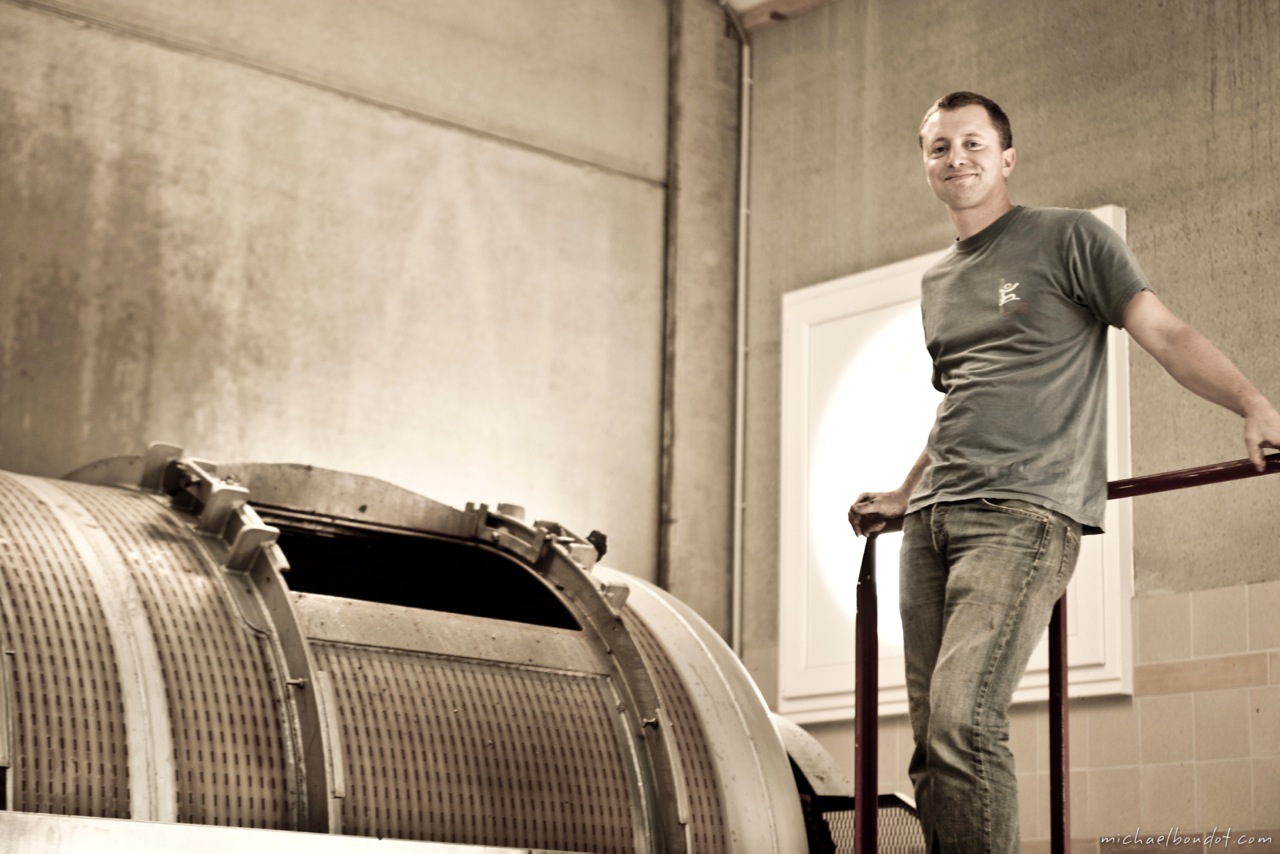 An hour east of Paris in Champagne's Vallee de la Marne, lies the pastoral village of Cuisles. The vineyards here are exceptionally steep and surrounded by the most beautiful landscape in Champagne. This village is home to Cédric Moussé, one of Champagne's young heroes, and is the setting for his family's story of tragedy and triumph.
The family looks back on 12 generations of grape growing in Cuisles, but it was Cédric's Great Grandfather, Eugene Moussé who first started bottling Champagne under the family name in 1923.  This was a costly investment for a small grower, but not uncommon during this period. First World War devastated world markets: the Russian Revolution, economic depression in Europe, as well as Prohibition in the US and several Scandinavian countries disrupted the demand for Champagne. The price of grapes was so low that growers who could afford to start bottling wine were forced to do so out of financial necessity. During this period of economic unrest, many of these new grower-producers began paying attention to their long neglected domestic market.
In 1926, with the 1923 vintage in bottle, Eugene Moussé traveled to Paris to sell his wines. There he met a group of Americans who were starting a catering business. They purchased his first wine, called Carte d'Or, and several years later they were buying his entire production. Business continued to grow for this small house until 1940 when Champagne was once again occupied during the Second World War.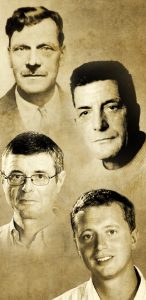 During the war, Eugene Moussé joined the French Resistance and the family helped both French and American troops.  German intelligence determined that the family was involved with the Resistance fighters and a group of German soldiers came to search their home in Cuisles. A group of Americans left the farm just hours prior but the search produced a gun. This was enough evidence of the Moussé's activities. Eugene Moussé and his then 17 year old son Edmond were taken prisoner and sent to Neuengamme, a concentration camp outside of Hamburg. Edmond spent almost two years at the camp and sadly Eugene never returned; he died there in 1945.
While Edmond was held captive in Germany his mother, Susanne, continued to tend the vines and work the family estate. When Edmond returned from Neuengamme, he came back to Cuisles and took over the domaine from his mother. Not long after Edmond's return, a woman named Micheline, the daughter of a French soldier stationed near the village during the war, visited the village for a festival with her father.  Young Edmond and Micheline fell in love, were married in 1953 and had three sons. Their eldest, Jean Marc followed his father into the family business. He studied at Chatillons sur Marne before joining his father at the winery in 1979; Father and son worked side by side until Edmond's death in 1990.
In the year 2000, Jean Marc's eldest son Cédric, graduated from the viticultural school in Avize. He went on to work at Freemark Abby in California, followed by Chateau Trocard in Pomerol. Most significantly he worked at the experimental cellar of the CIVC in Champagne where he was exposed to a number of new ideas – jetting, organic vs conventional viticulture, different closures etc.  In 2003 he was offered a position to lead the experimental cellar. This position was a distinguished one, especially for such a young person, but Cédric decided to return home to Cuisles and join his father at the family domaine as the fourth generation vigneron.
At first, Jean Marc had Cédric work in the vines. "For the first four years from 2003 to 2007 he asked me to stay mainly in the vineyards. He didn't want me in the cellar! Cuisles and the villages here are unique and he wanted me to understand the different terroirs."  As the father and son worked together they started to think about the future and a new winery.
"The problem was that it was inefficient. We had five places for the winery. A place for pressing, a place for ageing, fermentations etc. In 2007 we started to think about the new winery – we took a lot of time to consider what we wanted. We wrote out everything we wanted the winery to be and then over three months we each developed our own plans. One Saturday we presented our plans to each other and they were very similar! The big ideas were the same – we wanted to make a winery that maximum respect for the nature. We wanted a very low carbon footprint for the building itself, cooled and heated via geothermal energy, solar panels for electricity and rainwater collection for water use. We have all of these things in place including 400 square meters of solar panels – enough to power 30 homes.

The most important thing is respect for the environment and the second is that it is a comfortable place for my team and me because we spend a lot of time here. The third thing is space. When we planned the winery, we had 5.4 ha but we designed for 10 ha. Today we work 7.20 Ha with the same winery. 70% of the water that we use is from rainwater collection. Hot water is powered by solar and there is no acclimatization – no cooling. Half of the cellar is underground and an automatic geothermal system keeps the cellar at a constant 12 degrees. We are the first winery in Champagne to use this system."
– Cédric Moussé
In 2005, Didier Gimonnet from Pierre Gimonnet & Fils and Jean-Pierre Vazart from Vazart-Coquart & Fils approached Cédric about joining the Club Trésors de Champagne – the Special Club. Jean Marc left the decision to his son Cédric who decided that he was interested, but only if he could make a 100% Meunier Club, the first of its kind. Moussé's estate focuses on a single grape variety – 91% is Meunier. Since the first Club wine was accepted in 2005, the Club has accepted every vintage that Cédric has put forth.  Moussé's Special Club wine always comes from one old vine Meunier vineyard in Cuisles called 'Les Forts de Terres'. Even before the Club, the vineyard always produced the top cuvee at the domaine and Jean Marc bottled this as a vintage wine several times in the 1980s and 1990s.
"We're Meunier lovers" said Jean Marc, Cédric's father. "I love the way it's supple and fruity. There aren't enough people in Champagne who feel that way. There is just us. The variety is so well suited to our valley, well, to the entire Marne Valley. The vineyards at Cuisles are particularly difficult. They are extremely steep. The soil takes ages to dry out. It's green clay in fact. It's what they used to use to make bricks".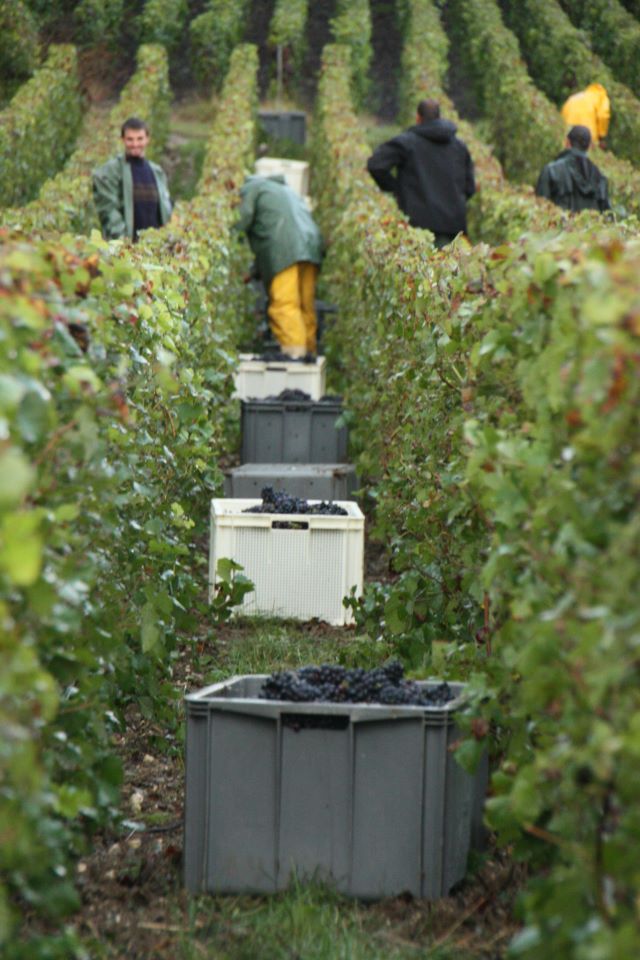 When asked about the common refrain that Meunier is not as "good" a grape variety as Pinot Noir or Chardonnay, Jean Marc replied "I certainly don't agree. I reckon that it is suited to the negociants to say this. That way they can buy a lot of grapes for very little money. No, you can make a great wine from Meunier. It's got aromas you don't find in other varieties. Pinot Noir is fuller-flavored and more powerful. But it is not as fruity as Meunier. We are in love with Meunier."
Cédric's wines pay respect and homage to the generations of his family that came before him. His nBrut-sans-Anée or non-vintage is called L'Or D'Eugene, a tribute to the first wine his great grandfather produced – Carte D'Or – and to the man himself, Eugene Moussé.  The base of this new release is 50% from the excellent 2016 vintage.
Tragically, Cédric's father Jean Marc was killed in an accident in December of 2013, just two months after harvest. "It's like that. It's life. It's not easy all the time.  2013 should be a wonderful year. It was very late, harvested in October. It was my first vinification alone." Said Cédric.
A man named Jiles Harring made a short movie about harvest in 2013 at Moussé, which you can watch here. The end of the video features Jean Marc Moussé, a very passionate and energetic vigneron. He was a producer who loved his work, his life and he would be very proud to see what his son has accomplished.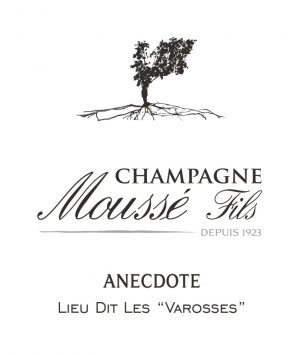 Moussé "Anecdote" Blanc des Blancs
This cuvee was formerly called "Cuvée Opale". This is 100% chardonnay from a single site in Cuisles called Les Varrosses, a vineyard with more clay in the soil than many of the parcels in this village. Jean Marc thought while this was not an ideal vineyard for Pinot Noir or Meunier, it might be possible to grow Chardonnay here.  Ignoring his neighbor's advice that this was "just not a good vineyard" he planted Chardonnay here more than 20 years ago. While the wine is produced in minute quantities, it's superb this disgorgement – 100% from the 2012 vintage.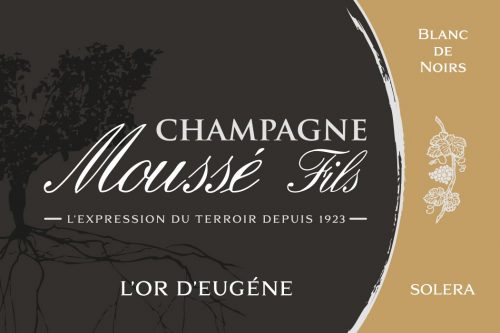 Moussé "L'Or d'Eugene Blancs de Noirs
Formerly Noire Reserve, this new cuvee was named as an homage to the founder of the estate, Cédric's Great Grandfather Eugene and the first wine produced at the estate, "Carte d'Or". This is disgorgement is 50% from the excellent 2013 vintage, 25% from the 2012 vintage and 25% from a Solera started in 2003, spanning every vintage to 2011. 80% Meunier, 20% Pinot Noir.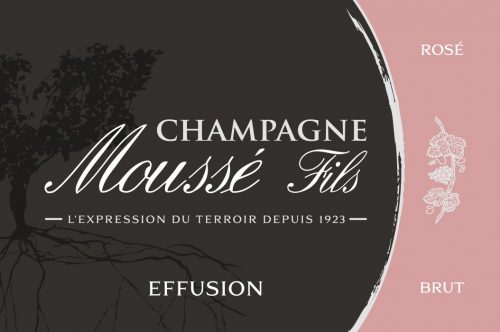 Previously this was called "Or Tradition Rose". This is predominantly Meunier (92%) with 8% Pinot Noir and  12% still red Meunier that Cédric produces at the estate. The blend is taken from the Solera at the estate 2003-2014.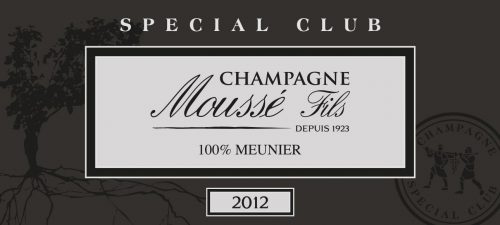 100% Meunier from old vines in Les Fortes Terres in Cuisles. This has always been the top vineyard at the estate and prior to the first vintage of Club wine in 2005, this was bottled as the Prestige cuvee in past vintages.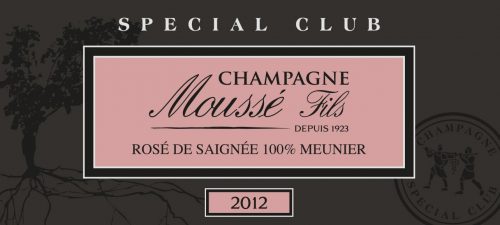 Moussé Special Club Rosé de Saignée 2012
Made in diminutive quantities, this is the first Rosé de Saignée Club produced. This comes from another 100% Meunier vineyard in Cuisles called Le Bouts de la Ville. This was fermented in barrel without any filtration and then racked into stainless steel and malolactic fermentation was blocked.