Let's talk about Italy. Let's talk about the old, undiscovered Italy that people think only existed 50 years ago: the pre-Internet Italy, the one you couldn't possibly know without going there and getting a hot tip on a small, family winery from a friend of a friend.
As it turns out, this Italy is still alive and well. And that special estate has been right under our noses all this time!
In 1959, a young man from Montalcino named Enzo Tiezzi was hired by Poggio alle Mura to plant their vineyards and orchards. He was only 19 years old and had not yet graduated from university, and the castle, now the jewel of Banfi's crown, was owned by another family. Enzo worked at Poggio alle Mura for 14 years, in the meanwhile earning his doctorate and writing his dissertation on his primary obsession: Brunello di Montalcino, which at the time was barely known beyond the borders of Tuscany. In fact, the appellation for Brunello was not designated until 1966. In 1973, he left Poggio alle Mura and went to work for the company that owned both Col d'Orcia and eventually Argiano as chief winemaker/enologist—a post he held for 15 years. In 1988, he went to work for the company that owned Val di Suga (Montalcino), Tre Rose (Montepulciano), and San Leonino (Chianti Classico), all the while working on the side as a consulting winemaker for Greppone Mazzi, Marchesi Aleramici, San Giorgio, and many other wineries in Montalcino.
Working so closely with Sangiovese and its terroirs, Dr. Tiezzi was a natural choice for the Consorzio del Brunello Board of Directors when they added him in the early 1980s. The good doctor served the Consorzio for 25 years, acting as its President for 6 of those years, which turned out to be pivotal for Montalcino. In his time as President of the Consorzio from 1983 to 1988, the appellation of Brunello went from DOC to DOCG (1984), bringing both more notoriety to the region, as well as strong viticultural development (and world recognition). At the same time, with a huge amount of personal commitment and insistence, Tiezzi got the Italian government to recognize the Rosso appellation, thus creating the DOC Rosso di Montalcino. Before that time, 'Rosso di Montalcino' was simply a Brunello that had not reached four years of aging, and it was designated as vino da tavola!  In 1988, having had success in either confirming or creating these two appellations, Tiezzi moved on. He was then instrumental in the creation of both the Orcia DOC as well as the appellation for local olive oil, Siena-PDO, while working for the Ripa d'Orcia medieval castle.
The story of his own label began relatively recently. In 1989 Tiezzi rented vineyards at a farm called Poggio Cerrino on the Northern slopes of Montalcino about 3 km outside of town. Within a few years, he was able to buy Poggio Cerrino as well as an adjacent farm called Cigaleta. In the mid-1990s, he met the Skurnik brothers who were impressed by the quality of his 1993 Brunello and immediately started a collaboration that has now lasted over 20 years.
But the story of Enzo Tiezzi does not end there. With the success of his personal label and his enthusiasm for B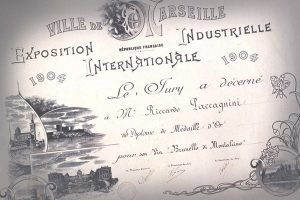 runello di Montalcino and its history, in 1999 he seized upon an opportunity to purchase the Soccorso winery. The history of Soccorso runs deep in Montalcino: in the 1800s it was the farm of Professor Riccardo Paccagnini, an enologist and agronomist of some notoriety who has only recently been recognized a pioneer of Brunello. It was from the Soccorso vineyards that the very first wine labeled as Brunello in 1870 gained international recognition at wine fairs in Rome, Paris, Marseilles, and Bordeaux. In fact, Tiezzi has a treasure trove of documents, medals, and prizes that Paccagini's Soccorso Brunello won in the 19th century. Paccagnini was a university professor at Bari & Piacenza and wrote a book about his experiments of growing grapes and aging Sangiovese, but he did not designate a successor for his winery or research, which was forgotten until recently. Upon his death, the farm passed to another grape grower, and eventually to an American with origins in Montalcino. The farm was completely abandoned – not even a single vine remained. Not wanting to invest the money to restore Soccorso, the American offered the farm to Tiezzi, who accepted the challenge. Over time, Doctor Tiezzi painstakingly brought the farm to its former glory, burying telephone and power lines at his own expense, as well as replanting the original vineyards, olive groves, gardens, and orchards. He restored the historical cantina and also built a new structure underground to make more space for his production. In 2004, Tiezzi acquired the San Carlo estate, immediately adjacent to Soccorso with another hectare of vines. Tiezzi considers Soccorso his crowning achievement: aside from its historic significance, it's just outside the city walls of Montalcino that date to the 1300s and at a whopping 530 meters above sea level. Here, his vines are bush-trained so he doesn't have to use stakes and wires to prop them up, which he believes adds to the beauty of the area by limiting environmental impact.
In truth, the Tiezzi estate is four small farms in two different locations that were brought together under the doctor's vast experience. His total holdings are ten hectares: 3 ha of olive groves, 3.9 ha of Brunello vineyards, 1 ha of Rosso di Montalcino Vineyards, .64 ha of Sant'Antimo. The remaining 1.46 ha is forest, which Tiezzi has kept untouched out of respect to nature.
VINEYARDS:
Cerrino and Cigaleta
Altitude: 350 meters above sea level
Exposure: Northeast
Cerrino age of vineyard: 40 years
Cigaleta age of vineyard: 25 years
Training System: Spurred Cordon with low yields (50 hl/ha)
Soccorso and San Carlo
Located just outside the historical walls of Montalcino dating to the 1300s. San Carlo is a terraced winery just next to Soccorso by the eponymous church. The vineyards, fruit trees, and olive trees there were all planted 50 years ago.
Altitude: 530 meters above sea level
Exposure: Southwest
Vine Age: 15 Years
Training System: Vines are bush trained with only two branches to limit the yields. Presence of very ancient terraces.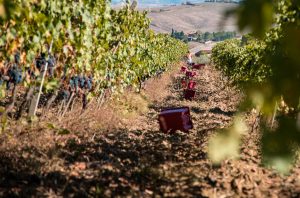 Vineyard Practices:
Tiezzi is not certified organic by choice, even though he has always believed in low impact farming and has taken a non-interventionist approach when it comes to winemaking. Fungal diseases are treated with traditional products: Copper and Sulphur. Every detail in the vineyards and winery is personally followed by Doctor Tiezzi, a trained oenologist, and his wines are produced in the most traditional of ways: native yeasts, extended fermentation of the grapes in wooden vats without temperature control, twice daily pumpovers, and manual punchdowns. All wines are aged in Slavonian oak barrels of 10-40 hl capacity.
WINES:
Rosso di Montalcino 'Poggio Cerrino' 2014
The Rosso from Tiezzi is a real treat – it comes mostly from the Poggio Cerrino Brunello vineyards and undergoes the same fermentation as the Brunello. It's aged from 12 to 18 months in large oak casks, then a further 6 months in bottle.
Brunello di Montalcino 'Poggio Cerrino' 2011
First produced in the late 1980s. Made 100% from Brunello grapes from Poggio Cerrino and Cigaleta. Fermented for 20-24 days in wooden vats with native yeasts. The wine ages about four years in large Slavonian oak casks from 10-30 hectoliters, and then further in bottle for 6 months before release. It is not filtered.
AG 91: "Dark red cherry, plum, smoke, licorice, tobacco and herbs flesh out nicely in 2011 Brunello di Montalcino Poggio Cerrino. Open-knit and expressive, the 2011 is an excellent choice for drinking over the next handful of years. The Poggio Cerrino has retained lovely freshness and vibrancy for the year."
Brunello di Montalcino 'Soccorso' 2011
First vintage was 2003. Grapes exclusively from the Soccorso vineyard. Fermented for 24-28 days in wooden vats with native yeasts. The wine ages about four years in large Slavonian oak casks from 10-30 hl, and then further in bottle for 6 months before release. It is not filtered. The label is a reproduction of the original of Professor Paccagnini from the 1800s.
WA 90: "The 2011 Brunello di Montalcino Soccorso is a soft and plush Sangiovese with warm notes of plum, dark berry and spice. This is a dense and concentrated effort with enduring sweet flavors. This Brunello shows textural depth and good length."
Brunello di Montalcino Riserva 'Soccorso' 2010
Produced in extremely limited quantities (165 6pk cases) only in the best vintages, this riserva particularly excels when bottle aged.
WA:94 "The 2010 Brunello di Montalcino Riserva Vigna Soccorso opens to a sophisticated appearance with a dark garnet color and amber highlights. The bouquet feels tonic and energetic with a sharp and defined quality of fruit. The nose offers cassis, dried blackberry, cola, resin and licorice. The wine's intensity and its aromatic purity are its best quality. In fact, this Riserva is by far one of the best wines made by this producer. It shows abundant clarity and precision. Sour fruit and tangy spice appear on the long finish with drying mineral notes that add more persistence."