On the morning of April 26th, the sherry world lost one of its most decorated and beloved protagonists. Don Manuel 'Manolo' Lozano Salado was born in Jerez de la Frontera in 1954. His family was in the hospitality business, counting bars, restaurants and the Hotel Comercio on the Calle Doña Blanca among their business interests. From a young age, Manolo's father took him to visit the local bodegas and instilled in him a love of wine, both as a beverage and as an integral part of the cultural iconography of Jerez and its environs.
Manolo worked his first years in the bodegas of González Byass. He started from the bottom, occupying himself with hosing down the bodega floors and learning to identify which of Jerez's two famous winds were blowing so he could know when to close the bodega windows against the Levante (the hot wind that comes over land from Valencia) or open them to let in the Poniente (the cool wind that comes from the sea). After taking some enology classes in Madrid (there were no formal wine education opportunities offered in Jerez at the time), Manolo returned to Jerez and began his career in earnest in the bodega of Fernando A. de Terry, where he worked for 22 years, continuing through a tumultuous period of acquisitions by various other firms and conglomerates.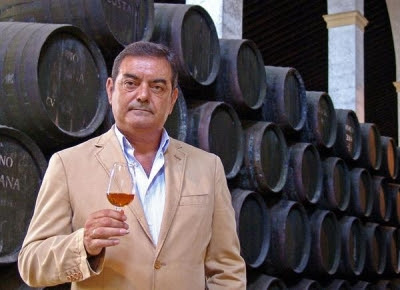 Manolo assumed the role of Capataz General and Director de Producción at Bodegas Emilio Lustau in 1999. He held this post until his passing, presiding over one of the great eras of quality production in the 120-year history of the bodega. Indeed, Manolo was awarded Best Fortified Winemaker in the World at the International Wine Challenge in London for seven consecutive years, a streak that was still active at the time of his passing (his seventh came at the ceremony in July of 2015). This is an achievement that has not been equaled by anyone in any category of the competition, and it is a record that is unlikely to ever be broken.
The word capataz, used in the D.O. of Jerez to identify the person in charge of production at a sherry bodega, is distinct from oenólogo, meaning "winemaker". The most literal translation into English would be "foreman". Embodied in this vagary of language is the spirit of humility which Manolo and others like him brought to their work. In the pictures of Manolo wearing a tuxedo and accepting yet another international award, you can almost see in his face the desire to put his work clothes on and get back to the serious business of bringing his wines to maturity. He said that the wines were not made by Manolo Lozano, but rather those who came before him, and that he was simply in charge of taking care of them until they were bottled and sold.
César Saldaña, the director of the Consejo Regulador del Vino y Brandy de Jerez, said that Manolo not only embodied the impact that Sherry was having on the international stage by being such a highly decorated personage in the wine world, but also was "a person of deep Jerezano roots" who had started from the bottom and risen through the ranks. He added that the world had not just lost a great winemaker, but also "an extraordinary human being." In its obituary, the website mirajerez.com wrote, "Today the city of Jerez cries tears of the finest wine. To say 'Manuel Lozano' is to say 'Jerez', and to say 'Jerez' is to say 'Manuel Lozano.'"
In a recent interview, upon being asked about his thoughts about the future of sherry wines, Manolo said, "I love Sherry. It should be remembered that it was once the biggest-selling wine in the world. It will come back. It has certainly gone through some bad times, and the multinationals have done it no favors, but most bodegas are now back in family hands. I am optimistic, I see the glass as half full. I used to be worried about the average age of Sherry drinkers, but I am now seeing young people drinking it in the bars with interest. A lot has changed, and quickly."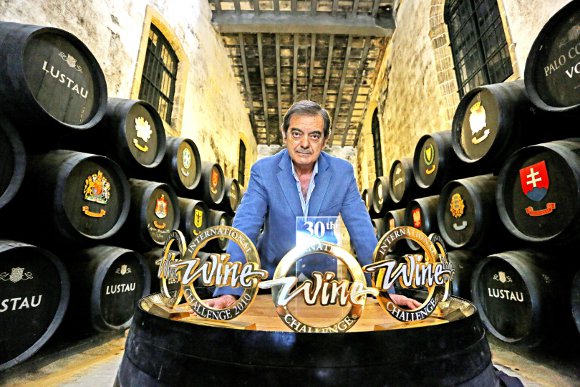 Manolo is survived by his wife and three children.
Descanse en paz, caballero.
See below for Manolo's favorite sherry pairings.
Manzanilla with jamón ibérico
Fino with battered and fried fish
Amontillado with artichokes
Palo Cortado with meat stews
Oloroso with game
Moscatel with sweet pastry
Pedro Ximénez with blue cheese