Pictured above: Andrea Cortonesi of Uccelliera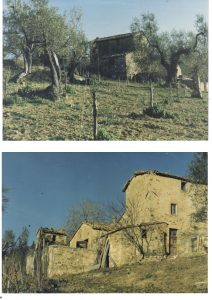 The first vintage of Uccelliera Brunello may have been 1991, but the roots of Andrea Cortonesi run much deeper into both time and terroir in Montalcino. His family, as long as can be remembered, were sharecropping farmers in Castelnuovo dell'Abate, the tiny hamlet surrounding the medieval abbey of Sant'Antimo in the southeastern part of the appellation. They worked the fields, vineyards, and olive groves long before the boom of Brunello was heard around the world.
Most of us know Montalcino now only as this lauded territory, the source of Italy's most desired Sangiovese wines, and certainly its most expensive. So it's extremely striking to think that in 1986 when Andrea Cortonesi purchased the Uccelliera farm, his family had only left sharecropping behind three years earlier. There were just 60 estates bottling Brunello in the mid-1980s—compared to over 200 today—and Andrea had worked at many of them.
"Observe, listen to, and accompany nature," was Angelo Cotonesi's advice for his son. But Andrea applied this motto to more than just agriculture. Giuseppe Bianchini, the caretaker and eventual owner of Ciacci Piccolomini d'Aragona, saw talent in young Andrea and put him to work on his crew that helped to create many of the now-famous estates in Castelnuovo. In fact, Andrea remembers the first vineyard he planted on this team in 1978 for what would eventually become Poggio di Sotto, but there were many others.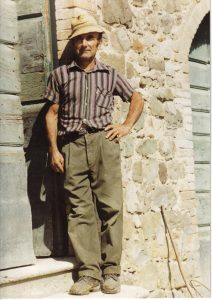 Andrea, always the farmer-philosopher, reminded me that normally each vigneron has one opportunity per year to do his best, but as a part of this group tending to many estates, he had the fortune of gaining decades-worth of experience in just a few years. And while Andrea got his start working the vineyards, soon his passion for the subject matter brought him into the cantina, where he learned his winemaking skills by collaborating with true giants of Sangiovese: Giulio Gambelli, Roberto Cipresso, Maurizio Castelli, Alberto Antonini, and Attilio Pagli, just to name a few. To this day he recalls with incredulity how Gambelli could taste a wine and instantly tell you what was normally revealed by a detailed chemical analysis from a laboratory!
And those estates Andrea helped to create? Beyond Poggio di Sotto, there's La Torre, Poggio degli Ulivi, Mastrojanni, Tenuta di Sesta and Collosorbo, Sesta di Sopra, Podere Salicutti, and of course Ciacci Piccolomini d'Aragona, where he was cellar master until 1990. Here, Andrea was on the team that made both the great 1988 and 1990 vintages which caught the attention of journalists and launched Ciacci onto the world stage.
Andrea's own first vineyards took root in 1987, and by 1998 he was able to dedicated himself full time to Uccelliera. Word of this tiny estate with an outsized experience in Montalcino spread quickly, and the term cult-Brunello was applied almost immediately.
This year marks over 24 years of collaboration between the Skurnik & Uccelliera families, and we look forward to at least that many more!
Press & Vintage Notes from Andrea Cortonesi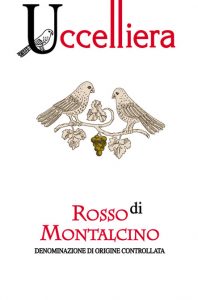 "2017 was no ordinary vintage," Andrea says…
Overall the temperatures were high, and there was very little rain. I made between 27 and 30% less quantity in this vintage, not just of Rosso di Montalcino.
Generally speaking, the PH is higher, with lower acidity, and this gives a soft, rich wine. The fruit is dark and rich. It's incredibly enticing in the glass.
PRESS:
The 2017 Rosso di Montalcino is a … great value … pristine primary fruit followed by grilled herb and moist potting soil. In all, you get all the best qualities of stripped down Sangiovese produced in a warm vintage.
However, don't underestimate the wine's structure, because you do feel those integrated tannins at the back. The fruit is cheerful and bright.91 Points, Monica Larner, Wine Advocate
TECH NOTES: The grapes fermented for 28 days on the skins, including a cold maceration at the outset that lasted one week. Fermentation is spontaneous: since 2003 Andrea has eschewed selected yeasts, and this he believes helps the wine show their terroir. Malolactic fermentation is then achieved in stainless steel by warming up the cantina.
Typically, then the Rosso would spend 8 months between small French oak and large Slavonian cask, but in order to maintain the freshness of the 2017, about a third stayed in stainless steel. Roughly 2000 cases were produced.
---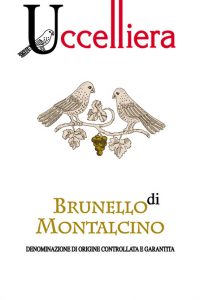 In a series of vintages with their own challenges, 2012 for the drought and heat, 2014 for its damp coolness, 2013 was extremely regular. No excessive heat, no deluge. It was a very good harvest, but I chose not to make riserva.
The wines are elegant and express the terroir of Montalcino in a classic way.
PRESS:
I never have enough praise for the excellent work achieved at Uccelliera. The 2013 Brunello di Montalcino is another proud notch in Andrea Cortonesi's belt. This is a fine and elegant wine that wraps smoothly over the palate. It also has an immediate and accessible personality that means you don't need to wait too long to enjoy it.
The wine is redolent of dark fruit, spice, balsam herb, licorice and pressed flowers. You get loads of variety character.94 Points, Monica Larner, Wine Advocate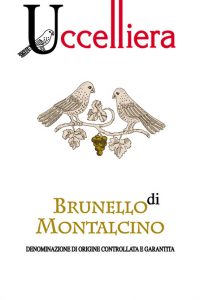 I only made 900 cases of 2014, so you already understand that the vintage was a challenge. It was very complex, very difficult. We restricted production to just the higher elevation vineyards here in Castelnuovo, and even then, we dropped a lot of fruit. But I have to say, we were really surprised in the end.
2014 plays testimony to the difficult climate of the year, but it has an incredible elegance and finesse. It's the Burgundian side of Montalcino!
PRESS:
The Uccelliera 2014 Brunello di Montalcino exhibits the elegant and delicate side of this mighty Tuscan appellation… there is a good argument to make that this softer approach is especially well-suited to a wine like Brunello that is never shy in terms of power.
The vintage conditions in 2014 hold the wine back just a tad, and that restraint is welcome. From one of my absolute favorite Brunello producers, this wine is elegant and fine with bright fruit tones followed by sour cherry, licorice and dried rose bud.93+ Points, Monica Larner, Wine Advocate
TECH NOTES: The grapes fermented for 22 days, and then aged mostly in large Slavonian botti, no new oak was employed. 900 cases total production.
---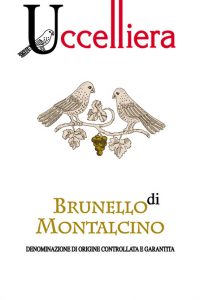 An extraordinary vintage where nature combined freshness, intensity and roundness. It brings pleasure immediately but will also do the same after a long cellaring. It's extremely harmonious, and profound in its perfumes. From a rare vintage of quantity and quality.
TECH NOTES: The grapes fermented for 30 days on the skins, including a cold maceration of about a week. Malolactic was then completed in stainless steel, and in January 2016 the wine went into oak.
Andrea uses a mixture of large Slavonian botti and French barriques, only a few of which are renewed each year. 2,300 cases were produced.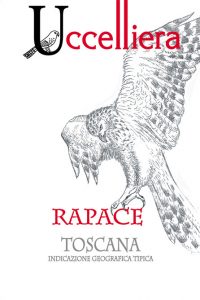 RAPACE 2016
"2016?" Andrea said, clearly happy to get the question.
Bello, Bello, Bello. An important harvest with great character. Rapace, because it has the Cabernet and Merlot, might be slightly less approachable in its youth, but for this reason I've always kept the Sangiovese around 70%.
He chuckled when I asked the inspiration for the wine…
When I got back from Vinitaly in 1995 and I realized I was going to have to wait another 3 years to sell my Brunello 1993, I knew I had to declassify some of the wine to IGT for cash flow reasons.
At the time, he was still collaborating with Mastrojanni, who lent him some Cabernet and Merlot, and Rapace was born.
It's a bit of a crazy thing from an enological standpoint, because I co-ferment the three grapes, and they have their various maturation schedules. But from a quality standpoint, I've seen the difference. The final wine is more complete. So the merlot comes first, harvested at full ripeness, and then it does a cold maceration until the other grapes are ready.
PRESS:
The Uccelliera 2016 Rapace shows a focused and chiseled personality that is very characteristic of this vintage. The wine's mineral side, with shadings of lead pencil and crushed stone, give sharp contours and delineation to the abundant black fruit packed tight at the core.
The wine shows bright acidity with more than enough rich fruit to bolster that freshness… This is an outstanding value buy.94 Points, Monica Larner, Wine Advocate
TECH NOTES: Alcoholic and malolactic fermentation and are in stainless steel, and then the wine is aged in oak. It's always in French barrique, not all of it new, for 18 months. 70% sangiovese, mostly from Montalcino vineyards, but with some from the Le Spine vineyard across the Orcia river in Montenero, with 20% Merlot and 10% Cabernet from Montalcino vineyards. 950 cases produced annually.
---