As the craft cocktail renaissance marches forward, educated drinkers and bartenders continue their intrepid pursuit of new and interesting products. Categories of spirits never before taken advantage of continue to make their debuts in the United States, and here at home, small producers and distillers drive an enthusiasm for locally crafted brands.
Perhaps it is no surprise then, that an old and time-honored practice – that of Independent Bottling – is not entirely understood by many of today's spirits enthusiasts. Whiskey provenance in the United States in particular has been a passionate topic of discussion over the last five years, so when a brand is encountered that is responsible for the selection of a spirit, but not its actual distillation or aging, imbibers sometimes tend to furrow their brows and proclaim, "I don't get it."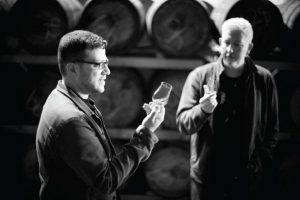 What is to be gained by drinking a bottling of whisk(e)y that isn't being sold directly by the distillery in which it's produced? We sat down with Joshua Hatton, President and CEO of Single Cask Nation, in order to shed some light on this and other questions. By looking through the lens of one company's approach to Independent Bottling, we find that the passion, insight, and deft selection of spirits involved in this practice bring something truly unique and personal to any whisk(e)y lover's glass.

Q: Independent Bottling has a long history in other parts of the world, but hasn't been as common in the US, is that correct? Why do you think that's the case?
A: That is 100% correct. Independent bottling goes as far back as people by the name of "Johnnie Walker," or "John Dewar," and even the "Chivas Brothers." These were retailers who had something the distilleries didn't have: a store front with which to sell whisky. These retailers would purchase whisky from the distilleries and independently bottle and sell said whisky in their shops. Now these names are synonymous with the biggest blends in the world but their history started with independent bottling. There are two current independent bottlers that are still in operation that have a very long and storied history: Cadenhead's just celebrated their 175th anniversary; Gordon & MacPhail is 122 years old.
In Scotland, the idea is to state on the label that the independent bottler name is "Cadenhead's" or "Exclusive Malts" and then list that the whisky in the bottle is from, as an example, "Laphroaig" distillery. It's all about full transparency because consumers know the distillery names and have favorite distilleries. This is the model we follow.
Historically, independent bottling in the US has had a very different approach. In fact, it's so different that the process is called "NDP," or "Non-Distiller Producer" rather than Independent Bottling. Bottlers here often source whiskey from various American distilleries but then create a brand around that sourced whiskey while never (or rarely) disclosing the source. (Although it is worth noting that though many independent bottlers/producers strive for transparency whenever possible, they are often required to sign non-disclosure agreements with the distilleries from which they are sourcing.) This is generally acceptable because historically, American consumers haven't paid much attention to source. As an example, few people know that Elijah Craig, Henry McKenna, Parker's Heritage, Larceny, Mellow Corn, Evan Williams (the list can go on) are all produced at the same distillery: Heaven Hill.
Given this approach to selling American whiskey to American consumers, the idea of sourcing American whiskey and then creating a brand from and around it is just tradition. Most big American distilleries are focused on promoting the brands produced rather than the distillery itself.

Q: Joshua, how old is Single Cask Nation, and can you explain a little about your role?
A: Single Cask Nation started in 2011. In our first year we bottled only 3 casks. This year (2017) we've bottled 19 casks with a target of 24-30 next year. Our focus is primarily on Scotch whisky but we've bottled Bourbon, Rye, Irish Single Malt, Indian Single Malt, English Single Malt, and American Single Malt.
Before I jumped feet first, well, maybe head first, into the whisk(e)y business, I began my time in whisk(e)y through my blog (which is now basically derelict). That blog started somewhere around 2008. Funny how the blog slowed down once I went full-time in the whisk(e)y bottling and selling business. Thankfully, with the help of my business partner, Jason Johnstone-Yellin, I've started a podcast called "One Nation Under Whisky" which is much more in depth, and dare I say fun, than the blog ever was. With regards to my life in Single Cask Nation, my title is President and CEO. In addition to being responsible for big picture/5-year-plan stuff, I am in charge of sales, promotion, and education of our whiskies. I am also part of a two-person tasting panel that selects the whiskies we bottle.

Q: Can you explain a little about the selection process that goes into any given bottling for Single Cask Nation?
A: The selection process is done through a two-person panel comprised of my business partner, Jason Johnstone-Yellin, and myself. We will never taste more than 3 single cask samples at a time as the palate can get very fatigued and does so very quickly. The nose (scent) must be interesting enough for us to taste it. If it doesn't smell interesting enough, we pass; we will not taste that whisk(e)y. How terrible would it be to put out a whisk(e)y that tastes great but smells boring!
If the whisk(e)y is good from nose to palate to finish, and drinks well without any dilution, and so long as the cost makes sense so that we're able to sell the whisk(e)y at a reasonable price, then we'll move forward to bottling that single cask.

Q: What are the criteria the two of you are looking for?
A: We compare a great single cask of whisk(e)y to a great book. Lord of the Rings was an amazing book. The story arc, the character development, all of it made sense, and at the end, you were satisfied having read it and likely said, "I may want to read this again." However, if Frodo Baggins, on his way to Mordor to destroy the One Ring, bumps into Boba Fett on the planet Tatooine, and is forced to do slave work for Jabba the Hut, you'd say, "Wait a second, that's just not good!!!" Similarly, the development of the scents, flavors, and finish on a single cask MUST make sense. It needs to develop just right, and for single casks, that's not easy.
More often than not you need to marry multiple casks to create a great, balanced, whisk(e)y drinking experience. Truly balanced single casks are few and very far between. So, if we released a single cask that smelled great but upon tasting did something you did not expect (or want) like with Frodo and our friends Boba and Jabba, then the experience would be terrible. It's all about "Is this a great whisky drinking experience? Yes, yes it is." from beginning to end.

Q: What, in your mind, are the advantages to an independent bottling of whisk(e)y for a consumer?
A: To me, the best thing about independent bottlers is that they offer up variation in whisk(e)y. Laphroaig wants consumers to experience their whiskies in a very specific way; their 10 Yr needs to taste the same with every release. Same with their quarter cask, 18 Yr, etc. However, an independent bottler wants you to taste Laphroaig in a way that fits their palate. For instance, we just bottled a 10 Yr single cask of Laphroaig that is so very different from their regular 10 Yr. Theirs, as beautiful as it is, tends to be dark, wonderfully dingy, heavy, and earthy. Our single cask is light, fruity, citrusy, and floral with hints of peat and smoke, rather than a punch in the face of peat and smoke.
We would not be doing our job if our 10 Yr Laphroaig tasted just like Laphroaig's 10 Yr, and a consumer should not pay a premium on our whisky if it tastes exactly the same as the distillery's. Our job is to offer a drinking experience that is different from what is already available.
If consumers like our Laphroaig and then try, for example, our Glenrothes, they'll see quickly that we have a very specific palate that tends to run differently from what you're used to from an owner's bottling (those bottlings from the distillery itself).
Sometimes, however, we like to bottle shining examples of whisky from these distilleries (like a 12 Yr Glen Moray that is similar to their 12 Yr, but on steroids). Sort of like getting a chance to drive a Lexus when you normally drive a Toyota. But for us, it all gets back to variation, and whisk(e)y exploration.

Q: How important are the relationships that you create with distilleries?
A: As with anything in life – be it business, friends, or family – it's all about relationships and nurturing those relationships. The whisk(e)y business was built on handshakes. It's a small, very tight-knit community of people who all help and have respect for one another. If you tarnish one relationship, everyone will find out. There are no 6 degrees of separation in whisk(e)y – we all tend to know one another and have a vested interest in nurturing relationships in order to bring the best whisk(e)y possible to consumers.
Explore Skurnik's full range of independently bottled whiskies including Single Cask Nation, Exclusive Regions and Exclusive Malts, Chapter 7, and Barrell Bourbon.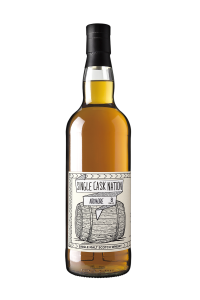 Single Cask Nation Ardmore 8yr [Ex-Bourbon Cask]
This Highland whisky was matured in a cask that previously held Laphroaig, creating an intriguing marriage between light, floral peat smoke and the maritime brawn of a classic Islay.
Ardmore distillery is a single malt Scotch whisky distillery. The distillery is owned and operated by Beam Suntory, an American subsidiary of Suntory Holdings of Osaka, Japan. The distillery was built in 1898 by William Teacher's son, Adam, to secure fillings for their blend, Teacher's Highland Cream (of which it remains the principal component). Set deep in the farmland of "the Garioch", near the River Bogie and the village Kennethmont, Huntly, Aberdeenshire.  Two stills were added in 1955, and four more in 1974, for a total of eight. The distillery had its own maltings until the mid-1970s, and its own cooperage until the late 1980s. Until early 2001 it used coal to fire the stills.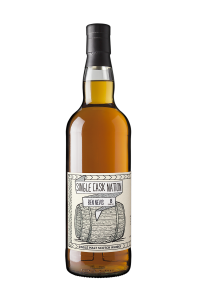 Single Cask Nation Ben Nevis 8yr [Oloroso Cask]
Matured in an Oloroso Sherry Butt, the already characteristically lush Ben Nevis style is transformed into a full-flavored whisky that demands your attention.
Ben Nevis sits just at the base of its namesake, Scotland's highest mountain. A coastal distillery in the Western Highlands, Ben Nevis draws its water from the Allt a'Mhuilinn which originates from two pools, Coire Leis and Coire na'Ciste, which are both sited a good way up the mountain. Ben Nevis Distillery was established in 1825 and has a long and colorful history, with ownership changing hands throughout the years.  In 1989, the distillery was sold to the Japanese distiller Nikka (Asahi Group) which had been buying malt and grain from the distillery for quite some time.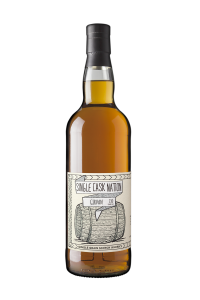 Single Cask Nation Girvan 10yr [Ex-Bourbon Barrel]
Aged for 10 years in an ex-Bourbon barrel that has been scraped and re-charred, this whisky's grilled fruit qualities change one's perception of what a Scottish Single Grain Whisky can be.
The Girvan distillery is a Lowland grain whisky distillery located in South Ayrshire, Scotland. The distillery is owned by William Grant & Sons.  Girvan distillery was founded in 1963 with the installation of its first Coffey still in 1963, which was celebrated with their first official bottling. The company introduced its export single grain whisky, Black Barrel in 1995 to the Spain, Portugal, and Italy markets.  Ladyburn operated as a single malt distillery on site from 1968 until 1975.