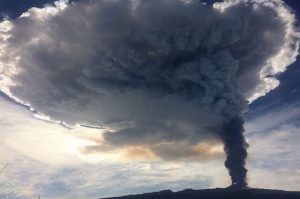 Etna is erupting.
On December 3rd 2015, that was the word from Sicily. To most people outside of the wine world, this would be alarming news, accompanied by visions of ash flying through the sky and lava slowly snaking down the mountain, destroying everything in its path. The pictures from this most recent eruption were spectacular – and seeing them makes it hard to believe that anything, let alone grape vines, can survive in such an extreme environment. But, our  winemakers were surprisingly calm, knowing from years of experience that these eruptions are not only common, but also vital to the terroir on Mount Etna. Millennia of eruptions and lava flow on these hills has created deep, dark soils of volcanic rock and ash that are resistant to phylloxera.  When combined with high altitudes (2,500-6,500 feet above sea level – some of the highest vineyards in the world), the resulting wines are uniquely Etna: bright, fresh, mineral expressions of this peculiar and fantastic terroir.
Winemaking on Etna is not a new phenomenon – people have grown grapes on the mountain since 800 BC, when settlers from ancient Greece arrived and planted the first vines on its northern slopes.  But like many of Southern Italy's wine regions, the area was virtually abandoned in modern times, with the majority of its population having fled to nearby cities to find work. Those who remained ripped up their ancient Nerello Mascalese vines and planted international varieties in hopes of making a living off of their land. The region was abandoned, forgotten, and in shambles.
The 1990s were a time of revitalization on Etna. Enologists were brought in from other parts of Italy, vineyards were rehabilitated, and producers began to concentrate on quality over quantity production. By the early 2000s, vines on the mountain were beginning to thrive, and the world began to take notice.  One such person was Marc de Grazia.  Already known as one of the most influential importers in the U.S., de Grazia fell in love with Etna, bought his first vineyards at Tenuta delle Terre Nere, and began to make some of the best wines on the mountain. The rest, as they say, is history.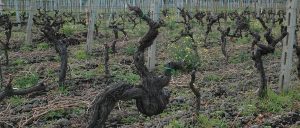 Today, the Terre Nere estate stands at roughly 21 hectares, of which 15 are planted to vines. Production is simple, classic, and Burgundian in style:  the grapes are grown organically, using only bordelaise mixture and organic fertilization. Vinification follows the same lead: maceration-fermentation lasts 10-15 days, followed by malolactic fermentation and aging in oak – 25% new – and bottling around 18 months later. Above all else, the extraordinary elevation yields dramatic temperature variations between night and day, making the wines fine and elegant, devoid of the heat and overripe flavors that usually define Sicilian wines. In fact, most people who have tasted these wines, say they find them most akin to Burgundies or Barolos.
We have had the pleasure of watching this great estate thrive over the last decade, each year making better and better wines.   In fact, the 2014 vintage from Terre Nere may just prove to be their greatest ever. In Marc de Grazia's own words:
"… the 2014 vintage was really memorable: if not the best ever,
this vintage can be considered for sure one of the best ever on the northern slopes of the Etna."
If you've tasted Terre Nere's 2014 Etna Rosso or new 2014 single vineyard 'Le Vigne Niche' wines, you have gotten a glimpse of the potential of the vintage.  The single cru bottlings, which showcase the unique terroir of each individual plot, will be released in May.  We can't wait to share them with you.