9th Floor Egg Nog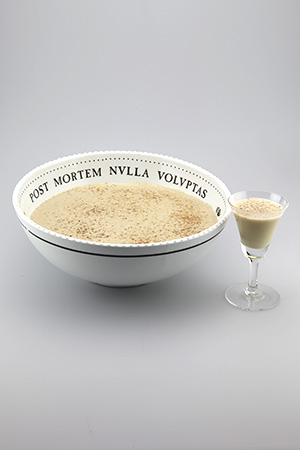 12 whole eggs
16 oz whole milk
8 oz heavy cream
.5 cup sugar
1 whole nutmeg
Crack open the eggs and separate the yolks and whites. In a mixing bowl, beat the yolks together until frothy, folding in the sugar until fully incorporated. Add sherry, rum and brandy, pouring slowly to avoid shocking the eggs. Add the dairy and set aside in refrigerator to chill.
In another bowl, beat the egg whites until their froth stands tall and proud, without collapsing. Now fold these egg whites into the previous mixture of egg, booze, sugar and dairy.
Finally, grate whole nutmeg into the mixture to taste, stirring all the while. We like to add about ½ teaspoon to the whole thing.
Serves up to 10 people, depending on how hard your holiday revelers like to roll.