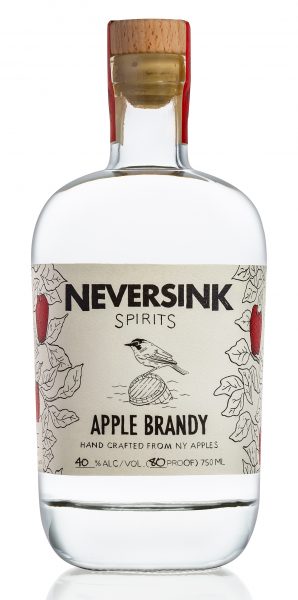 Neversink Spirits is an exciting project conceived and executed by Yoni Rabino and Noah Braunstein in Port Chester, NY. Inspired by the world's finest apple eau-de-vie producers in France, Austria, and the US, these talented young distillers have created a mélange of apple and pear-based distillates that offer a unique take on traditional distillates like Calvados and applejack. Now with an apple-based gin and local-grain bourbon, the duo have extended their craft to a complete range of farm-to-glass distillates.
Info
Spirit Sub Type:
Aged / Other
Sizes Available
| | | |
| --- | --- | --- |
| Full Bottle | US-XNV-01-NV | 12/750ml |
Tasting Notes
Fruit brandies, popular in Europe, have been gaining more acclaim recently among booze cognoscenti in the US. Brandy is a truly unique way to experience a fruit; they capture the power and complexity of flavor inherent in the fruit's natural sugars.
Neversink Spirits Apple Brandy delivers a pure, honest reflection of the apples' characteristics, great to sip after dinner or as part of a cocktail. Unlike its counterparts producing applejack or Calvados, Neversink's unaged expression  is distilled from local varieties of eating apples, instead of bitter cider apples.  This apple eau de vie maintains the fresh, spritely notes the New York fruit are famous for, with layers of flavor to experience.  Cut green apples, spice, vanilla, woods, and pear fill the senses as you take each sip. A round, clean mouth feel and subtle lingering spice leave a fresh, delightful, and lingering sensation.
In 2012, through a grassroots effort from volunteers and friends, they planted over 350 apple trees on Camps Road Farm.