2016 was a spectacular vintage for Rioja, with many calling it one of the best of recent memory, on par with other esteemed years like 2010 and 2004.
---
Rioja's top classifications have some of the longest aging requirements in the wine world – Reservas must be aged for 3 years before release, and Gran Reservas have to age for no less than 5 years! Of course this is just a minimum, meaning that many of the vintage's best wines are just now hitting the market!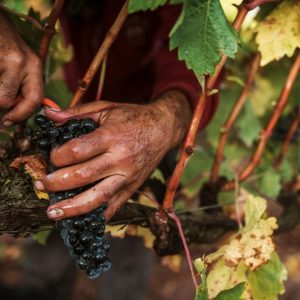 When talking about the wines of 2016, two words continually pop up: balance and freshness. The wines in general achieved full ripeness with only modest levels of alcohol. The tannins are silky and the aromas jump out of the glass. These are classically styled wines that are drinking great now (remember, they've already been aging for over five years) but are built to age beautifully over the course of decades.
On paper, the vintage conditions weren't what one might think of when they imagine an ideal growing season, but everything came together perfectly. The season kicked off with a mild winter and rainy spring, which delayed bud-break but also filled the underground water reserves. Once flowering occurred, it was abundant and healthy.
That wet spring rolled into an extremely hot and dry summer and kicked off an abundant crop. To keep their yields within permitted levels, vintners did a massive green harvest, cutting off excess grapes and letting them fall to the ground. Images of discarded bunches were widely shared on social media, and everyone was wondering how the vintage would turn out.
Temperatures settled down by the end of summer, and some timely September rains helped lengthen the growing season. In fact, this is one of the longest seasons of recent memory, with many wineries only completing their harvest by the end of October.
An odd mix of rain and heat led to a banner crop of perfectly balanced grapes – phenolic ripeness mixed with lively acidity. This is an exciting vintage of stellar wines, destined for the cellar or the dinner table.
La Rioja Alta Stuns with Viña Ardanza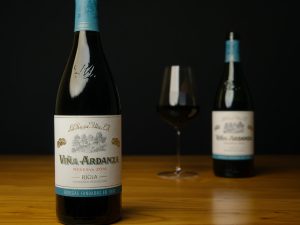 La Rioja Alta is best known for their flagship wine 'Viña Ardanza', which was created in 1940 (the winery itself has been in business since 1890.) One of the unique characteristics of 'Viña Ardanza' is the amount of Garnacha that goes into the wine, roughly 20% of the blend each year. The Garnacha comes from estate vineyards in Rioja Oriental, a subzone known for having the perfect conditions to grow this variety.
This unique blend of Tempranillo and Garnacha was able to really shine in 2106, with Tempranillo providing a firm backbone of silky tannins and refreshing acidity, and Garnacha adding intense aromatics and a ripe, fresh profile.
---
Savory and complex with dried orange peel, cedar and plenty of sweet spices, walnuts, caramel, dried mushrooms and pine needles. Shows maturity here, with a medium body and superb freshness. Incredibly long finish with lots of truffle and walnut. Lasts over a minute. Very complete now, but you can still hold it.James Suckling, 95 Points
A Trio of Gran Reservas from CVNE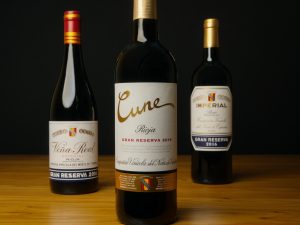 Nothing epitomizes Rioja quite like a Gran Reserva – the best grapes from choice parcels, aging luxuriously for years in oak barrels. There are few wines in the world treated to this lengthy aging regimen, and the results speak for themselves. Savory aromas of spice box, cigar & cedar mix with dark fruit on the palate, all imprinted on a full-bodied wine with serious structure.
CVNE, a grand bodega with over 140 years of history, has a trio of impressive Gran Reservas – Cune hails from the Rioja Alta subzone and is considered to be more 'Bordelais', while Viña Real expresses the high-toned fruit of the Alavesa. Imperial is the granddaddy, sourced from the wineries oldest and best vineyards and widely considered one of the best Spanish wines being made.
Victor Urrutia, CEO of CVNE (and seventh member of his family to run the winery), says "the 2016 vintage wines have an ideal balance of acidity, body weight, aromatics and persistence, as well as lower alcohol levels than in hotter years. The result was fresher, more profound wines." 
---
I like the medium-velvety tannins with firmness, brightness and freshness. Full-bodied, racy and energetic. Elegance with structure. Needs four to five years in the bottle, but already impressive to taste.James Suckling, 95 Points
---
Fantastic aromas of cappuccino and orange with dark berries. Full-bodied with ultra-fine tannins that are layered and wonderfully polished. The wine has wonderful depth and complexity, as well as super structure. Great Viña Real. Drinkable now, but better in two or three years. Will age beautifully.James Suckling, 96 Points
---
Polished and structured with firm, very fine tannins. Lots going on here, with layers of black fruit, dried spices, graphite, coconut and cracked pepper. Full-bodied and so intense. Keeps going. Long. The tannins are so fine and so numerous. One of the greatest modern gran reservas.James Suckling, 98 Points
Torre de Oña: Classic Sensibility for the Modern Era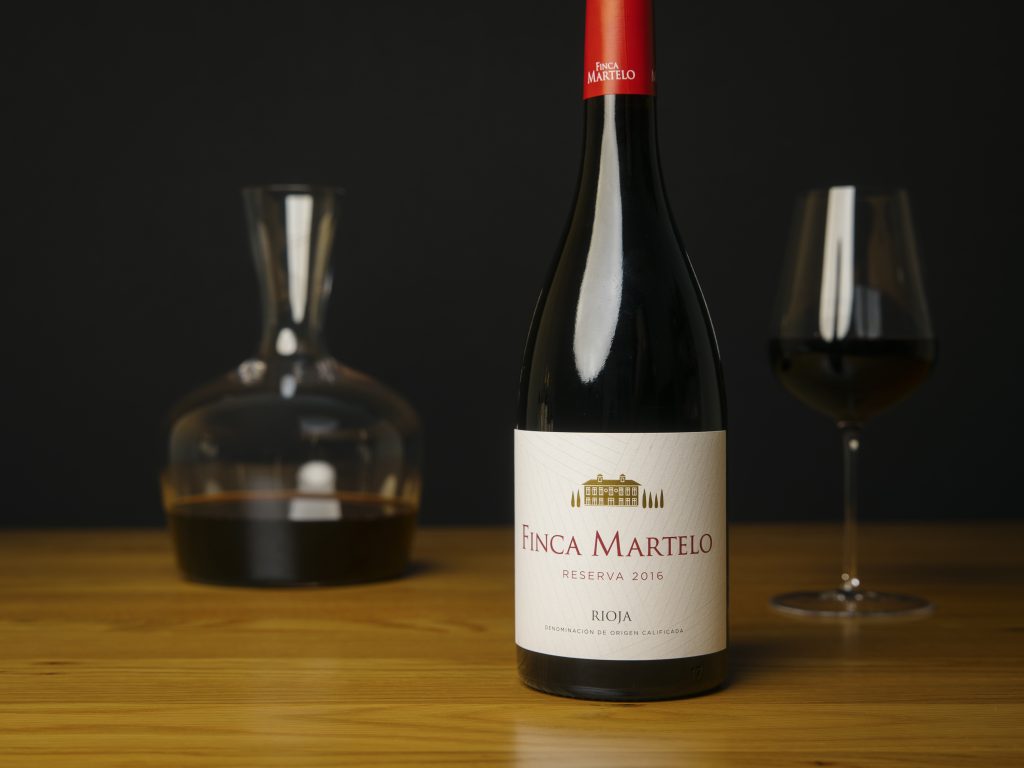 Torre de Oña is a small winery in the Rioja Alavesa, founded in 1987 – a relative newcomer in the world of Rioja! Rioja Alavesa has become an increasingly important subzone, with its cooler climate and limestone rich soils producing lifted reds with excellent clarity and freshness.
The 2016 'Finca Martelo' is a stunner, made from 100% Alavesa Tempranillo. The harvest was particularly long this vintage – a slow ripening process is a boon for the grapes, adding complexity and character to the wine. A perfect time to get to know this wonderful winery.
---
The 2016 Finca Martelo comes from one of the longest harvests in their history… It has a lively and young color and a very expressive nose (the cold soak and the semi-carbonic maceration), and there is a strong spiciness despite the fact they never use any new oak. It's mellow and round, with glossy tannins and a very gentle mouthfeel, with good complexity and those chalky tannins…Wine Advocate, 95 Points
TL;DR
2016 is a Rioja vintage to go long on – the wines are drinking beautifully now but will also age gracefully for decades to come. The producers highlighted here consistently make great wine vintage to vintage, but when the conditions are perfect, the results are profound. Pick up a bottle (or two!) and see for yourself.
THE WINES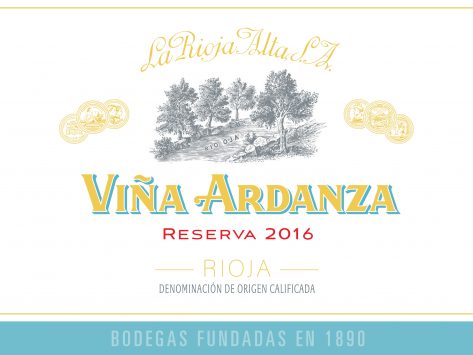 Rioja Reserva, 'Vina Ardanza', La Rioja Alta
80% Tempranillo from 30-year-old vines in Rioja Alta
20% Garnacha from Rioja Oriental, a specialty of the subzone
All estate fruit
Manual picking began at the end of September
Only the ripest grapes make the final cut
Aged for 36 months on four-year-old American oak Barrels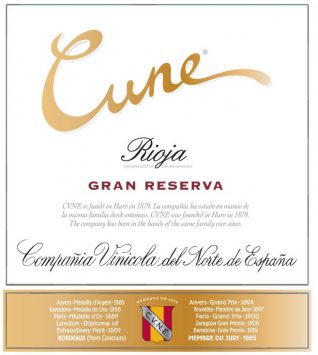 Rioja Gran Reserva, Cune, CVNE
85% Tempranillo, 10% Graciano, 5% Mazuelo
45-year-old vines on stony clay soils
Manual harvesting
Fermented in concrete tanks
Aged for 24 months in American and French oak barrels
Aged an additional 36 months in bottle before release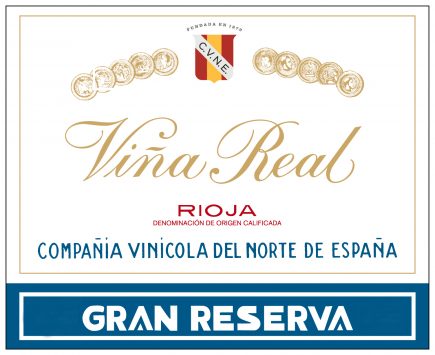 Rioja Gran Reserva Especial, Vina Real, CVNE
95% Tempranillo & 5% Graciano
Grapes from Rioja Alavesa subzone on calcareous sandy soils
Aged for 24 months in new American & French oak barrels
Aged an additional 36 months in bottle before release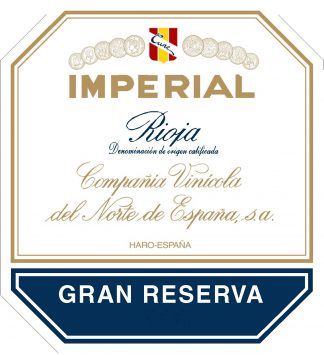 Rioja Gran Reserva, Imperial, CVNE
85% Tempranillo, combined 10% Graciano & Mazuelo
From their best estate vineyards in Rioja Alta
40-year-old bush vines
Aged for 24 months in new French & American oak barrels
Aged an additional 36 months in bottle before release