While we all agree that it's crucial to have at least a small selection of wines at home for hosting (or for the end of a long afternoon), nothing makes for a more sophisticated welcome than a well-stocked and well-executed home bar.  As our prolific and profound Spirits portfolio continues to grow, we've been gaining a lot of insight into just what makes the ideal home bar setup – or at least, the bare minimum home bar setup to achieve the maximum home cocktail potential.
Let's discuss.
◊ TOOLS OF THE TRADE ◊
Just as important as the spirits (hard to believe, I know – but it's true), every great home bartender needs to have proper tools.  A few basics:
♦ Jigger
You don't want to be eyeballing or guesstimating when you're making a cocktail; precision is key to balance, and balance is key to a great drink. Either get a fancy jigger that has multiple measurements, or get a pair of simple jiggers (a 1 / 2 oz jigger and a 1.5 / .75 oz jigger are the best pair to help you make the most measurements).
♦ Shaker tin
Don't waste your time with those old school shakers that have the tiny caps on top, commonly called cobbler shakers. Get a pair of tins, one large and one small — preferably 22 oz and 16 oz. Make sure they fit together snugly so you won't spill! Koriko brand tins are becoming the industry standard.
♦ Muddler
Crucial!  How else will you make mojitos?!
♦ Bar spoon
Preferably one with a 1/2  tsp bowl and thin, soft threading. Length is up to you.
♦ Mixing glass
Or a pint glass will suffice…
♦ Wine key
Don't you already have one of these?
♦ Two kinds of strainers
Hawthorne (the one with the spring) and Julep strainer (the perforated spoon). It's crucial to have both. The Hawthorne strainer is designed to play with your shaker tin, the julep strainer goes with your mixing glass. You can control the aperture with the spring on your Hawthorne in conjunction with the metal tin, but, if you use a Hawthorne strainer after you muddle mint into your drink, it'll get all caught up in your spring—with a Julep strainer, just wipe it off and you're done.
♦ Extra credit!
Why stop now? To really have all the pieces to your bar puzzle, you'll want a paring knife, a little cutting board, a micro-plane for grating fresh spices like nutmeg, a swivel peeler with a wide mouth (a wide swath of citrus peel imparts essential oils better than a thin channel knife), and fine mesh strainer to strain the pulp out of citrus juices, and so control the texture of the drink.
◊ GLASSWARE ◊
We've all had that uncomfortable moment when the only clean glass we have left to serve our Egly-Ouriet in is an old mason jar, and the same is true with cocktails. Glassware makes a world of difference. An old fashioned in a wine glass just feels silly, and a highball served in a rocks glass defeats the purpose. So we'll have to invest in a few basic options.
♦ Highball or Collins
At least 12 oz in volume is preferable.
♦ Rocks glass
Get a large one so you can cram a few big cubes in alongside your drink.
♦ Stemmed cocktail glass
Anything to serve drinks "up" – a coupe, a martini glass, a "Nick & Nora" … Anything that widens out to allow the drink to open up, rather than containing the nose like a wine glass.
♦ Shot glass (or small rocks glass)
Sometimes, the time is now.
♦ Wine glass and/or flute
You've already got these too, right?
◊ THE WIDEST RANGE OF DRINKS WITH THE MINIMUM RANGE OF SPIRITS ◊
Just having a couple bottles of gin and bourbon won't help you make very many drinks. You'll need some modifiers, too  — you can't make a real martini without vermouth, and you can't make a margarita without curacao or triple sec. Below we've given you the least number of bottles to achieve the highest number of classic cocktails.
♦ Gin
Preferably not just one. Different styles of gin have different applications and different effects on your cocktail; make sure you have a dry gin, like Reisetbauer Blue Gin, and an Old Tom Gin, like the brilliant one from Greenhook Ginsmiths.
♦ Brandy
At the very least you'll want a young, cocktail-friendly Cognac like Dudognon Selection, and an apple brandy like Neversink Apple Brandy from New York or Domaine Montreuil Selection from Calvados.
♦ American whiskey
Ideally, you'll want to have both a rye and a bourbon to have a complete and killer home bar – but if you only grab one, aim for a bourbon with higher proof—it'll hold more of the flavors around it in the drink and you'll get deeper expressions of the ingredients it's paired against. Our own favorite, Medley Brothers Heritage Bourbon 102, is perfect for every cocktail application.
♦ Vermouth
You need at least a dry (French) and a sweet (Italian) vermouth – Contratto Rosso is ideal, as it balances wormwood with a winemaker's approach to fortified. It's that rare sweet vermouth that works just as well in a Manhattan as it does in a Negroni. And remember: vermouth is a wine! Refrigerate it after opening!
♦ Triple Sec / Curacao
Crucial in so many recipes, Giffard's Triple Sec Curacao is sourced using real Curacao oranges, and is 80-proof and dry like a true, traditional triple sec should be. Ideal.
♦ Rum
You'll want to have at least two: one silver and one aged. Rum is incredibly diverse, as a category, so the deeper your selection gets, the more variation you can offer your rum drinks… But if you only get one of each, try starting out with a plush and generous silver like El Dorado 3year Demerara Rum, and a complex, barrel-driven aged expression like Rhum J.M VSOP Agricole. Then, seriously, start building from there. You won't regret it.
♦ Agave
For the most cocktail versatility, you'll want to pick up both a blanco tequila like Azteca Azul, and a joven mezcal like Nuestra Soledad San Luis del Rio – the contrast between the two categories is astounding, so try out your favorite agave recipes with both and see how you prefer to make your drinks sing.
♦ Aperitif
You'll need at least one bitter aperitif liqueur; so many classics call for historic brands that are now ubiquitous, but we offer crafted boutique versions that will both hit all the notes you expect from the classic cocktails, and will also open up new realms of possibility. Start with Contratto Bitter – and if you're feeling like a spritz or two, grab Contratto Aperitif too.
♦ Amaro
Used in classics since the days of the Savoy, you'll need at least one cocktail-friendly digestif on your backbar. Start with Caffo Amaro del Capo – and if you're feeling frisky, get some Contratto Fernet so you can make a few Hanky Panky cocktails.
♦ BONUS POINTS
Grab a pastis (like our own Argala) or an absinthe, plus a monastic-style herbal liqueur like Distilleria Alpe's Herbetet Genepy, Rapa Giovanni's Certosa (or even Chartreuse). You'll soon want more.
 ◊ OTHER INGREDIENTS ◊
Depending on the drinks you plan to make, be sure to stock fresh ingredients like lemons, limes, oranges, pineapple or mint within a day or two of use.  But some ingredients will keep for ages, and are a critical part of any home bar collection.
♦ Bitters
At the very least, you need to have Angostura, Peychaud's, and orange bitters. These will get you through 99% of the classics that call for any bitter.  These days, we're lucky enough to have all three of those widely available, plus tons of delicious and fascinating new flavors – have fun and experiment once you've covered the basics!
♦ Simple syrup
All you need to do to make syrup is mix equal parts sugar and warm water; stir until the sugar is completely dissolved into the water. If you keep it chilled, it will last for months. Once you've mastered simple syrup, make some traditional grenadine too – it's two parts sugar and one part pomegranate juice (make sure it's 100% pom), and it's called for in a lot of great recipes. Making the real stuff at home (or buying a true pomegranate grenadine bottled commercially) will add a lovely new tart-fruit dimension to your sours.
♦ Nutmeg
Seriously, keep some whole nutmeg around. More old drinks use it than you'd expect, and no powdered nutmeg will ever beat the fresh stuff.
♦ Cocktail cherries
Don't bother with the Red #5 nonsense. Try and find some true brandied or maraschino style cherries to garnish your drinks – it makes a world of difference.
♦ Straws and cocktail picks
We invented straws to drink our juleps in the 19th century – now that it's the 21st, we should all have straws at our disposal all the time!  Get civilized!  And a cocktail pick (or bamboo skewer) is crucial to drop those garnishes on your guest's drink without forcing them to put their fingers in the drink to get it back out… Brilliant!
That should be a good start.  Beyond this, all you should need is… well, ICE!!  Have fun, and cheers!  (Oh, and be sure to invite us over for your first cocktail party!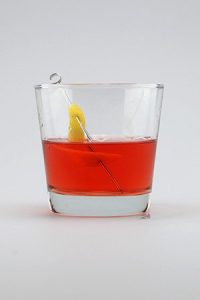 1.5 oz Dudognon 'Selection 5yr Old' Cognac
.5 oz simple syrup
1 barspoon absinthe
2 dashes Peychaud's Bitters
1 lemon twist
Pour barspoon of absnithe into empty glass and swirl for aromatic wash; combine ingredients in mixing glass and stir on ice for 30-45 seconds; strain mixture into absinthe-coated rocks glass; garnish with lemon twist.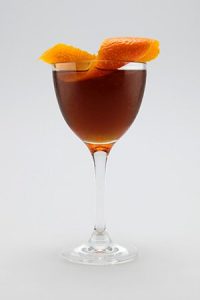 Hanky Panky
Credit: c. 1916, Ada Coleman – The Savoy, London; revised for Skurnik Spirits
1.75 oz Hans Reisetbauer Blue Gin
.75 oz Contratto Rosso Vermouth
.25 oz Contratto Fernet
Combine ingredients in a mixing glass; add ice and stir; strain into a chilled cocktail glass; garnish with a thick orange twist.
For more cocktail recipes click here!