The young distilling duo behind Neversink Spirits, Noah Braunstein and Yoni Rabino, sat down with Skunik Spirits and answered some questions about the history of their inspiration, progress, and pitfalls. Based in Port Chester New York, they let us gain some insight into their processes as artisans of an age old American craft. Enjoy!
To begin, why don't you tell us a little bit about Neversink Spirits, in your own words?

Neversink Spirits is small distillery that focuses on creating spirits that showcase the quality of the farm-grown ingredients. Working with great local farms, we want to express the unique terroir of NY grown fruit and grains by creating flavorful, elegant spirits. Our small team operates out of our distillery, located in Port Chester, NY, where we do all of the production, bottling, packaging, etc. We distill with a German copper hybrid still – capable of pot style and column distillations.
Can you explain the Neversink concept, and what sets you apart from other American brands?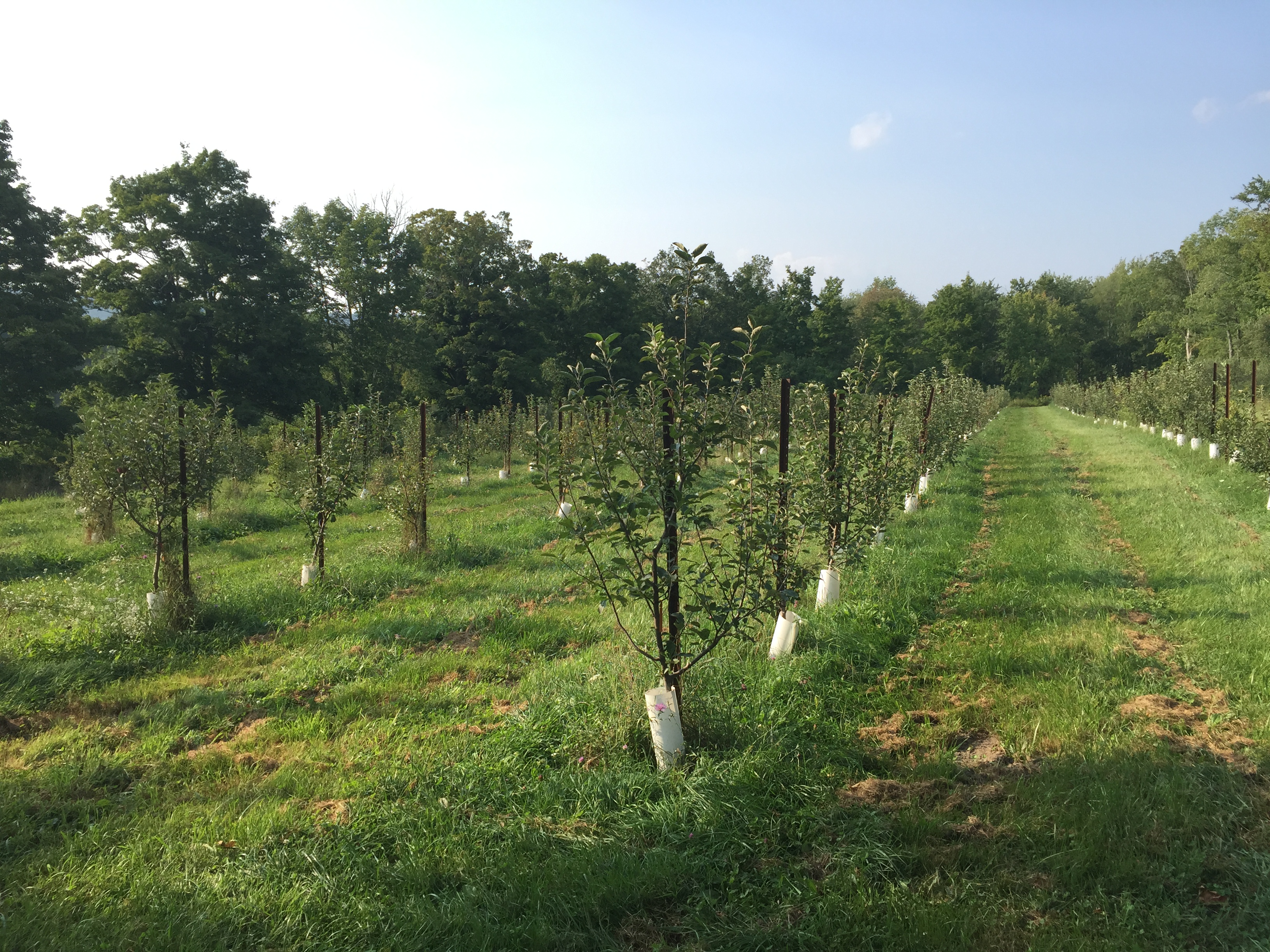 Neversink is a member of a three-part collective called The Food Cycle, which includes a brewery, a farm, and of course, the distillery. By launching this system together, we could create a dynamic in which farm products could be used for the brewery and distillery, and agricultural waste from the brewing and distilling processes could be recycled back on the farm to be used as compost or animal feed. Additionally, the brewery and distillery can collaborate in many ways, including on some pretty exciting distilled products that are in the pipeline. On our farm, we planted a small orchard, where we grow ~20 varieties of heritage bittersweet and bittersharp varietals. The orchard is still relatively young and while we don't include those apples in current batches of our apple brandies, we plan to incorporate them into a new product as soon as they are mature. Perhaps most importantly, however, growing apples (and other produce) allows us to understand more fully the agricultural process,
which in turn helps us source better fruit and make better brandy.
At Neversink, we strive to create spirits that reflect and showcase the natural flavors of the ingredients and transport the drinker to another place, or another time. Tasting the unique flavors of New York's apples, and pears, are important to us as the growing conditions will undoubtedly express different characteristics than apples and pears grown in California or Normandy. By allowing fermentations to occur at cooler temperatures in stainless steel tanks, and with a clean but flavorful distillation, we believe that those natural flavors will shine through.
Ultimately, our brand is about quality and production style. Everything we make is from scratch from ingredients grown at farms we trust.
How did the two of you meet?

Noah and I have known each other for years. We met in High School and instantly became friends, and we found we shared an interest in cooking, science, and many other topics. From early on, we got excited about cooking projects and later learned about fermentation, a process that hit on our science interests as well as our excitement for food/drink. Later still, we got more into beer brewing, cider making, and eventually spirits. We still trade recipes for good home cooking.
What was the inspiration that led you both to open a distillery?

As our interest in fermentation, and our appreciation for cider, wine, and spirits developed, an idea started to take root. We found we both had a love for European fruit brandies: Calvados, Armagnac, Cognac, and many Eau de Vie. We loved the local differences that these spirits expressed, and started to become excited about the concept of a New York apple eau de vie. Apple eau de vie is a rare spirit in general, with very little being imported, and we weren't familiar with too many folks making one locally. We started working with a couple of local distilleries to develop our own apple eau de vie recipe, and were excited by the initial results. After some further development, we had something that we were excited about, and found that others were excited about it as well. Finally, we decided to dive in and give it a go.
Tell us about your philosophy of sourcing — what's your method?

The first criteria is that the farm must be in New York. Our brand and our products is focused on showcasing the unique qualities of New York fruit. Our strategy is to work with folks in the area with a lot of institutional knowledge, like local cider mill operators, who have relationships with a lot of farms. These folks can get a sense of the type of fruit (or grains) that we are looking for, help to identify the farms that operate with a philosophy that jives with us, and put us in touch with the right growers. But in the end, tasting the fruit is the most important way to know if we will like using it in our spirits.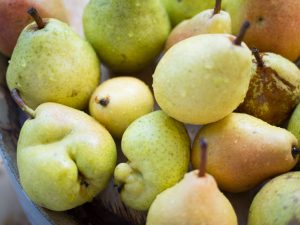 Why did you focus on apple and pear brandy?

First of all, we love apples and pears! I think Noah and I would both agree they are under-rated fruits. But, it ultimately goes back to our core philosophy of working with fruits that we feel reflect the unique characteristics of New York's amazing farms. Apple-based drinks, especially, hold an important part of the booze history of the Northeast and we see them holding an equally important role in the coming months and years.
Who are your influences and why?

We have a lot of respect for the great eau de vie distillers including Hans Reisetbauer, Cazottes, Westford Hill, and Clear Creek. We're also heavily influenced as well by many winemakers and cidermakers all over the world.
What is the most rewarding part of your process as distillers? As businessmen?

I'd say there are a few rewarding moments that really stand out. The first time we distill a new product and taste the results, it's always exciting and gratifying. Additionally, there's a thrill the moment you pull a sample out of a barrel to see how the aging process is going. Lastly, it's really gratifying when you walk into some of the great restaurants and bars and see and taste firsthand some of the creative ways they are using our spirits – that's the best!
What successes have you had along the way?  What growing pains?

Although this is undoubtedly a tough business in many ways, I'd say we've been mostly humbled in how our product has been received. We're honored to have gotten a gold medal for our apple brandy at the first competition we submitted to – the 2016 San Francisco World Spirits Competition – as well as all the less formal acknowledgement we've gotten from the amazing respected people we've met along the way in the industry. Working with fruit has been a growing pain of it's own. The nature of fruit is that they produce low-yield spirits, so we've enjoyed the business challenge of how to grow our business while working with a limited production quantity.
What else do you have in the pipeline?

We're working on a bunch of exciting new spirits, mostly to be released in 2018. We have a bourbon aging away nicely, made from NYS corn, wheat, and barley. Our plans are to use an apple brandy cask finish and we expect to release that in spring of 2018. We're also working on a pommeau made with bittersweet apple varietals, which will be ready in time for fall 2018. Another exciting project is our collaboration with our brewery, Kent Falls Brewing Co., who produced a wort from NYS malt for a single malt we fermented and distilled.  Lastly, we are very excited about a grape brandy made from NYS chardonnay, that is already showing a lot of promise and is aging in Chardonnay casks.
---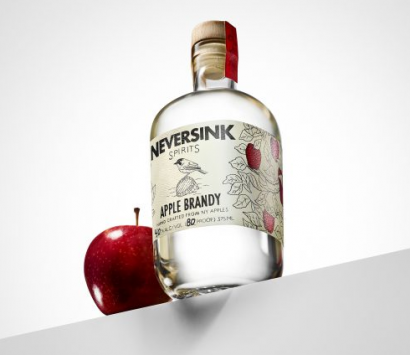 Neversink Spirits clear apple brandy delivers a pure, honest reflection of the apples' characteristics.  Fruit brandies, popular in Europe, have been gaining more acclaim in the U.S.  A brandy is a truly unique way to experience a fruit; they capture a power, complexity of flavor, and clean fruit notes, unique to this class of spirits.
Neversink Spirits clear apple brandy is great to sip after dinner or as part of a cocktail.  The blend of apples gives several layers of flavors: cut green apples, spice, vanilla, woods, and pear fill the senses as you take a sip.  A round, clean mouth feel and subtle lingering spice will leave the palate happy.
Our clear apple brandy is hand-crafted from New York State apples.  We believe that just as wines reflect the character of the soil and climate in which they are grown, a fine apple brandy can showcase the unique qualities of apples grown in New York State.
*photo credit Sam Kaplan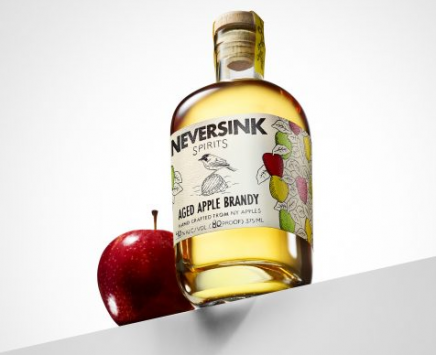 Made from a blend of New York State-grown culinary apple varieties, cold fermented and twice distilled (Once in copper pot and once through a single plate engaged column).   The apple brandy is aged in three types of barrels before blending: previously used brandy barrels, previously used whiskey barrels, and new charred American oak, to give it a complex, layered, and long finish.  Baking spice and of course, apples, round out the mouthfeel and make a wonderful addition to cocktails.
*photo credit Sam Kaplan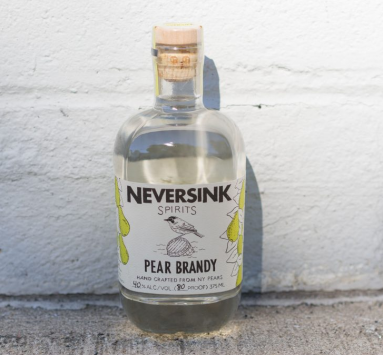 Inspired by it's European cousin, Poire Williams, Neversink Pear Brandy is made from 100% New York State grown Bartlett Pears. Pears are selected at tiered levels of ripeness, each which contribute to the layered, complex flavor profile. Cold fermented on the skins and twice distilled, Neversink Pear Brandy is an unfiltered, aromatic eau de vie that bursts with flavor and finishes with a velvety mouthfeel. Over 45 pounds of pears go into each 375ml bottle of eau de vie.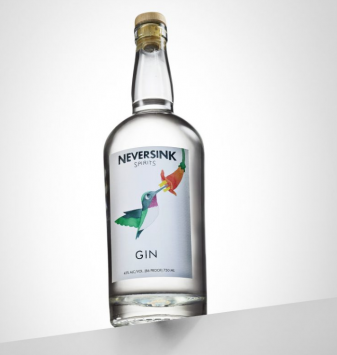 The care that goes into each and every bottle of apple brandy can be tasted with each and every sip of the spirituous yet spritely gin.  The Portchester based, distilling duo of Yoni Rabino & Noah Braunstein have something new for all of us and they promise you are going to love it…
Skurnik Wines is pleased to present Neversink Gin.  The base spirit for their gin is comprised of both NY grown apples and grain (milled on site.)  It is crafted from scratch and infused with complimenting flavors of juniper, cardamom, anise, cinnamon, elderflower, citrus and more… The resulting dram is full bodied, full flavored and wonderfully versatile.
*photo credit Sam Kaplan