Grenache Clone 362 is readily described in two ways.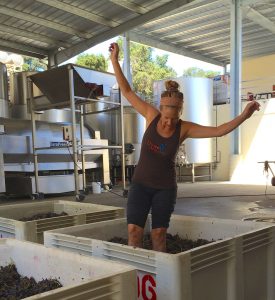 First, you can refer to ENTAV, a French organization responsible for the selection, conservation, and distribution of vinifera clones. They cataloged 362, after all, and have described it – but in fewer words – as: first selected in 1975, and largely propagated in the Languedoc-Roussillon. It is of low-to-medium fertility, low cluster weight and berry size, low production, and medium-to-high color and tannic structure. It is susceptible to shatter, and appreciated for its agronomic characteristics and quality of wines produced.
Then, you can ask Angela Osborne to describe her favorite clone. She will tell you – in no fewer words – that 362 is like "a woman riding a horse bareback without shoes, holding an incense stick. And the incense isn't like Nag Champa, it's like sandalwood, for sure."
Making wine from Grenache, then, is the work of a polyglot. To do so, as Angela, of A Tribute to Grace, does, one must keep in balance the rigorous maneuvering of sensitive vineyard and cellar work with a reverence for the ineffable. Angela teaches us that Grenache – ebullient and unbridled, in the fields, the barrel, the glass – must be confronted with intention and finesse.
• • • • •
But first, let's work our way backwards. The Grenache of California as we know it most notably found its voice in the mid-eighties as an emphatic platform for the Rhone Rangers' message. A ragtag cohort of winemakers, including, among others, Randall Graham of Bonny Doon, Bob Lindquist of Qupé, and Joseph Phelps, the Rhone Rangers forwent the time's conventionally marketable varieties for intimate investigations of California through the sensory palette of the Rhone. First, the oft-forgotten old-vine plantings of these varieties leant these intrepid folks the opportunity to experiment – and experiment Randall did (and does).
This movement encouraged the contemporary engagement with alternative varieties that we now so explicitly understand as both the historian's imperative and a progressive charting of California's terroir.
Randall's first engagement with Rhone varieties was, in fact, with Grenache – from a vineyard that resonates with us today. In 1982, Randall began his work with Besson, a Hecker Pass vineyard planted in 1910 to head-trained and dry-farmed Grenache. This source would be, for many years, the driving force of Le Cigare Volant, Bonny Doon's flagship Rhone-style blend, and a movement-defining bottling. To fast-forward only briefly, Angela now bottles the bounty of this site as a singular expression of Grenache.
But 1910 is not the beginning either. Grenache is thought to have been introduced to California by Charles LeFranc, a pioneering viticulturist of Santa Clara, who, in 1857, grafted cuttings collected in France to earlier Mission plantings. During the planting boom of the 1880s and after prohibition, Grenache – esteemed for its precocious sugar development and immense yields – proliferated the Central Valley, to be largely used in dessert wines, rosé, and for blending into any of the innumerable jug wines of the 20th century. Grenache would reside here, resigned to the waves of the mass-consumer palate, until the mid-nineties, as the variety piqued the interest of our aforementioned heroes. New plantings from more compelling French clonal material, sourced by the likes of John Alban (progenitor of the eponymous clone) and Tablas Creek (with imported material from their sibling winery, Château de Beaucastel) cropped up along the Central Coast, energizing winemakers and patrons seeking the nuance of varietal bottlings.
• • • • •
And then Angela arrived. First a film student in Auckland, New Zealand – her home, the country in which she found her rhythm and lilt, the birthplace of her children – Angela worked in wine retail for six years, never encountering a varietal bottling of Grenache. But she was taken by the storytelling of each glass poured, the whirring mechanics of their composition, the collaboration of hands and earth – hidden in plain sight. Like sitting for a film unfolding before you, the experience of wine is seamless in its strata: enjoy its surface, its sensory allure – or plunge right into its makings.
With opportunities in both film and wine in the wings, Angela left for harvest in Sonoma; three months that her mother, ever-intuitive, knew were just the beginning. In encountering California Grenache, first a Dry Creek bottling by Unti, Angela found the conduit by which to share her voice – and together they'd tell stories of time and place. She was intrigued by its performance of balance, a whirling dynamic that leans, she believes, toward the feminine. What others had found to be boisterous, she would honor as delicate.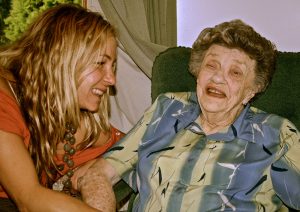 In 2007 she set forth on this pursuit, all the meanwhile engaging in study and mentorship in the cellars and vineyards of Failla, Beckman, Anne Kraemer, and LIOCO, among others. She began with a single wine from the Santa Barbara Highlands vineyard, high in the Sierra Madre Mountains, from which she continues to source fruit today. What began as an intention to bottle three single-vineyard offerings, and some 1,000 cases, has since grown host to eleven bottlings and 3,000 cases. As a wanderer, hand-in-hand with an agile variety, Angela has coaxed stories out of vineyards across the state, from Dry Creek to Cucamonga. Her winemaking marries intuition and learned wisdom, sensory judgement with biodynamic practice. In speaking of her wines, she addresses them as beings, alive and vocal, and ever-changing. But some things do not waver; when asked of her experience in revisiting vintages past, she exclaims, "wild never ceases."
Angela chose to title this pursuit as an homage to her grandmother and concurrently the virtue she seeks to capture in each bottling. Grace, she explains, is a feeling – "something that puts you at ease in your own self, whoever that may be… Grace is deeply comforting, and deeply real." And upon meeting Angela, it soon becomes clear that grace is not a fleeting aspiration or ideal – but her own leading attribute. She expresses an assuredness rooted in intuition and joy. She deftly negotiates a tangle of science, spirit, and memory (her own, the land's, and its inhabitants', too). She is wide-eyed and generous. And when she tells a story, it is a gift to listen.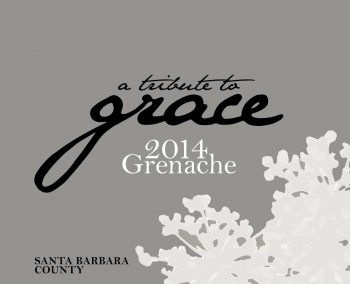 A Tribute to Grace 'Santa Barbara County' Grenache 2015
Comprised of two different microclimates in Santa Barbara County: the Santa Barbara Highlands Vineyard at 3,200 feet, and Vie Caprice in Santa Ynez (southern block)
Both planted to Alban clone
100% destemmed, raised for 11 months in neutral French barrique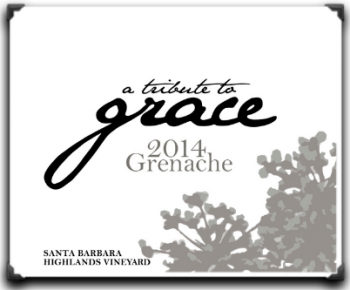 A Tribute to Grace 'Santa Barbara Highlands Vineyard' Grenache 2014
Santa Barbara County AVA; Angela's 8th vintage from this vineyard
3,000 feet in elevation; soil is a combination of decomposed granite and clay loam; diurnal shifts of 50 degrees
67% whole cluster fermented with native yeasts (19 days), foot-tread twice daily.
Pressed to barrel, where MLF occurred spontaneously.
Aged for 17 months in French 220L & 500L barrique (17% new)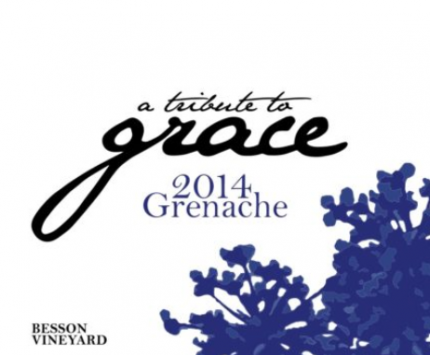 A Tribute to Grace 'Besson Vineyard' Grenache 2014
Santa Clara AVA (the birthplace of California Grenache)
Planted in 1910 to head-trained vines, spaced 8' X 6', on gravelly clay loam.
50% whole cluster fermented with native yeasts (16 days)
Pressed to neutral French barrique, where MLF occurred spontaneously.
Racked once under the first new moon of 2016; aged for 17 months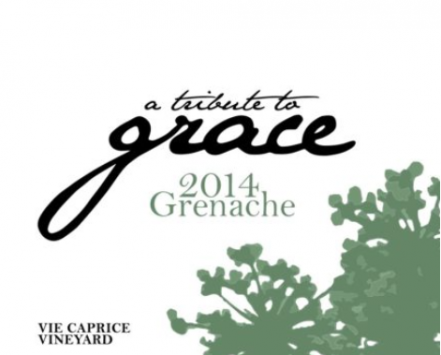 A Tribute to Grace 'Vie Caprice Vineyard' Grenache 2014
 Santa Ynez Valley AVA
1.94 acres planted to Alban clone on gravelly fine sandy loam in 2007; hand-farmed at 5' X 4', organically farmed
50% whole cluster fermented with native yeasts (15 days), foot-tread twice daily.
Pressed to barrel, where MLF occurred spontaneously.
Aged for 17 months in French 220L & 500L barrique (15% new)