Visitors remark that tasting with Alfred and Rolf Merkelbach at their home in Ürzig, at the base of the Würtzgarten, is to travel back in time. Not much has changed in almost 70 years, including the brother's approach to winemaking. The lists of wines on offer are typed up on an old typewriter and are poured into wide brimmed, tall stemmed, crystal glasses. While visitors might taste and make use of the spittoon put out, the brothers sip, swallow, and smile. The Merkelbach's speak a Mosel dialect of German that many people outside of the region (and even some Moslaners) find hard to understand. The conversations and tastings are always punctuated by their laughter,  seated on one side of an old round table in the sunny front room of the house, which serves as their tasting room. It is in this house, which has been in the family for 7 generations, where the Merkelbach brothers were born and have lived for their entire lives.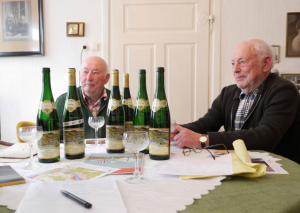 Tastings with the brothers is deliberate. Nothing is rushed or hurried. It is an analog experience, a respite from an increasingly digital world. There is a kind of old wisdom and deep vitality in both the people and the wines. The Merkelbach brothers represent the beating heart, the soul of the Mosel.
Alfred Merkelbach Jr., the elder of the two was only 14 years old when he took over the estate in 1951. His father fell ill and Alfred left high school to take over the family business and shortly after, his younger brother Rolf followed.  Their father was never able to return to the winery and passed away several years later.
In the 1980s the brothers were able to increase their holdings from under a hectare to almost 2 (!) by purchasing excellent parcels from the Richard Jos. Berres Estate, a founding member of the VDP. Now well into their 80s, the brothers Merkebach continue to farm just over one hectare of high density, single-pole trained and ungrafted parcels in Ürziger Würtzgarten and Kinheimer Rosenberg.
These holdings are top parcels each one is picked en bloc, in the old way, without multiple passes through the vineyards to select different levels of prädikat. Vineyards are harvested when the whole section is deemed ripe by the Merkelbachs. The grapes are harvested, pressed and fermented in traditional Mosel Fuder (1200L oak casks) and bottled when the wines "are ready".  Analytics come after the wines are bottled, not before. They are ur-Mosel Rieslings; what these wines tasted like in this area decades ago. They are pure and honest, possessing an effortless balance between fruit and mineral elements.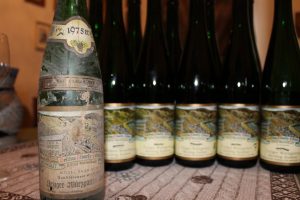 Why we should feel such affection for these wines? It's complicated to pinpoint the singular "why" as there many reasons that we might feel a connection to a wine or person which can be difficult to enumerate. These wines are extraordinary as they are firmly rooted in place, anchored in this bend in the Mosel and to the brothers themselves. The wines are transportive and serve as a reminder of what wine can taste like. Or what Mosel wine did taste like decades ago when work was still being done this way. But here the wines still do – they are living reminders of the past.  Drinking Merkelbach can be a profound juxtaposition of an experience that is firmly anchored in tradition and place, while remaining humble, and alive. These wines are a reflection of their makers.