Vilmart & Cie. is not only one of the greatest grower-estates in Champagne, but one of the finest champagne producers of any type in the region.
Peter Liem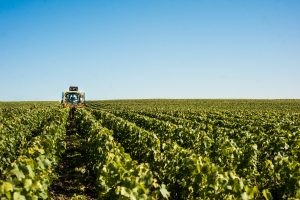 Founded by Désiré Vilmart in 1890, the Vilmart et Cie Estate has produced their own wines since the very beginning. Taking over the reins in 1995, Laurent Champs is the fifth generation to run this outstanding 11-hectare estate in the Premier Cru of Rilly la Montagne. Spread over only 12 parcels, Laurent's dedication and his life's work can best be seen walking through his impressive vineyard holdings.
"We use cover crops in 7 of 9 rows as a rule and do extensive soil work to keep the vines and the soils healthy," Laurent says, standing at the top a hillside vineyard. "You see, the aspect of the vineyard in Champagne is very important. Most of the vineyards here in Rilly are facing north or east. It is only here that we see a perfect south facing hillside."
The vineyard  is Blanches Voies, widely regarded as the finest vineyard in the village, a rare south facing hillside village in the otherwise north facing stretch of the Montagne de Reims. Blanches Voies is split into two sections: Blanches Voies Hautes and Blanches Voies Bas. Blanches Voies Hautes is very chalky in the top section and planted to Chardonnay; the lower section, Blanches Voies Bas, has more top soil and is planted to Pinot Noir.
Laurent has 5 hectares in this 15-hectare vineyard, which is the source for his vintage wine 'Grand Cellier d'Or' (80% Chardonnay, 20% Pinot Noir) and his celebrated top wine, 'Coeur de Cuvée' (80% Chardonnay, 20% Pinot Noir). Both wines come from the same vineyard, but different parcels. 'Coeur de Cuvée' comes from the oldest vines that are over 60-years-old, while the 'Grand Cellier d'Or' comes from vines around 50 years.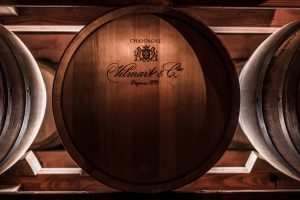 'Coeur de Cuvée' refers to the center (or "heart") of the traditionally four-thousand-kilogram press, which Laurent still employs. From a pressing of four thousand kilograms of grapes, a yield of 2,550 liters of juice makes up the cuvée. For 'Coeur de Cuvée,' only this center 1,400 liters – referred to as the "coeur" or "heart" – of the cuvée is used. (Traditionally, this is why barrels in Champagne were 255 liters – one pressing would produce exactly 10 barrels of wine.) The must is fermented and raised in 1-3-year-old barrique from Damy for ten months; like all of Laurent's wines, it does not go through malolactic process.   "It was my father who started making this wine, aged in oak barrels. The first vintage was 1989 and this wine has been made in every vintage, apart from the 1994 vintage. My father didn't control for malo, but for me, this is very important to the style of my wines and the precision that I want."
Vilmart's vintage wine, 'Grand Cellier d'Or,' comes from 50-year-old vines in Blanches Voies and Laurent uses only the cuvée here as well – 2550 liters from a four thousand kilogram pressing – but teh fermentation vessels and elevage is different.   'Grand Cellier d'Or' is aged in 4-5th use barriques for 10 months without malo, before racking and bottling.
The NV wine, 'Grand Cellier' (70% Chardonnay, 30% Pinot Noir) comes from a hillside adjacent to Blanches Voies, facing east, called Grèves. Similar to Blanches Voies, Grèves is divided into two distinct sections: the top section, Grèves Hautes, is planted to Chardonnay while the richer soils in Grèves Bas are planted to Pinot Noir. The 35-year-old vines here are farmed in the same manner as Blanches Voies, eschewing herbicides, chemical fertilizers, and focusing on the health of the soil. Vinification here is different than the vintage wines, however. 'Grand Cellier' is fermented and aged entirely in 2200-5300L oak foudre. 75% of the cuvée is aged in 40-year-old foudre from a now defunct cooper in Alsace called Hasslin; the rest is aged in 4-year-old Rosseau foudre. Laurent's excellent 'Rosé Rubis' (90% Pinot Noir, 10% Chardonnay) is also aged entirely in the very old Hasslin oak casks and comes from Grèves Bas and another adjacent site, La Haie Barbettes, which is 30 meters from Grèves.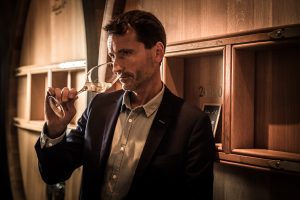 Laurent is adamantly a vintner first, before he is a maker of Champagne. "We do wine first, then afterward we do the Champagne," he says. Looking back on over twenty years at Vilmart, Laurent speaks about his wines clearly. "For me, Vilmart is about precision, emotion and an experience. Drinking wines should be an experience that draws people together, and I hope, evokes emotion. For sure, my wines have a specific style, and through the many years of making wine, I think that we have a recognizable feeling. My wines should be a human experience first."

Vilmart & Cie "Grand Cellier" Brut, NV
"50% 2014 and 25% each '13/'12, and 70-30 CH/PN. This wine seems to have benefited most from Laurent's discontinuing his old "Cuvée Creation," some of whose fruit is used for this wine now. For this is a lovely Grand Cellier, most of the way to integration and the exotic vanilla note, with only a slim point of cherry indicating the small distance yet to travel."

Vilmart & Cie "Cuvée Rubis" Brut
"I don't remember a better version of this. Blends 2014/2015,  shows a fantastic elegance and almost ethereal fruit; it's both hedonic and firm and has a rare equipoise of height and depth. A tomato-water note in an animated, flowery Rosé. Honestly this is almost silly it's so miraculous."

Vilmart & Cie "Grand Cellier d' Or" Brut 2013
"I wonder if a year from now we'll be talking about '13 the way we did about 2008 a few years ago. Because this is looking more and more like magic. This wine is lively and gushes the fragrance of mirabelles, with its typical sandalwood aromas arriving on the mid palate and into the finish. Classy, buoyant, almost comically long."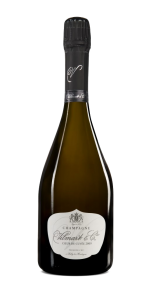 Vilmart & Cie "Coeur de Cuvée" Brut 2009
From the "heart" of the free-run juice, this has become one of Champagne's indispensable wines. This '09 is a stunning power-vintage of CdC, recalling the 2003 and 2006 though rather less sultry than either; this wine is greater than any glass it's served in; almost overwhelmingly generous yet finesse-ful, salty and spicy (5-spice mix especially) I think this will grow incredibly complex with time.

Vilmart & Cie "Coeur de Cuvée" Brut 2010
"No surprise: This is gorgeous. Will there be a better 2010? And will Laurent always make the best wine in normal or "difficult" vintages? Not his best wines, mind you—the best in all Champagne? This is another in a noble chain of manic vintages (2001, 2007) as separate from the rich sedate vintages (2006, 2009). It's electric, quivering, goose-fleshed, shimmery yet hedonic yet weightless yet as energetic as a kitten jumping after a laser."