"Hey Aldo, when you come by on Friday, bring me a couple pounds of walnuts, some fruit and vegetables, two dozen eggs, and a black chicken."

And thus went one of the hundreds of phone orders to the Biale homestead via the old shared "party line" phone service in Napa. Back in the 1940's, Aldo Biale and his mother Christina ran a small farm and vineyard with hundreds of white leghorn chickens. A "black chicken" became the code name for a jug of Aldo's private Zinfandel because people with an interest in other peoples' business might be listening in on the party line phone. An enterprising and teenaged Aldo in post Great Depression Napa had figured out that he could make some extra bucks by discreetly selling his homemade wine that he had hidden in the family barn to friends and acquaintances also known as "the chicken coop cognoscente."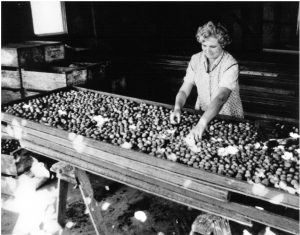 Today, Aldo is no longer with us having passed in 2009, but his memory and the legend of Black Chicken lives on with his old punch down stick and a picker's box gracing the Food and Wine exhibition at the Smithsonian's National Museum of American History in Washington, D.C.
Since its official (and fully legal) debut in 2000, the wine itself, which is sourced primarily from the Biale estate vineyards in Napa's Oak Knoll District, has achieved "must-have" Zinfandel status with its captivating crowd-pleasing style, and numerous accolades from national press and sommeliers.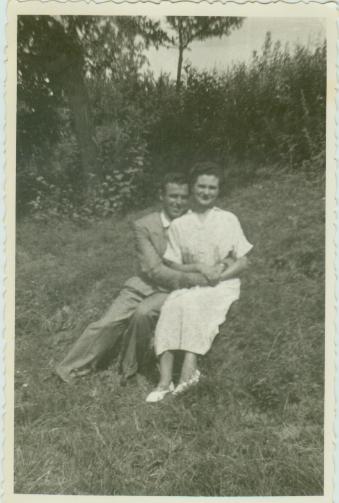 2014 ROBERT BIALE "BLACK CHICKEN" ZINFANDEL
Napa Valley

Sourced from the same family vineyard that Aldo, Nonna, Bob Biale and the Biale family have farmed their whole lives, with additional grapes from a neighboring winery's vineyard in the Oak Knoll District, Black Chicken stands as the ultimate expression of Zinfandel from the cool southern Napa Valley, and perhaps the most famous icon of Napa Valley Zinfandel in general.
Vintage Notes: A warm, dry spring brought early bud break, helped with canopy vigor and berry size. The conditions were ideal for flowering and fruit set under sunny skies. With the exception of one heat spike in late June/early July, temperatures were consistently in the zone for optimal vine activity, resulting in notably healthy vines as fruit went through veraison and started ripening.
Harvest Dates: September 6, 2014 through September 27, 2014
Winemaking: The winemaking begins in the vineyard with meticulous attention to detail and close monitoring by Bob Biale and winemaker Tres Goetting. Their philosophy is to concentrate efforts all season long in the vineyard so that when the fruit arrives into the cellar, only minimalistic vinification is needed. The Biale team wants the wines to speak of the soils from which they were grown.
At harvest, the fruit is hand-picked and hand sorted to ensure that only the best fruit makes it into the fermenter. The grapes are then crushed and gravity fed into open top tanks. The must is cold soaked for 2 to 4 days at 50˚F. For color and tannin extraction, we do 2 to 3 punchdowns per day. Fermentation is usually complete after 14 to 16 days. Then, the wine is racked to French oak barrels of which 20% are new. The wine was aged in barrels for fourteen months.
Winemaker's Tasting Notes: The Oak Knoll Winegrowing region is prevalent in this wine with its dark color, ripe aromatics, and juicy acidity. The nose is full of blackberries, vibrant black cherry, maple, cinnamon, and ginger bread. The entry is soft and gives way to supple round tannins with a delectable center and persistence of fruit. The lovely finish is the signature of this elegant, surprisingly feminine, and remarkably balanced Zinfandel that is immediately drinkable and worthy of 5 to 7 more years of cellar time.