Flying into Oaxaca City, a few things catch the eye. First, snowcapped mountains surround the Oaxacan valley. Alien-shaped lenticular clouds gather en masse. And as you disembark, the agaves make their presence known immediately.
The way that agave and mezcal are entrenched in this Mexican subculture is impossible to ignore: there are mezcal boutiques in the tiny Oaxaca City Airport, and there are maguey bursting with fertility as a tribute to Mayahuel outside the cathedral in the heart of town. Outside of Oaxaca city limits, almost the entire region feels like mezcal backcountry. Traveling to this part of the world invigorates a deep desire to study one of the most ancient and vibrant cultures still in existence today.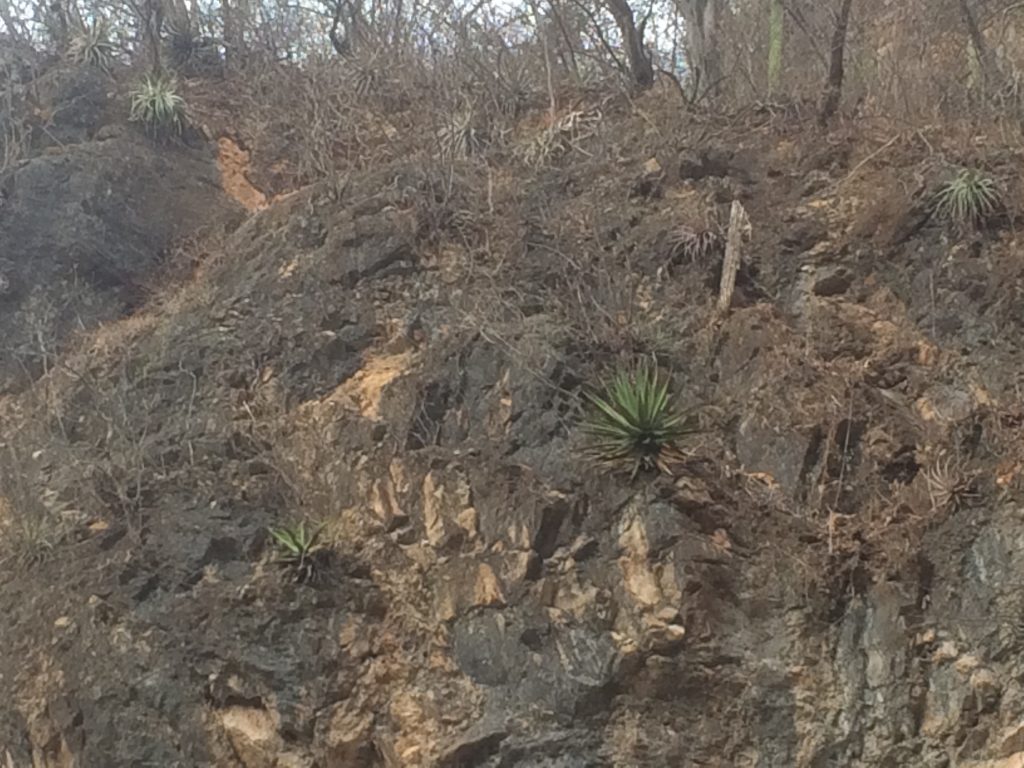 Nature, distillation, and philosophy are intimately connected here. We came to experience
the lifestyle, to taste the spirit, walk the land, and to learn about the conditions that allow for such a culinary transcendence of time, place, and flavor. Mezcal is an incredibly misunderstood, underrepresented, and terroir-driven spirit, and it is nothing short of a miracle that any of this precious juice makes it into the United States. This is why we do what we do.
Our days in Oaxaca were spent visiting palenques (rural, community-driven distilleries), representing small villages spread out around the countryside. We explored some of the most traditional and authentic practices and processes that remain in the production of mezcal. Our guide on this quest was the brilliant and humble Asis Cortes; son of master mezcalero Valentin Cortes, Asis is the 7th generation in a 200-year-old, native Zapotec family lineage of agave. Tied to some of the community's most notorious mezcaleros by blood on both his father's and mother's side, Asis has collaborated with local maestros (and Valentin himself) to create the El Jolgorio and Nuestra Soledad releases – allowing the outside world to experience the mysterious beauty produced by some of the most isolated distillers and most rugged terrains on earth.
Driving on sharp winding roads through mountain passes, high above the Oaxacan desert valley, the careful eye will catch site of wild agave protruding from rock walls and dotting the slopes. The massive Tepeztate, at times growing to be two or three times our size, sits lordly for more than a quarter century before the mezcaleros harvest it and bring us a gentle, fruit-forward, and floral spirit. The tiny Tobala and Jaboli peer down at us from high up, daring us to climb the cliffs above in search of their elusive wonder. Smoke rises from pockets around the valley in Matatlan, agave being cooked so that it may be chopped and ground down, fermented, and distilled. A farmer and his park horse amble by as we dip into the mineral water that flows from petrified falls. There are wild dogs everywhere.
Occasionally, we pass rows and rows of farmed Espadin agave, the easiest and quickest agave to cultivate. In the village of San Luis del Rio, it can mature enough to be harvested and distilled in as short a time as six years. SIX YEARS! It is impossible to compare the time investment in the production of one bottle of authentic mezcal with any other beverage on earth. It is a different animal altogether. No wonder we are so fascinated – the palate speaks deeply of dedication, of devotion, of something larger than ourselves.
With increasing popularity of this smoky, rustic spirit of course has come the commercial expansion of the category. Even in Oaxaca City we see the growing
presence of big money and brand power, and heavily marketed industrial brands are not only on the rise, but threaten to dominate the export of this otherwise wildly unique spirit. (A couple of tell-tale signs of those larger, industrial brands: the mezcal has been proofed down to 80, and there is no information about the location – village or palenque – of production, or the mezcalero who made it.)
Not so with the palenques we visited. The reputation and previous success of the Cortes family (with their own commercial artisanal brand, Agave de Cortes – also a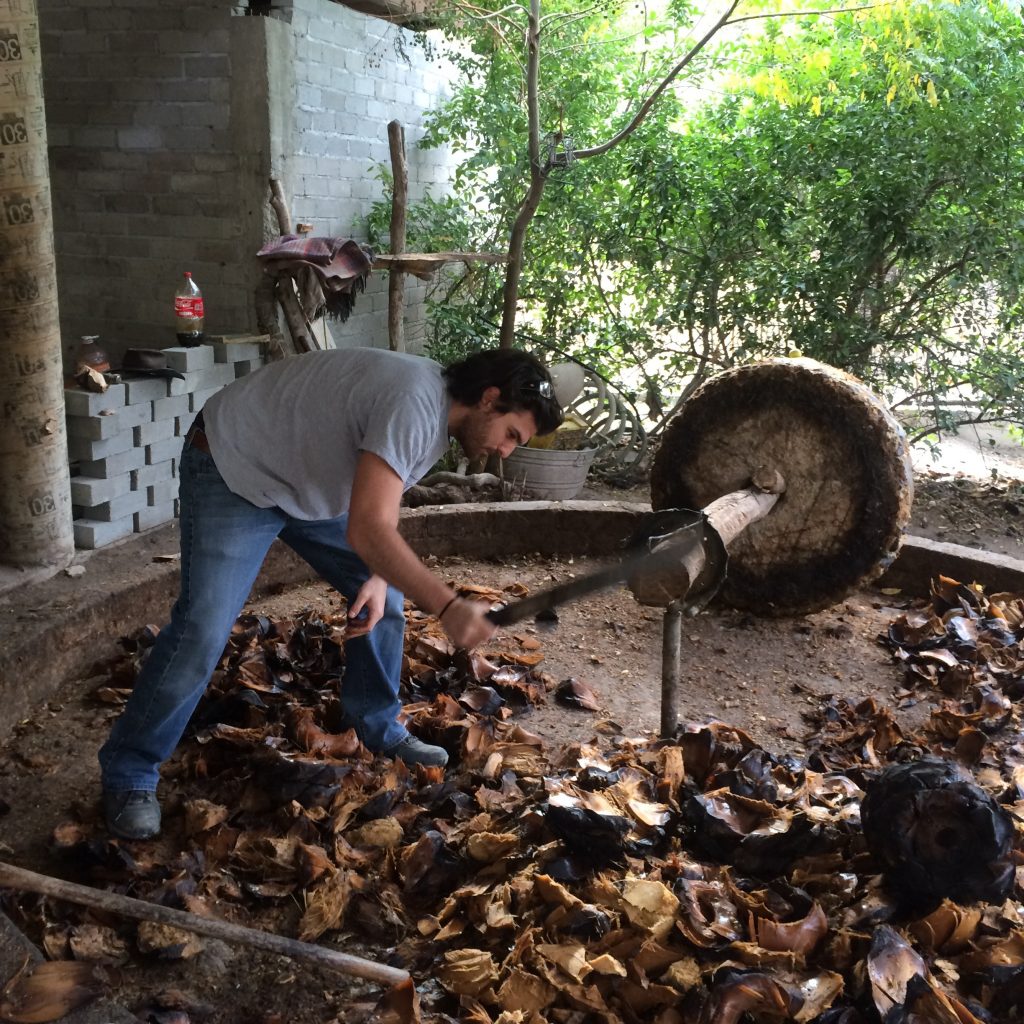 part of the Skurnik family) allowed them to assemble this union of distillers under the label El Jolgorio, which translates to "The Celebration." The breadth of terroirs, production modes, and mezcal varieties turns a trip like this into an endless series of discoveries. At times, soils shift wildly from plot to plot, to the point where two fields of agave may have entirely different colors of soil with nothing more than a single-lane dirt road separating them. In another village, fruits and flowers planted near the palenque offer wild yeasts to the fermentation process, and so impact flavor peripherally.
If you have not yet visited this incredible world, at the very least by the transportive power of taste, then now is the time. Come visit us at the Skurnik offices and let us guide, as Asis guided us, through the mountains and valleys of Oaxaca, to the tiny village mezcaleros who protect these ancient arts as a spiritual practice. There is simply nothing else like it, and words cannot do this mezcal justice. Come experience it for yourself.
Dixeebe!