There has been nothing normal about the early part of the 2017 wine growing season in France.  Those who want to deny that the climate is changing should follow the tales of our many friends in France who have suffered through an April with more frost alerts than any year they can remember. We have put together a snapshot of an April full of heroic efforts, tragic losses, and thankfully some hopeful signs that we will have delicious fruit at the end of the season from our farmers and partners.
As a primer, March was the warmest month anyone in France can remember. Cyprien Arlaud of Domaine Arlaud in Morey St. Denis described the first and third weeks of the month as feeling like the middle of August.  As he says, "We have had warm March weather in previous years, but never this hot for so long." The result was vines that were very advanced in their vegetative cycle (by some accounts, 3 weeks ahead of schedule), creating the conditions for a potential disaster if a spring frost reared its head. Unfortunately for many, that is exactly was happened, forcing efforts on the part of winegrowers across Northern France to take vine-saving measures of a magnitude never before seen. If you think that is a strong statement, follow the photos and notes that describe an at times apocalyptic-like battle between winegrowers and nature. However, the good guys do not always win. Smoke, sweat, Euros and tears were shed. The final results are not in yet and as always with frost, quality is not the concern, but quantity very much is. The growing season has a long way to go before the harvest, so our hearts are with our partners and friends as they nurture vineyards towards some kind of positive conclusion.
Here are some reflections from a small sampling of Skurnik growers:
Domaine Vincent Dampt – Milly
Lying further north than the Cote d'Or, vignerons in Chablis are always wary of frost at this time of year. 2016 brought devastating frost (50% loss overall), which prepared the village for 2017 (25% loss overall). It seems those preparations paid off. Here is Vincent Dampt on May 1st describing those cold nights, "Ten of the last fifteen nights we experienced negative temperatures. You have to go back to the 1990's to find six nights in a row this cold during this period of the year.  I have a few plots [that are] 100% damaged, but it's still a small section overall Frost control has always been in the DNA of the growers of the Chablis and once again our efforts helped to protect much of our vineyards. You really do have to love this job to get through moments like this!"
Domaine de L'Arlot – Nuits St. Georges
Like much of the Cotes de Nuits, Domaine de L'Arlot was lucky to avoid frost damage. But, and this is a very big but, the season is far from over and there are many other dangers that may still lie ahead. Winemaker Geraldine Godot sums up her experiences by saying, "We have our fingers crossed that nothing develops like 2016 when we lost 60 percent of the harvest due to the very persistent moisture during much of the growing season. But new episodes of rain with milder temperatures could alter the situation quickly.  Being biodynamic our vineyards are strong, but we must remain vigilant to keep all the chances on our side for a more generous harvest this year!"
Domaine Jean-Marc Millot – Vosne-Romanée
In Vosne-Romanée, Alix Millot of Domaine Jean-Marc Millot described a scene where the entire village came together to fight off the devastating frost. Luckily for all of them, they got through the worst of it. "This April we experienced a very difficult moment as wine farmers. We flirted with frost the last few years, so we decided to prepare as much as possible to defend our vines this year. We installed "candles" in the Grands Echezeaux and Echezeaux. We had a lot of trouble finding them because everyone wanted them this year. We installed them Easter weekend, April 17th, and we monitored the vines the night of the 18th 19th and 20th (nights with the highest probability of frost). Standing in the vines at 2:00am until 8am those 3 nights, we monitored the thermometer which went down to-1 celsius. On April 26 it was projected for a series of nights with dangerously low temperatures.  Vosne-Romanée decided to unite together to install bales of straw in the vineyards (to burn and keep the vines warm). We also lit candles and brought in helicopters above Clos Vougeot, intended to stir the cold air to avoid freezing. Luckily, due to very dry weather, there was no moisture or dew in the morning and thus no frost issues."
Domaine Yvon Clerget – Volnay
Further south in the Cotes de Beaune, in villages like Volnay, the damage was limited due in no small part to the comradery of growers working together to fight the cold temperatures. For Thibaud Clerget of Domaine Yvon Clerget, it was a hard fought battle. "We had an intense April with replanting new vineyards and serious battles with frost.  With some truly exceptional efforts in Volnay, Pommard and Meursault we ended up losing only 15% in Volnay-Santenots and a small amount in our Bourgogne Rouge vines in Volnay. Hoping all goes well from here."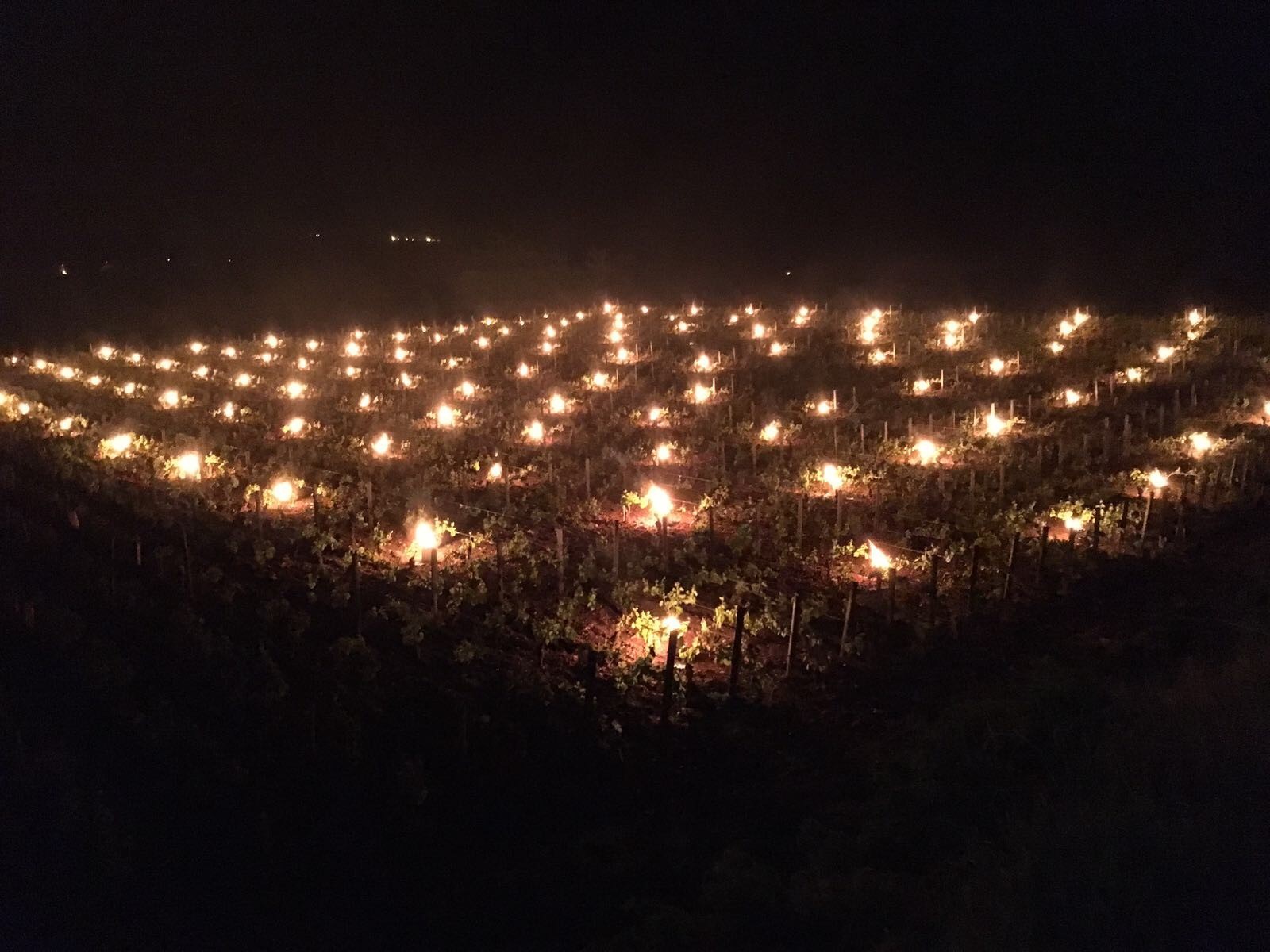 Domaine Paul Pillot – Chassagne-Montrachet
It was much of the same in Chassagne-Montrachet, where Thierry Pillot of Domaine Paul Pillot worked day and night to help fight off the frost. "We have never experienced a March and April quite like 2017. Despite the stretch of cold weather and high frost alert across the Côtes de Beaune in April, we have escaped with relatively minor damage compared to last year. Our efforts with "candles" and bales of hay in many of our exposed sites certainly paid off.  Let's hope for a normal growing season from here on in."
Domaine Thomas Collardot – Puligny-Montrachet
In Puligny-Montrachet, growers banded together to fight the frost. According to Jacqueline Collardot of Domaine Thomas-Collardot, it looks as though they have succeeded. She says, "Puligny-Montrachet escaped the worst of the frost due to a general mobilization of the growers. Some installed candles in their plots, others had bales of hay burning in the contours of the vineyards in the early morning hours before sunrise, creating a dense fog to prevent the Sun from burning the young shoots. So we were able to limit the damage. The harvest should not be impacted greatly at this time."
Domaine Dureuil-Janthial – Rully
Vincent Dureuil was one a few growers in Rully who took measures to combat the frost 2017. His efforts were rewarded with serious damage only in his village level Rully vineyards, and to a lesser extent his Aligoté vines.
Domaine Rolet – Jura
East of Burgundy, in the mountainous Jura wine region, there were more reports of significant loss due to frost. For a region that has struggled with small crops for the past 4 years, this was another demoralizing event. Pierre Rolet of Domaine Rolet gave us the tough details, "The frost happened on the nights of Wednesday April 19th and Thursday April 20th (and then to a lesser extend during the nights of the following Friday and Saturday). First evaluation for us is a loss of 60% to 70% overall, some plots resisted and others are totally hit. The air was -2 or -4°C, and due to humidity that evaporated by the dry cold air, the temperature was -6 or -8°C around the buds. Since frost especially hit Chardonnay, we are foreseeing a loss of 50% on those vineyards alone. We were expecting a lot of this vintage 2017 since 2012, 2013, 2014 and 2015 were small harvesst. But again 2017 won't help us to refill the cellar."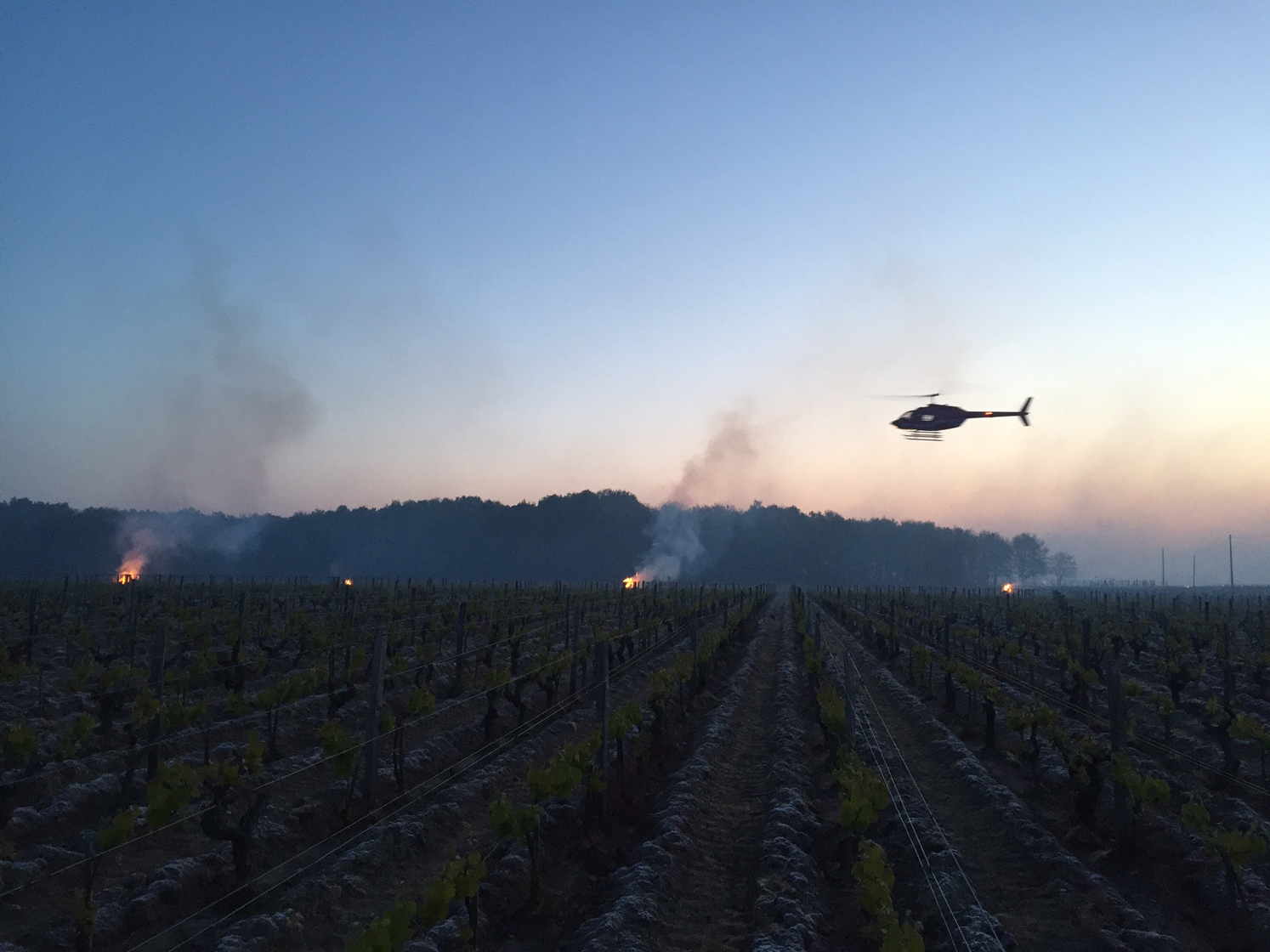 Jacky Blot – Montlouis sur Loire | Vouvray | Bourgueil
Some vignerons were more lyrical in describing their battles with the frost. Jacky Blot of Domaine de la Taille Aux Loups shared the following thoughts with us, "Everything was done, so much for so little! Nights fighting against nature, but many cracks in the levee. The telephone ringing at 2 in the morning that didn't wake anyone, because nobody sleeps. Unfailing solidarity in Montlouis, a total investment of winegrowers and their teams. The wind turbines that circulate the air since midnight because temperatures are very low.  A usually bucolic landscape is transformed into a scene of war where hundreds of hay bales illuminate the night, helicopters flyover at daybreak. The fires, the helicopters (eight in total), the massive fans searching for tenths of a degree in temperature that could save the harvest. And then in the morning, the emotion that is difficult to contain when all seems in danger of being lost, a year of work wiped out in a few hours. In the end, less than a harvest in two full years… hard to keep up morale. Thank you for the many messages of solidarity, thanks to you who have thought about us without daring to disturb us. We felt this heat, it is precious. It is thanks to that support we have the energy to motivate, continue the fight."
Domaine Julien Vedel – Vouvray
Surprisingly Vouvray, which was one of the areas affected by the 2016 frost, was largely spared. Julien Vedel, who makes wine from a plot of biodynamically farmed, 90 year old vine, Chenin Blanc said, "The frost did not cause damage in Le Compte Marc [his single vineyard]. I was very lucky with my very old vines, the location is well ventilated, a slight slope that drains well and having been plowed, I didn't have any grass!"
Thibaud Boudignon – Savenierres
In Savennieres, heartache was all that was left after the night of April 26th. Thibaud Boudignon writes, "My vineyards in Savennières were destroyed 100% yesterday morning (4/26). My vineyards of Anjou are not damaged for the moment. This was a serious blow, we'll get back to work soon, but it will be hard. It will be somewhat difficult to get back to anything normal for a while. I didn't have the heart to send pictures of a cemetery."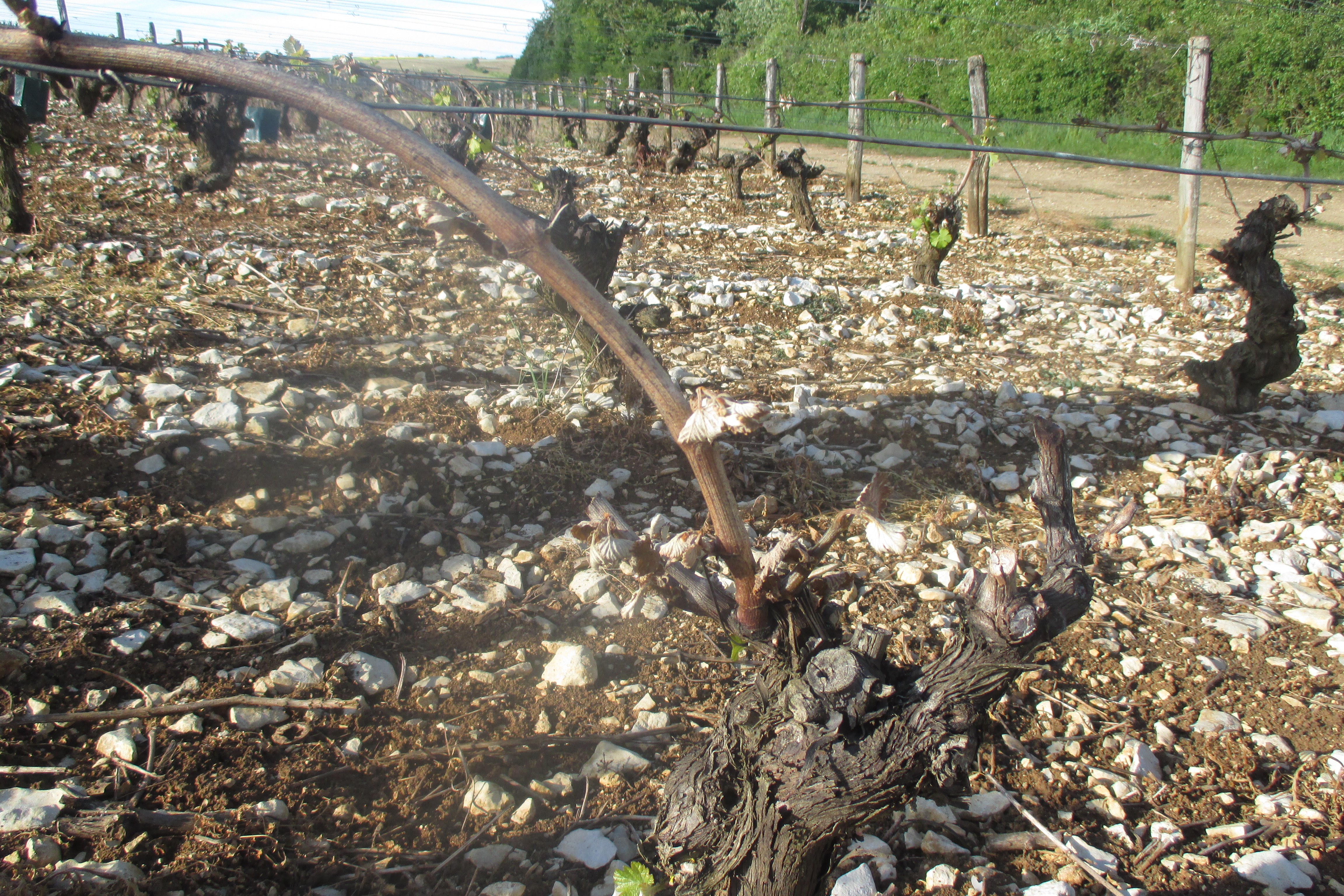 Isabelle Garrault – Sancerre
The damage in Sancerre was very scattered. Every vineyard had a different story to tell with frost damage ranging from none at all to 100% loss. Isabelle Garrault, a vigneron based in the village of Verdigny described the aftermath, "The frost of the week of April 16 caused us an overall loss of about 25%. Our vineyards [in Verdigny] are located in the disaster area and the rest of our vineyards in the village of Sancerre were spared for the most part. For the affected parcels, frost damage ranges from 20% to 100%. We are crossing our fingers for the rest of the growing season hoping that there will be no other climate hazards and that nature will be generous."
Domaine Mardon – Quincy
Southwest of Sancerre, in the village of Quincy, the damage was minimal compared to the utter devastation of the 2016 frost. Helene Mardon of Domaine Mardon says of her experience, "This year we largely mastered the frost factor. One of our plots that has no protection has frozen 100%. For the rest, a few buds here and there have been slightly affected but we have managed to 'save' the majority, and if the year goes well we should have a solid crop this year."
Domaine Alain Cailbourdin – Pouilly-Fumé
Pouilly-Fumé was another village in the Loire Valley where the damage was felt, though some are more optimistic than others. Here Alain Cailbourdin shares his outlook. "We had much more damage last year, 75% loss. I still am hoping to see some grapes. The earlier bud break this year did not help. Of course the harvest will be much smaller but I think it is too early to make an exact assessment and for my part I want to wait a while before being too alarmist."
Domaine Mittnacht – Alsace
Further east in Alsace, where frost is historically not an issue, damage to Gewurztraminer vines was widespread. Christophe Mittnacht of Domaine Mittnacht reports mixed news, "Gewurztraminer is the most affected grape in Alsace. The frost has unfortunately damaged man of our parcels. About 5 hectares were hit the night of Wednesday, April 19. We currently believe the overall loss to be 15-20%. The coming weeks will enable us to assess if the secondary buds come out, and if they are fertile. However, what is already predictable, is that we will have large irregularities of maturity at harvest time, which will considerably complicate our task."
Domaine du Clos du Fief (Michel et Sylvain Tête) – Julienas
Further south in Beaujolais, growers in Beaujolais were relieved that the cold temperatures did not reach them. This was of particular relief after the hail storm of 2016. Sylvain Tête of Domaine du Clos du Fief reports some very positive news, "To date, no significant damage from frost. The old vines are looking good, with the cooler temperatures currently slowing the vegetation.  At this stage, no disease and awaiting the return of the sun!"
Domaine des Marrans (Mathieu Melinand) – Fleurie
Even more good news from Beaujolais. In the village of Fleurie, where Domaine des Marrans is found, owner and winemaker Mathieu Melinanrd reports, "We were spared by the frost.  My vines are actually beautiful at the moment, but with a smaller than normal amount of grapes.  Certainly due to the hail damage of 2016.  All ok for now, stay tuned!"