2018 will go down as a vintage for the ages in Chablis.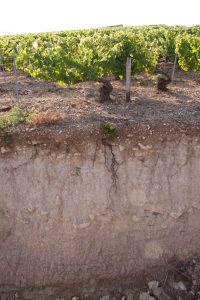 Rocks and dirt matter. Perhaps no other place on Earth illustrates that more clearly than Chablis. Located just a few hours south of Paris, the vineyards here sit on the famed Kimmeridgian marl, a soil formed by the recession of a prehistoric basin that once covered parts of Northern France including the eastern Loire, southern Champagne, and Chablis. This limestone-based terroir is layered with fossils of ancient aquatic life that can be seen, frozen in time, within the rocks found in the vineyards. The resulting wines from this region display a distinct saline quality that separate them from the rest of the Chardonnay growing world – a quality sometimes referred to as 'Chablisien". Excelling in projecting that crunchy marine life through the prism of their wines are two young growers with family and vineyards anchored in the true heart of this white wine paradise – Charlène Pinson and Vincent Dampt.
So why will 2018 go down as one of the most astonishing vintages the region has ever encountered?
For starters, the rare combination of superb volume and quality. Vincent Dampt's grandfather, Jean Defaix, who is a keen observer with a deep knowledge of Chablis vintages, said he had to go back to 1970 to find anything close in regard to this remarkable combo. Charlene's father, Laurent Pinson, said that his family, which dates back generations, had never experienced a harvest like 2018.
Overall there was much more wine in 2018 compared to previous vintages, as well as almost 50% more than in 2019; the 2018 growing season was fortunate to start with a greater water reserve in the soil for the vines to draw on during the hot summer months, whereas 2019 had very parched soil for much of the year. This caught everyone by surprise in the particularly dry growing season. With the vines suffering, growers anticipated average to less than average volume and were met at the end with truly excellent numbers. This was due to a few factors. The first was the presence of fog and dew each morning around harvest time that had the effect of adding juice to vines that needed every bit of moisture possible. Growers spoke about seeing grapes that had difficulty all summer, "blow up" towards harvest. This phenomenon was also described by growers in the Loire Valley and Côte d'Or – truly an example of nature finding a way and making do with the new climatic norm. Amazingly the same thing was seen again in 2019 when every drop of moisture was needed with the water tables severely depleted from 2018.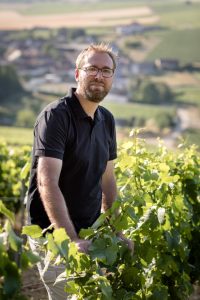 Vincent and Charlene both began the 2018 harvest on September 3rd and finished around the 12th. They were among the very first to unleash their pickers – a decision that turned out to be the key to their qualitative success. Laurent Pinson remarked that for the top growers, including ones in the Côte d'Or, getting out early was the only way to conserve acidity and find balance in the hot and dry year. With no room for error in an era of a warming climate, the window for nailing the harvest date has become smaller and smaller; too late and the wines lack verve and cut, too early and they are green. One look at the alcohol levels in 2018 show a clear story of getting the date right. Vincent's highest percentage was 12.57% in Côte de Léchet and he finished with 12% in Petit Chablis. Charlene picked Les Clos at 12.59% followed by Les Forêts, Mont de Milieu, and Montmains at similar levels.
Another miracle of the "new normal" 2018 vintage (as well as the even drier 2019 vintage) is the remarkably balanced fruit the growers picked. Against all logic in the age of a warming planet, elite growers have adapted how they work to make wines of wonderful balance; warm vintages such as 2003, 2009, and 2015 provided the training ground for these growers to learn how to work in this modern climate. This evolution was years in the making and the elite continue to refine their approach every day. The best NEVER compromise, never acidify (as it is easy to taste in a wine) and they always focus the preservation of freshness over sugar. The difficulties these growers have faced are also somewhat alleviated by one advantage these warmer conditions have brought: practically no rot or other maladies that can damage the crop. In other words, the vignerons consistently bring in healthy and beautiful fruit.
Vinification caught many by surprise as well. The parcels harvested at the start fermented beautifully and those toward the end were only a bit slower to finish the sugars. The malos took off smoothly, due to lower acid levels, and went along gently because of the low levels of malic acid which slowed the development of the needed bacteria needed. Thankfully, the ultimate loss of acidity was minimal. Every elite grower made clear that this was the key to the final balance of 2018. Vincent Dampt describes:
After malo, the wines immediately showed superbly! Remarkably there was no sensation of the fat and heaviness l sensed in 2003 and 2009 post-malo. What made me really believe in the magic of 2018 was that the terroirs were already starting to sing – practically immediately. When I spoke to my father and grandfather about this, we all agreed this is always a key indicator of the overall quality!
When Charlene was asked to go into detail about why 2018 turned out so beautifully, she said:
We are really in an hour of glory for Chablis with 2018 and 2019. We have been tweaking and adapting our farming, leaf management, élevage, harvest tactics, and picking date continually since 2003. But it was really with 2009 that climate change became a battle we fought in earnest and started to see progress with.
Our work is constant, we are always looking at more ways to be better. We learn and we share with colleagues across Burgundy, as this is a collective fight. Meeting the challenges that these warm and dry two years shows how far we have come and why this moment is special for so many reasons. To achieve the acidity, complexity, and completeness in both years against historical logic is really satisfying.
I describe 2018 as distinctly aromatic, juicy, chiseled, and remarkably tasty from day one. There is an amazing tension, minerality, and richly ripe fruit that only happens in special years. 2019 is showing equal promise, with a bit more alcohol, equally high acidity, and that superbly aromatic explosion early on. There is less wine, but still a decent crop. The vines AND humans are adapting nicely!
All this leads to what is showing itself gorgeously in the glass today. 2018 Chablis presents density, a crystalline purity of fruit, and gorgeously expressive aromatics that are the result of a perfectly clean crop. The fact that both growers pointed out how the wines are bursting with fruit and terroir all the way from the press to bottle is a great indicator that something special happened. Add to that the lovely level of dry extract, that added protection during élevage and will help with long term ageability over time, and you have deliciousness now and later!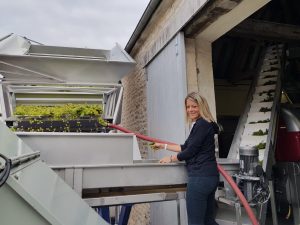 ---
All of this is testament to another recent post:
The Golden Age of French Wine is Now (Despite Threats of Tariffs!),
where, what started as a Harvest Report for us, eventually called for a deep-dive on the many exciting changes that we are seeing in French winemaking.
---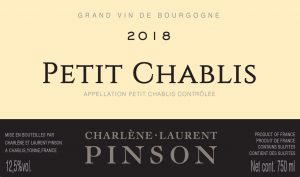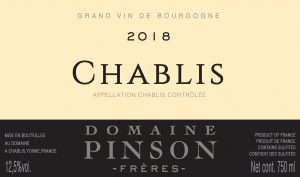 40+ year old vines
From 2 parcels in the heart of Chablis
Just below 1er Cru Mont de Mlieu
Between 1er Cru Vaillons and 1er Cru Montmains
Grown on classic Kimmeridgian soil
Southeast exposure
Indigenous yeast
Fermented and aged in tank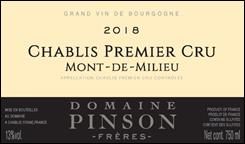 Domaine Pinson Chablis 1er Cru 'Mont de Milieu' 2018
45+ year old vines
Southeast exposure
Continuation of and same exposure as the band of Grand Crus
A stone's a throw from Les Clos
Kimmeridgian soil with tons of white stones
Indigenous yeast
Fermented in 90% tank, 10% new barrels
Aged in 1-3 year old barrels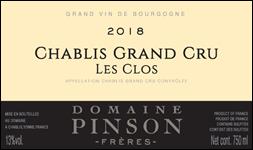 Domaine Pinson Chablis Grand Cru 'Les Clos' 2018
Oldest vines planted in 1962
Average age 50 years old
South exposure
Tons of Kimmeridgian limestone
Indigenous yeast
Fermented in 80% tank, 20% in new barrels
Aged in 3-4 year old barrels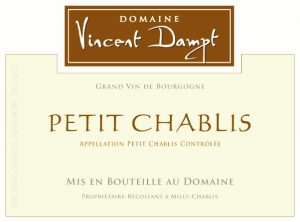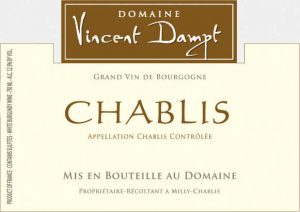 Domaine Vincent Dampt Chablis 2018
 From 3 lieu dits located in the HEART of Chablis
All 3 parcels neighbor 1er Cru Vaillons
40+ year old vines on average
Classic Kimmeridgian soil
Indigenous yeast
Fermented and aged in tank