US-XFL-08-NV
White Corn Whiskey, 'Glen Thunder', Finger Lakes Distilling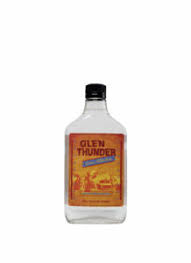 Located in the heart of Finger Lakes wine country, overlooking Seneca Lake, Finger Lakes Distilling is one of the oldest and largest distilleries in New York State. They use all natural, locally grown fruits and grains to create high quality, handcrafted spirits including vodka, gin, brandy, grappa, liqueurs, and their flagship line of McKenzie Whiskeys. Their philosophy is to be genuine about everything they do—handcrafting all products from scratch so they can retain control and ensure quality.
Producer:
Vintage:
NV
Country:
United States
Region:
New York
Spirit Type:
Whiskey
Spirit Sub Type:
White Dog
| | | | |
| --- | --- | --- | --- |
| Sizes Available: | SKU | Case Size | Bottle Size |
| Full Bottle | US-XFL-08-NV | 12 | 750 |
| Half Bottle | US-XFL-08-NVH | 24 | 375 |
Tasting Notes
Glen Thunder' pays homage to the nearby motor raceway, Watkins Glen. Made from 90% Yellow Dent, non-GMO certified corn, this bottling blossoms in aromas of sweet cereal grain, leaving a pleasant hint of freshly shucked corn on the palate without the burn one might expect from an unaged whiskey. 45% ABV.
Resources
Request a shelf talker/case card