Barrell Craft Spirits Whiskey (Limited Edition - Gray Label)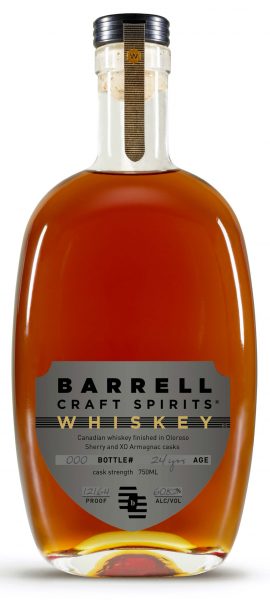 Canadian Whiskey crafted and bottled in Kentucky by Barrell Craft Spirits
Distilled and aged in Canada
Matured 24 years before a portion was finished in ex-Oloroso and ex-Armagnac casks.
A meticulously layered nose with highlights of elderflower, maple, candied plum, and rosehips leads to an oaky palate featuring butterscotch and root beer. The finish turns herbaceous, starting with tarragon and spearmint, leading to cardamom and fennel, and finishing with marine-like minerality.
Non-chill filtered; Bottled at a cask strength of 60.82% ABV
BCS Gray Label began with two 24-year-old Canadian whiskey barrels; one fruit-forward and tropical, and one woody with a light floral aroma. A portion of the fruit-forward blend was transferred to ex-Oloroso sherry barrels and a portion of the floral blend was transferred to ex-Armagnac casks. The remaining whiskey was combined to mingle, and when the finishing casks peaked, the three components were carefully blended.
Info
Spirit Type:
American Whiskey
Sizes Available
| | | |
| --- | --- | --- |
| Full Bottle | US-XBB-61-NV | 3/750ml |