Barrel-Aged Gin 'Reserve'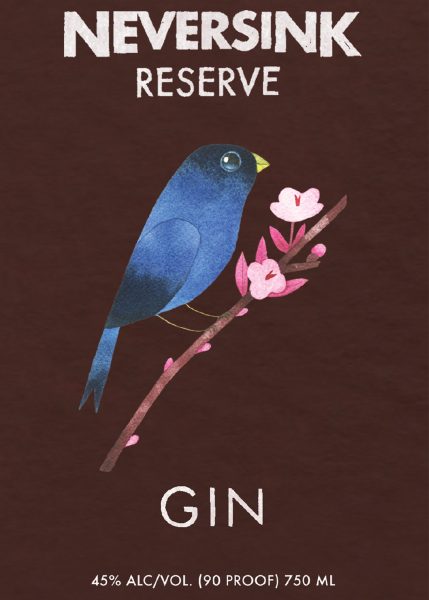 Barrel-aged American dry gin distilled from 100% New York-grown apples in Port Chester, NY
11 botanicals include juniper, coriander, star anise, cardamom, angelica root, orris root, lemon peel, orange peel, grapefruit peel, cassia bark, and elderflower
Juniper is macerated in apple distillate overnight prior to distillation; the remaining botanicals are vapor infused during distillation
Distilled in Neversink's custom Holstein hybrid pot still
Aged for 6–9 months in 60-gallon French oak barrels which previously held Neversink's Apple Apéritif
Aromas of juniper and elderflower join a medley of baking spices—cinnamon, star anise cardamom–on the nose; the palate is equally delightful, displaying plenty of cardamom, rose, and coriander with earthy angelica root and cedar over faint candied red apple and white pepper
Non-chill filtered; 45% ABV
A barrel-aged version of Neversink's flagship gin, the 100% apple base provides a lush texture and aromatic canvas which is perfectly complemented by a deft balance of botanicals. The oak influence provides baking spice and a whisper of Neversink's pommeau style Apple Aperitif—perfect for cold-weather cocktail applications!
Info
Spirit Sub Type:
Aged / Other
Sizes Available
| | | |
| --- | --- | --- |
| Full Bottle | US-XNV-12-NV | 12/750ml |
Tasting Notes
Like Neversink's flagship gin, Neversink Reserve is distilled from 100% New York-grown apples in Port Chester, NY, and features 11 botanicals including juniper, coriander, star anise, cardamom, angelica root, orris root, lemon peel, orange peel, grapefruit peel, cassia bark, and elderflower. The gin is lightly aged for 6–9 months in 60-gallon French oak barrels that previously held Neversink's own Apple Apéritif. This warming, botanical spirit leads with aromas of juniper and elderflower alongside a medley of baking spices—namely cinnamon, star anise, and cardamom. The palate is equally delightful, displaying plenty of green cardamom, rose, and coriander with earthy angelica root and cedar over faint candied red apple and white pepper on the finish. Non-chill filtered; 45% ABV.