Viña Magaña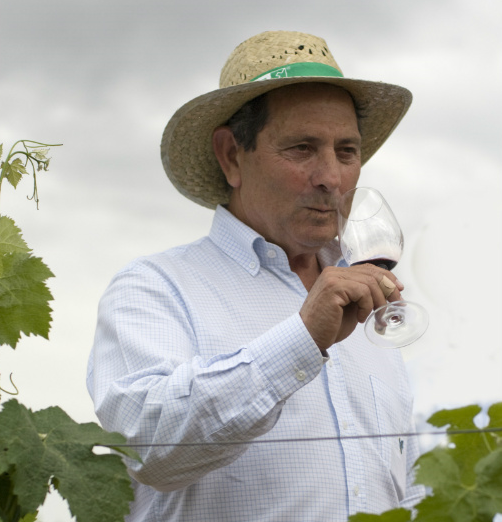 Juan Magaña, now entering his sixth decade of proprietorship, could easily rest on his laurels as one of the elder statesman and original visionaries of Navarra. Instead, he's making some of the most interesting wines of his career.
The story starts in the late 1960s, when Juan found himself working in Madrid but yearning to return to the Tudela de Navarra countryside of his winegrowing, bread baking and cheesemaking forebears. It could have ended with his turning out enough Garnacha Rosado for a comfortable rural existence, but you've probably already guessed that it's about to take a far more interesting and idiosyncratically personal turn.
On a visit to Bordeaux, his favorite wine country (just a quick hop across the Pyrenees from Navarra, remember), a lazy meander through the Médoc brought him nearly by chance into what would become a close friendship with one of the most sought-after vine nurserymen in Bordeaux, a supplier to some the most illustrious châteaux on both banks. It was this encounter that led him to begin experimenting with Merlot and Cabernet back home in Navarra, and to this day some 80% of his sixty-hectare surface is planted to one of those two varieties, which form the gutsy and firm but deeply satisfying backbone to the majority of his wines.
Another fascinating element to Juan's approach is his penchant for holding significant quantities of mature wines in both tank and bottle after barrel aging, only bottling and releasing certain Reserva and Gran Reserva cuvées when he deems them perfectly on point. (An approach, it should be pointed out, which plays very nicely with his varieties of choice, and results in spectacular ready-to-drink wines of unexpected freshness and verve.)
Through collaboration with his son Diego (now a hotshot up-and-comer in Bierzo and the Rioja Alavesa), Juan has stayed true to his unique vision while generally freshening up his style over the years and also embracing Navarra's local specialty, Garnacha, to an extent that has surprised even him. Every year sees a few more parcels of old rootstocks grafted over to Garnacha, and we're proud to introduce his varietal 'Los Cascajos' bottling to the United States!