Azul y Garanza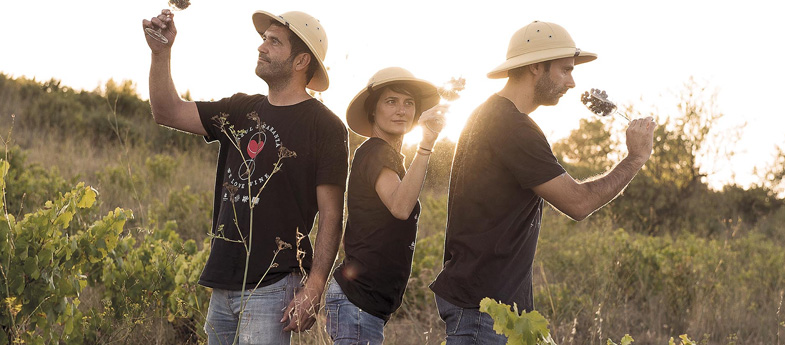 The Azul y Garanza vineyards begin in the lunar landscaped Bardenas Reales Natural Park. Founders Dani Sánchez, María Barrena and Fernando Barrena work with "landscapes" – not merely vineyards – with each of their plots enjoying as much biological diversity as this harsh climate will allow. The surrounding plants, shrubs, trees, and animal/insect life play as much a part to the success of the grapes as the vines themselves. Winemaking is quite natural – the widespread, almost exclusive use of concrete vats, natural yeasts and gentle hands.
Built between 1940 and 1960, and partly underground, the Azul y Garanza bodega consists of small concrete tanks with capacities between 4,000 and 20,000 liters, giving a total capacity of 200,000 liters. The result is an ideal separation, during production, of the grapes according to different soils and grapes varietals. This is a fundamental ingredient in the quality of the bodega's wines. It is in this way that Azul y Garanza wines are able to express the terroir in a natural manner. To obtain this they use indigenous natural yeast of the grape during the fermentation. Also, the bottling of the wine occurs after a light clarification and without filter. In addition, the quality and origin of the oak is studied carefully.
NAVARRA || Shallow, clay-traced soils, with minimal water, and irregular, almost non-existent rainfall, as well as extreme contrasts in temperature between day and night. Due to these singular geoclimatic conditions, the vines offer a naturally low production of small grapes that have a high concentration and a perfect equilibrium. Dani and María are passionate about organic farming and have additionally invested in farming their vineyards 100% organically, without the use of pesticides, insecticides, or chemical fertilizers that wear out the soil.