Maison Dudognon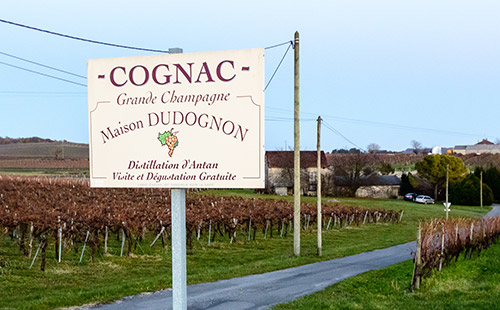 The Dudognon family has grown grapes in the small village of Lignières-Sonneville since 1776. This village is about 11 miles southeast of the town of Cognac in the heart of the famed Grande Champagne zone, Cognac's most hallowed ground. The soil here is largely composed of Campanian chalk, and spirits from this cru are especially renowned for their tremendous length.
Raymond Dudognon was born in 1927, into a long line of Cognac distillers dating back to his great grandfather, Paulin. Under Raymond's direction, the Dudognon estate grew to just under 35 hectares, and the Cognac produced there was both highly sought after by négociants and celebrated internationally, his Réserve des Ancêtres winning the Gold Medal at The International Spirits Tasting Show in 1990.
Raymond's property was eventually divided amongst his three daughters, and he chose daughter Claudine as his successor, to whom he passed the distilling knowledge he had accumulated over more than half a century.
Today, Claudine Dudognon, along with her husband, Gerald Buraud, and son, Pierre, have 10 hectares of vines divided between Ugni Blanc, Folle Blanche, and Montils, and the Dudognon-Burauds are staunch traditionalists who distill only the grapes grown on their properties. Their two alembic stills distill roughly 100 barrels per year, and decisions during distillation are done with the glass in hand rather than with scientific instruments. The eaux-de-vie from these fine parcels is aged in a small, rustic chai on the property, and all the Cognac distilled here is bottled under the Dudognon label.
While many Cognacs are laden with permitted additives (sugar syrup, boisé, caramel), the only additive used in Dudognon Cognac is water. Because of this, their color is fairly light, and their sweetness comes from only naturally concentrated fruit, while their length, like the finest spirits from the Grand Champagne, is counted in minutes.