"I have had the Juliénas many times and it always makes me smile. It is infectiously joyous: bright, juicy, pure, earthy and spicy."
– Eric Asimov, The New York Times
We are very excited to welcome Domaine du Clos du Fief back to the Skurnik family! Domaine du Clos du Fief  is run by our friend Michel Tête, with his son Sylvain working alongside. This is a rare 4th generation Cru estate in Juliénas and Jullié, based at the far Northwest sector of Beaujolais. The history of these great villages dates back more than 2,000 years and trace their names to Julius Caesar. Vines were grown on the high altitude hillsides of Juliénas and Jullié (a granite rich Beaujolais-Villages Cru that mimics its more famous neighbor) in the Gallo-Roman period. Michel took over this history-rich land after studying in Beaune, where he learned many techniques that he now uses on his own wines to great acclaim. Michel's wines hearken back to the classics: low yields, meticulously farmed vineyards, and classic winemaking resulting in serious and mouthwatering examples of terroir driven reds.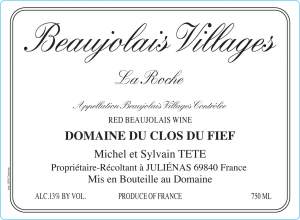 BEAUJOLAIS-VILLAGES LA ROCHE 2014
-Vines from Les Côtes de la Roche just west of Juliénas in the hamlet of Jullié
-350 meters in altitude and on a clear day you can see Mont Blanc!
-40-50 year old vines
-Steep slopes of crushed granite, blue stones – with the bedrock very close
-Aged for 10 months in tank
-There are many terroir parallels between Jullié and Juliénas.  This is a character-rich, expressive Gamay from just outside of Beaujolais' band of "cru" villages.  Certainly one of the finest values for serious quality anywhere; floral, aromatic and full of intensely layered red fruits.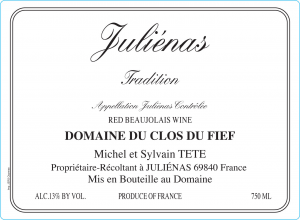 -50 year old vines
-350 meters in altitude with vineyards situated in an amphitheater-like setting
-Granite-based sites with ancient alluvial deposits, some sandy soils, with fair amount of clay
-Sits on the bedrock of the region's famously volcanic blue stone
-Aged in tank and large older wood
-Juliénas wines are known for their earthy richness, spice and ability to age.  The wines are deep purple, fleshy, velvety and freely giving with black berry fruits on the nose and palate.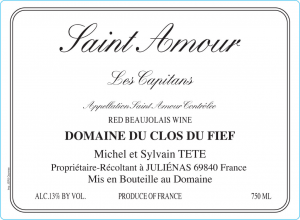 -35-40 year old vines
-Grown on granite and crushed granite slopes
-Aged in tank and older wood
-Saint-Amour is found in the far north of the vine-growing region, where the soil features intermingling granite and clay, schist and limestone. Designated as a Cru in 1946, the region borders the Mâconnais and the site 'Les Capitans' is a rare single vineyard that can adorn its name to the label.
-Floral and fruity, the aromas of strawberry, peach, violet and spicy cinnamon are common.