In the autumn of 2013, Kashy Khaledi, a creative executive in media and advertising, absconded from the music industry. He was largely disillusioned by the consolidation of record labels and the mechanization of production. He watched as artistry suffered and collaboration became rote.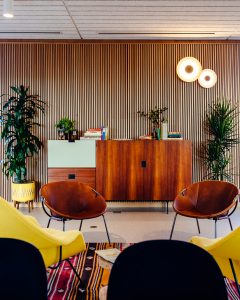 It was then that his ambitions turned toward wine – his inspiration grounded in the tenor of burgeoning mid-century Napa Valley. He saw in its wines, and the architecture of the era, the virtue of collaboration, a pioneering energy. Founded in 2014, Ashes & Diamonds, "a love letter to the Napa Valley of the 1960s," set out to revive this narrative: he would build a winery driven by collaboration, seeking the participation of Napa's great contemporary voices in viticulture and enology.
From the outset, then, Khaledi's approach to wine and its presentation have resembled the production of an album: a singular experience would be provided in the bottle – the synergy of myriad contributions, and the amalgam of inspirations from across media.
—
In naming the winery, Khaledi looked to film – a craft, like wine, remarkable for its collaborations and delicate mechanics. Ashes & Diamonds shares its name with a Polish film from 1958 (itself an adaptation of a novel). Its story – one of love entangled in the demands of war – speaks in allegory, as Khaledi has said, to his own path to wine, but its production also illustrates the aspirations he has set out to emulate. This progressive film tightroped the vestiges of censorship in a newly-liberal Poland to share a story of the individual.
—
For this New York debut, a selection of three wines from 2014 and 2015, Khaledi proudly worked alongside winemakers Dan Petroski, Steve Matthiason, and Diana Snowden-Seysses, and winegrowers Bart and Daphne Araujo.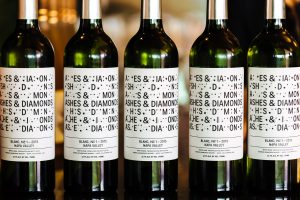 Khaledi's relationship with Matthiason in particular presented him with access to the great vineyards of the valley, impeccably and responsibly cultivated – and, in some cases, time capsules of the very era he sought to honor. Matthiason, a figure of Napa as revered for his personal winemaking endeavors as he is for his consulting viticultural work, has been a vocal champion of sustainable vineyard practices for nearly two decades. In fact, he literally wrote the book on the subject. In this time he has cared for many of Napa's iconic sites, including the Eisele Vineyard, Spottswoode, and Chappellet.
Matthiasson's relationship with the Araujos began in 2006 at their eponymous estate while the family owned the historic Eisele Vineyard. It is through Matthiasson that Ashes & Diamonds has come to work with the Rancho Pequeno vineyard, Bart and Daphne's Araujo's biodynamic Oakville property. Matthiasson's hands have reached into Khaledi's cellar, too, bringing with them the restraint that has become synonymous with his work. The resulting wines stem from the nexus of intuitive craftwork and rigorous observations in the vineyards and cellar.
Petroski, of Larkmead and Massican fame, moved on from the endeavor after the 2015 harvest, and Snowden-Seysses took over. Khaledi and Matthiasson first met with her at Domaine Dujac, where she has served as enologist. A Napa native and third-generation winegrower in the valley, Snowden-Seysses has made the wines at Snowden Vineyards in the hillsides above Rutherford and St. Helena since 2005, (the fruit was previously sold) and encouraged her family to organically farm, a transition completed in 2012.
In the past month, Ashes & Diamonds has opened its estate to the community. The Oak Knoll winery is surrounded by an estate vineyard initially purchased by Darioush, the winery owned by Khaledi's father. Kashy was compelled to investigate the nuances of the vineyard's original plantings, Cabernet Franc and Merlot from 1986, and has meticulously done so through organic farming and restrained winemaking – bottled as Grand Vin No.1, a prized component of Skurnik's first offering.
The winery's design, too, stands in homage to mid-century California: Kashy and his architectural partners referenced the Case Study Houses, a collection of experimental residences built primarily in Southern California from the forties through the sixties. They collectively served as a progressive investigation of residential life after World War II. The Ashes & Diamonds winery has already proven to be a welcoming community space, encouraging engagement through a speaker series, and now will host an extensive and intimate hospitality experience.
*All photography by Emma K Morris
The Wines
These wines immediately annunciate a singular vision of the Napa Valley; they are animated, taut, and delicate in their pursuit of an expression of place.
"How affirming it was to taste the Ashes & Diamonds lineup. The proof is in the bottle with this project: as the old saying goes, these wines "taste like more…." Truly, an homage to Napa Valley wines I've tasted from the '60s and '70s, particularly those of Inglenook and Beaulieu." – R.H. Drexel, The Wine Advocate
Ashes & Diamonds Blanc, 'Napa Valley' 2015
Made by Steve Matthiasson
A blend of Sauvignon Blanc (50%) and Semillon (50%) from three vineyards in Oak Knoll and Yountville
Harvested August 7-25
100% barrel fermented in 40% new French Oak (Boutes & Ermitage)
aged sur lie, with no battonage, for 12 months
894 cases produced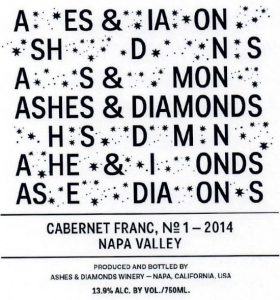 Ashes & Diamonds Cabernet Franc, 'Napa Valley' 2014
Made by Steve Matthiasson
Sourced from Carneros, Oak Knoll, and Yountville
75% Cabernet Franc, 25% Merlot
Harvested September 4-15
Macerated in stainless steel tanks for 14-21 days
Aged in 20% new French Oak (Bousset) for 20 months
1451 cases produced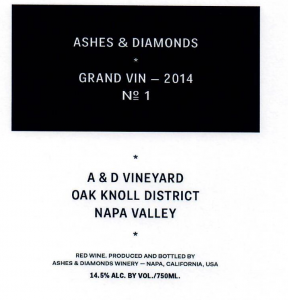 Ashes & Diamonds Grand Vin, 'A & D Vineyard' 2014
Made by Dan Petroski
Oak Knoll AVA: a blend of Merlot (75%) and Cabernet Franc (25%) from 30-year-old vines grown in gravelly clay loam
Merlot harvested August 29, Cabernet Franc harvested September 13
Macerated in stainless steel tanks for 17 days (Merlot) and 21 days (Cabernet Franc)
Aged in 50% new French Oak (Ermitage, Boussuet, Sylvain) for 20 months
780 cases produced