The story of the Pierre Péters estate is one of commitment, reconciliation, and above all passion for the land and legacy.
The Péters family has been growing grapes in Les Mesnil-sur-Oger since 1858. In 1919 Camille Péters, started to bottle his own wines under the Camille Péters label and a new estate was born. In the 1930s, Camille's then 12 year old son, Pierre, got involved in the business, showing the wines at exhibitions in Paris. Camille passed away in 1944 and Pierre took over the estate at the age of 24. Pierre dedicated himself to the estate, acquiring more vineyards, improving the wines, and through these efforts gained a reputation for quality in Champagne. It was in 1946 that Pierre changed the name of the domaine and released the first Pierre Péters Champagne.
Pierre had three sons, and two of them became involved in the wine business: Jacques, the eldest, and François, the middle child. Jacques graduated with a degree in Oenology and his first job was at Champagne Jacquart before he joined Veuve Cliquot in the early 1960s. In 1969, when Pierre was ready to pass the estate to the next generation, Jacques declined, preferring to continue his career as Oenologist-Cellar Master for Cliquot. In 1979 Jacques was promoted to Chef de Cave at Cliquot, one of the most prestigious positions in Champagne, which he held until 2006.
"Forty years ago the game was different" said Rodolphe Péters, the sixth generation to manage the family estate. "Jacques Péters' decision was understandable; at the time the Grower Champagnes were in the shadow of the big names. My father François had no other choice but to take over the winery, even if he had other expectations. But he loved to be in the vineyards and worked very hard to improve the vines, and the winery, to make the best wines that he could. But he never thought that he could realize his life and happiness as the winemaker and grower at his family's estate. Jacques Péters was a great man, and an important figure in Champagne, mentoring many of the current Chef de Cave at the Grand Marques – Dominque (Demarville) who is still at Cliquot, Frederic Panaïotis at Ruinart and Cyril Brun at Charles Heidsieck to name only a few."
François didn't believe that he could reach the same level of respect and reputation as his older brother. The situation was complicated creating tension between the brothers. This led François to invest in many champagne projects (he was founding member of the Special Club) and in local politics to try to develop outside his business.
In 1988 François' eldest son, Rodolphe was studying science in Reims: "First I studied Biology because I wanted to be Jacques Cousteau! Even if I was interested in both Enology and Marine Biology, unable to make a choice until a good friend of mine told me I was crazy! He said 'Your family has something amazing that will allow you to follow your own path.' So, I studied oenology." After finishing his Masters in Enology, Rodolphe studied business in Reims, receiving his MBA in 1994.
Instead of going directly into the family business, Rodolphe spent the next 15 years working in other aspects of the wine business, knowing he would return to the family winery when the time was right.
During this period, François gave his son space to do things on his own at the winery. In 1997 Rodolphe convinced his father to start blending the non-vintage cuvee with the perpetual reserve process and in 2000 Rodolphe took on full responsibility for the blending composition and selection. François said "you might have to sell these wines" so it was important for Rodolphe to become involved in winemaking at the domaine.
In 2007, François Péters decided to step down and asked Rodolphe if he would take his place.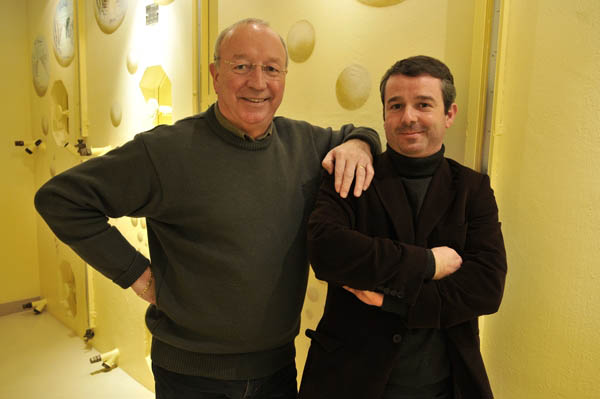 "Yes, it is my dream, but only if Jacques, a shareholder and respected Cellar Master, is behind me as well. You both must agree to what I will propose," Rodolphe said. In July of 2007, Rodolphe brought the brothers together; at this point they had not exchanged more than pleasantries in almost two decades. Rodolphe explained that he was interested in taking over the domain if he could consolidate the family business. This meant buying most of the shares from the other family members and putting one person in control.
"From the beginning, it was always to be one person to take over the winery, to lead. You need a leader, and you need someone who is ready to work, to devote their whole life to this project. My uncle Jacques knew that I was ready to invest my life in the domaine. The estate was already very good and successful. I can look back at 30 years without blushing while there are so many young growers now who want to break everything from the previous generation."
Jacques told Rodolphe that he was behind him completely.
"He said to me 'when you finished your Masters and defended your thesis, I was there. When you graduated, I was there. At all of these important moments, I was there. I knew that you were the best person from this generation to take over my father's business.' This is a really important distinction; he was saying 'my father's business' meaning my grandfather, the creator of the estate."
This meeting brought together these two estranged brothers for the first time in almost two decades.
"They were brothers again. They embraced, they cried and the family was brought back together. With the birth of my children, this was the best day of my life. Now they are both retired and have nothing left to prove. They are friends and they play golf once a week together. That's life. Sometimes you create something at the right moment and it brings people together. Or back together."
In 2010 Rodolphe started thinking about what they might do for the hundredth anniversary of the first estate bottled wines, in 2019. They had a large family library cellar with wines going back to 1921. Rodolphe decided that he would make a cuvée for the centennial that covered the legacy and history of the estate.
"I asked Jacques and my father to come, my cousins and other family and we all got together and started opening and tasting these wines. This was a great day, full of life and happiness. We opened bottles of 1921, 1937, which were made by Camille, my Great-grandfather. Then 1947, 1959, 1964, 1966, made by my grandfather Pierre followed by 1969, 1973, 1979, 1982, 1988, 1990, 1995 and 1996, all made by my father. We tasted everything together and the good bottles were combined carefully into one tank. We then took wines from 2000, 2002, 2004 and 2008, which were the start of my time, and put an equal amount of this wine in another tank. We then blended these two components with one part of the 2010 vintage. One third wines from 1921-1996, one third 2000-2008 and one third 2010. We bottled this wine and it has undergone secondary fermentation, aged agrafe (on cork) and will be disgorged for release in a few years."
Although there isn't a name for this special wine yet, it's an embodiment of the work of a family, over generations.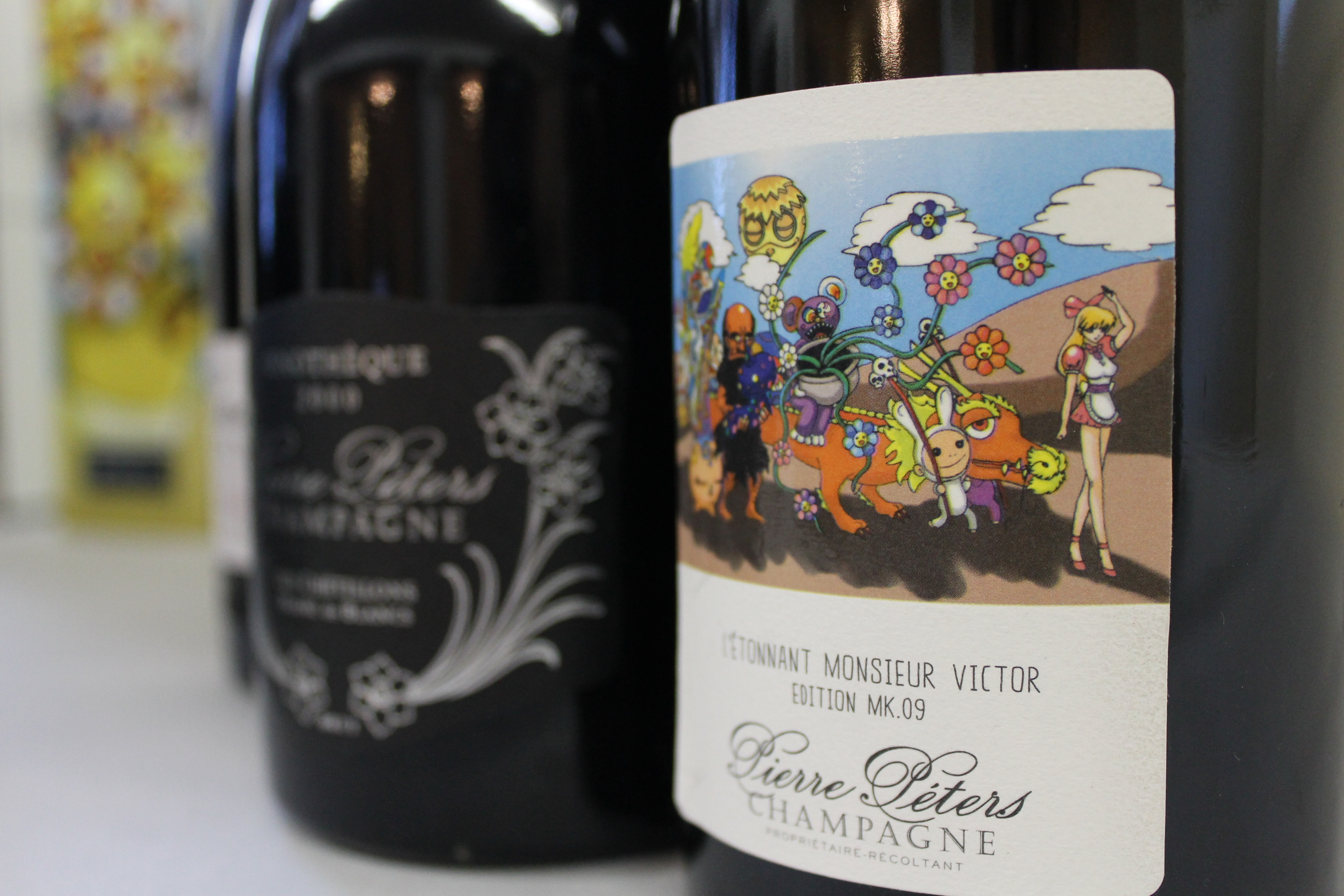 There are several new wines at the estate, and L'Etonnant Monsieur Victor ("the Astonishing Mr. Victor") is a newest addition to the range at Pierre Péters. This wine blends the best tank of the vintage (Les Chétillons) with the best tank of reserve wine, aged agrafe and released after a long period of lees aging. The wine will be part of a collection meant to be aged, and each release will bear a label designed and drawn by Victor Péters, Rodolphe's 17 year old son, an artist. "Each label for each release will be done by Victor, in the style of a famous artist, and of a famous painting." The first release, MK 09 is done in the style of Murakami.
While the production of Rodolphe's Rosé is not huge, the Rosé for Albane, named for his daughter, is always sought-after. It's 60% Chardonnay from Les Mesnil and 40% Pinot Meunier Saignee from Geoffroy, a great grower in Cumieres, known for his Saignée wines.
Both of these cuvees are a way for Rodolphe to involve the next generation in a non-traditional manner, without pressure.
"My goal now is to make the winery successful so that someone in the family wants to come back to the domaine after exploring their own interests. They need to devote their whole life in the same way that I have."