Whiskey 'Infinite Barrel Project'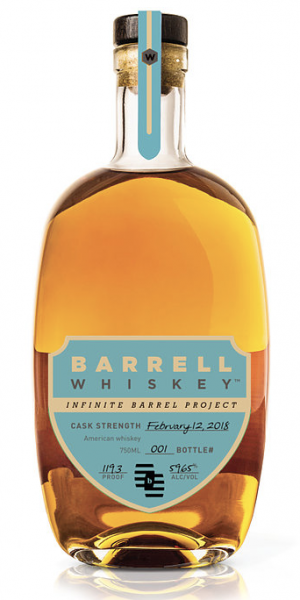 The idea behind Barrell Craft Spirits is to "explore the unique effects of different distillation methods, barrels, and aging environments, and bottle them at cask strength." This is accomplished through outstanding relationships within the tightly-knit whiskey community and sourcing the best whiskies available without compromise. By definition, the bottlings of Barrell Spirits are limited in nature with new releases hitting the market frequently. Barrels are sourced from around the country (and the world) & shipped to Barrell's facilities in Kentucky for additional aging and bottling.
Info
Spirit Type:
American Whiskey
Sizes Available
| | | |
| --- | --- | --- |
| Full Bottle | US-XBB-02-NV | 6/750ml |
Tasting Notes
The tradition of keeping an infinity bottle is well known to whiskey collectors and aficionados around the world. Take the last ounces of each whisk(e)y bottle as you finish it, and pour them into a bottle you've set aside. Barrell Craft Spirits is honoring the Infinity bottle tradition in their own way by introducing the Infinite Barrel Project. The intent of the project is to create an ever-changing whiskey blended from mature barrels, chosen for their complexity. Each time a portion is drawn out on a specific bottling date, Barrell then adds newly selected whiskeys that have already been aging separately to the partially spent barrel. The whiskeys inside each bottle can be found by looking up the bottling date on the Barrell Craft Spirits website. Truly a fun and interesting project!