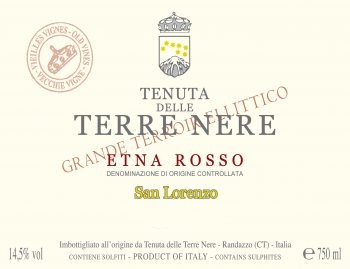 100% Nerello mascalese
Production area: contrada San Lorenzo, township of Randazzo (Catania)
Extension of the vineyard: 8 ha with yields of 5 tons/ha
Deep volcanic soil with some stones
Exposure: Northern slope of the Mount Etna, 700-750 meters a.s.l.
50 – 100-year-old vines
Harvested in the first ten days of October
Vinification: alcoholic fermentation under controlled temperature (28-30° C)
Aging: spontaneous malolactic fermentation and aging in French oak barriques, tonneaux.
Bottling after 16-18 months of wood aging and 1 month in steel.
Annual production: 900 9L cases
The terroir in contrada San Lorenzo is originated by lava flows and volcanoclastic deposits related to the explosive activity of the the Ellittico eruptive center, which dates back from 60,000 to 15,000 years ago. Although very young by geological standards, the soils from the Ellittico eruption are the oldest superficial strata in which one may plant on Etna. The reason is simple: millennia of lava flows have buried all older soils, leaving, in fact, only very small and rare parcels of Ellittico soils. On the northern slopes of Etna there are four or five Contrade that have terroir from the Ellittico. Three, however, have mixed soils, blending soil from Ellittico of igneous nature with alluvial soils of sedimentary nature due to the overflowing of the Alcantara river. Only two Contrade out of hundreds and hundreds are "pure" terroir Ellittico: Calderara and San Lorenzo.
Info
Variety:
Nerello Mascalese
Farming Practice:
Certified Organic
Sizes Available
| | | |
| --- | --- | --- |
| Full Bottle | IT-TTN-30-21 | 12/750ml |
REVIEWS FROM PAST VINTAGES