Passopisciaro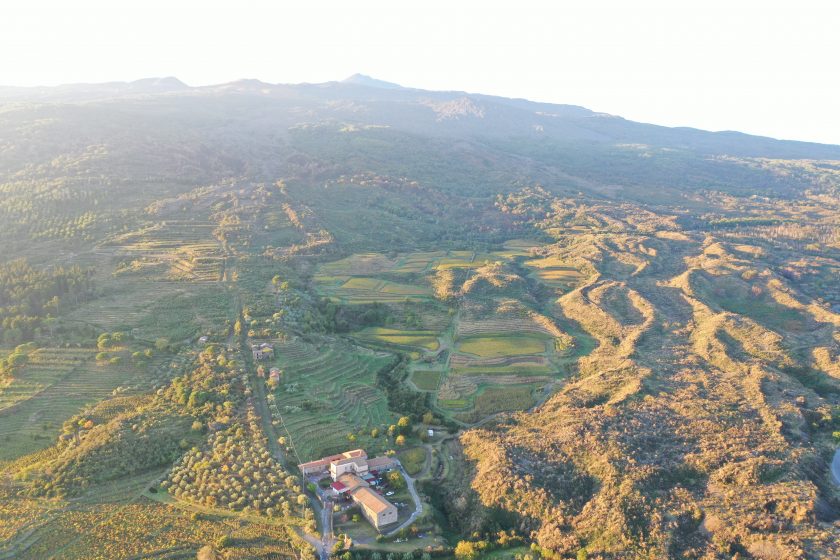 After a decade of experience making wine at Tenuta di Trinoro, in 2000 Andrea Franchetti dedicated himself to a new project on the northern slopes of Mount Etna near the town of Passopisciaro in the district of Castiglione di Sicilia. Franchetti lovingly restored the long-forgotten terraces adorned with age-old vines. At about 1,000 meters above sea level, he meticulously replanted at a density of 12,000 vines per hectare in the mineral-rich volcanic soil.
The vineyards paint an idyllic scene basking in sunlight, yet a constant plume of smoke and the occasional ash-filled eruptions serve as a stark reminder of Etna's volatile temperament. Each lava flow leaves behind a distinctive mineral profile, which begs the recognition of the 'Contrade', a term used to denote the various subzones of the appellation. The borders of these contrade often reflect ancient feudal property lines – still etched on the local land registry – each of which Franchetti strives to express distinctively and with great respect.
Andrea's presence on "the mountain" (as locals call it) played a pivotal role in bringing Etna wines to the international stage. At Passopisciaro, Franchetti devoted attention to the indigenous grape, Nerello Mascalese, exploring its diverse expressions of terroir through a series of single subzone wines. Where Nerello Mascalese isn't planted, he grows Chardonnay, Petit Verdot, and Cesanese d'Affile.
Passopisciaro includes 9 different wines, with 6 showcasing Nerello Mascalese. Recognizing the varied characteristics of Nerello from the different contrade, Franchetti decided in 2008 to bottle his top sites separately. These wines—Contrada C, Contrada P, Contrada G, Contrada S, and Contrada R—are harvested from vineyards at various elevations and on distinct lava flows of different ages and makeup. 
Along with Andrea's Contrada bottlings, in 2005, he introduced Franchetti IGT, a striking red bearing his surname from Petit Verdot and Cesanese d'Affile. Passobianco – once called Guardiola Bianco – is from Chardonnay planted at 850-1,000 meters above sea level, which hints at the fresh, mineral, and aromatic profile inspired by the great whites of Burgundy. More recently, Franchetti has also been bottling a single vineyard expression of Chardonnay, Contrada PC, from a tiny parcel planted to small and laborious terraces between 870 and 950 meters that offers a very distinctive expression of place and grape. Sadly, in 2021, Andrea passed away from cancer, but his four children will continue his legacy.
Please join us in warmly welcoming Passopisciaro and the Franchetti family's singular expressions of Mt Etna to Skurnik Wines & Spirits in Ohio, Kentucky, and Indiana!