---
Hans Reisetbauer is constantly working to improve everything that he does in a true pursuit of unrivaled excellence; these are some of the very finest spirits produced today.
---
A HISTORY OF HANS
In 1990 Hans Reisetbauer planted his first orchard in Axberg, Austria with a simple idea and mission: to create the best eau-de-vie in the world. In 1994, still producer Christian Carl constructed a still from plans designed by Hans himself. This marked the beginning of Reisetbauer's passion for fermentation and distillation.
Hans' first commercial release was one year later, in 1995; 100 bottles of Williams Pear sold out quickly, with customers in top Viennese restaurants immediately recognizing the extraordinary level of quality. The following year, Hans won "Schnapps of the Year" at the Destillata Specialist Trade Fair. Instantly, he had more requests than bottles to sell.
Five years later, in 2001, Hans made his first trip to the US, working directly with Skurnik Wines and Spirits.
Hans was one of the first spirits producers we worked with, and the quality was undeniable. It was the beginning of a movement for us. We now represent over 140 family distillers and craft spirits from all over the world.
Michael Skurnik
REISETBAUER TODAY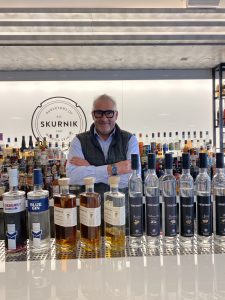 Today, two decades later, Hans is recognized as one of the finest distillers in the world. For Reisetbauer, quality is the cornerstone of everything he does. The family farm in Axberg, lower Austria, is now 140 hectares of certified organically farmed fruit trees, barley, wheat and other crops.
Hans' obsession with fermentation and distillation, which started with Williams, has led him to distill almost anything you can think of. Some of these projects didn't work: "Tomatoes, it was really, really too expensive. We couldn't feel good about selling it". But others, like his signature Carrot schnapps, have found amazing success. The spirits that Reisetbauer produces have an unparalleled level of clarity, quality, fineness, and detail. They are among the very best spirits produced anywhere in the world, with a range unlike any other producer we've come across, and all using 100% fruit & vegetable distillates.
This year, Hans completed the 5th iteration of his distillery, which has been newly designed with the most technologically advanced stills from Christian Carl. Each time Hans has rebuilt the distillery he has made modifications to the equipment of his own design. "Distillation is about temperature. We want to find the perfect flavor, and this is related to temperature." Hans now has forty-eight different points in a single still for adjusting the temperature, all in service of his relentless pursuit of finding the purest and most balanced flavors. Hans Jr. joined his father at the company several years ago and today is a partner, responsible for overseeing the agriculture on the farm as well as helping with distillation.
Once the distillation of each agricultural product is made, all the different eaux-de-vie are aged for a minimum of three years in stainless steel before proofing down with the perfect spring water. "When you have a great spirit, you can ruin it with the wrong water. For more than twenty years I am working with the same spring water from the same place. This water is very special, very soft. It's delivered fresh to the distillery each week. It is quite expensive to do things this way, but all of these details make the products what they are," says Hans.
Distilling for me is – if you can distill fruit, you can distill all. Fruit is the most difficult.
Hans Reisetbauer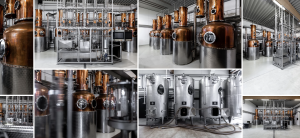 FROM WILLIAMS PEAR, TO BLUE GIN, & BEYOND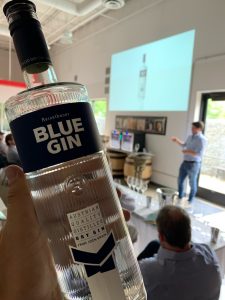 After his success with Williams Pear, Hans distilled apples, plums, quince, elderberries, raspberries, Rowanberry (a wild member of the mountain ash), apricots, cherries, and a handful of other fruits.
In 2005, Hans began distilling wheat grown on his farm from a single variety called Mulan. He began to produce a base spirit for making a perfect gin. Hans was disappointed by how much gin was on the market with too much sugar and not enough juniper flavor. "Many of the gins were soft and sweet, not what I like, not what a real gin drinker likes," said Hans. After a hundred different experimental batches, he came to the ideal blend of 27 different botanicals, with a strong juniper component. This London Dry style gin was called Blue Gin, which was first released in 2006. Blue Gin has won many international competitions and is considered one of the finest of its type.
In addition to Blue Gin, Hans produces an exceptionally elegant vodka from wheat, called Axberg, named for the village where the wheat and spirit is produced. It is a true estate-grown vodka, ideal for drinking neat or mixing in a simple, perfect martini.
In the early 2000s, Hans became very interested in whisky and started to produce spirits made from organically grown barley on his farm. The barley is malted in Kirstenkirchen, very close to Axberg. This is a special facility that malts only organic barley. Today, Hans has a seven-year, twelve-year, and fifteen-year whisky, which he and his son Hansi work very closely on together. The whiskys are aged in a variety of different used casks from top Austrian growers like Gesellman and Kracher, made in a unique style. "I think of them as more in a Japanese style than in a Scottish style" says Hans. "An Austrian producer should not be trying to make Scotch. I am making Austrian Single Malt".  The Seven-Year is delicate, with a beautiful herbal, chamomile aroma, while Hans' current favorite, the Twelve-Year, is a bit more robust with the sweet roasted aromas of aging in Kracher TBA barrels. The Fifteen-Year is intense, layered, and refined with a finish that seems stretch on and on.
Hans' newest project is a beautiful sipping rum, made mostly from fair trade molasses from Mauritius and distilled in Axberg. Twenty percent of the blend comes from aged rums, sourced from eight different distilleries in Jamaica, Nicaragua, and the Dominican Republic, making the blend even more complex. The first distillation took place in 2009 and the blends have been aging in 500-liter Austrian casks before being bottled in a beautiful Stötzle bottle designed by Alex Wiederi, the New-York based creative director known for his work with Givenchy and Cartier.
TEN MINUTES WITH HANS REISETBAUER
MEET HANS:
---
AXBERG VODKA
Made from 100% Estate Grown, certified organic Mulan wheat, a delicious and elegant vodka.
---
BLUE GIN
Juniper forward, London dry style gin with 27 different botanicals. The base spirit is estate-grown, single variety Mulan wheat, certified organic.
---
SLOEBERRY
Normally, Sloe Gin has 100g/liter of added sugar; Reisetbauer's Sloe has 6 grams per liter of naturally occurring sugar. Certified Organic Sloe mixed with Blue Gin.
---
7,12, 15-YEAR WHISKY
Produced from certified organic, estate-grown barley, these are true Austrian Single Malts. Aged in casks from various top Austrian winemakers including dessert wine casks from famed sweet wine producer Kracher.
---
WILLIAMS PEAR
Certified organic, estate-grown Williams Pears harvested at three different ripening points to give a full spectrum of pear flavor. 12-13 kg of pears are used to make one liter of distillate—always pure fruit, sugar is never added.
---
APRICOT
Grown for Hans by his best friend, top wine grower Bernhard Ott, in Wagram, where the soil and climate are perfect for growing apricots. Made from two different varieties (Klosterneuburger and Hungarian Best), biodynamically farmed. 16 kg of apricots are needed for one liter of distillate—always pure fruit, sugar is never added.
---
CARROT
The carrots are grown by biodynamic carrot grower Christian Schaddler, a close friend of Hans. Soils in Axberg are not sandy enough to grow perfect carrots, so Hans sources the best from luckily just 50 km away. 40 kg of carrots are needed to make one liter of distillate—an amazingly pure and unique expression.
---
ROWANBERRY
Wild harvested from Rowanberry trees, a member of the Mountain Ash family, these bitter fruits are used to make schnapps and jams. Hans' favorite of his range, the Rowanberry is expressed as marzipan, with a sweet, earthy flavor; a wonderful finish to a meal. 33 kg of Rowanberry are needed to produce a single liter of distillate.
---
HAZELNUT
The only of Hans' products that is a maceration rather than a pure distillate. Hans takes the finest Piedmontese hazelnuts, roasts them twice, removes the skins and macerates them in the second distillation of neutral wheat spirit before distilling a third time.
---
---