Woodward Canyon Winery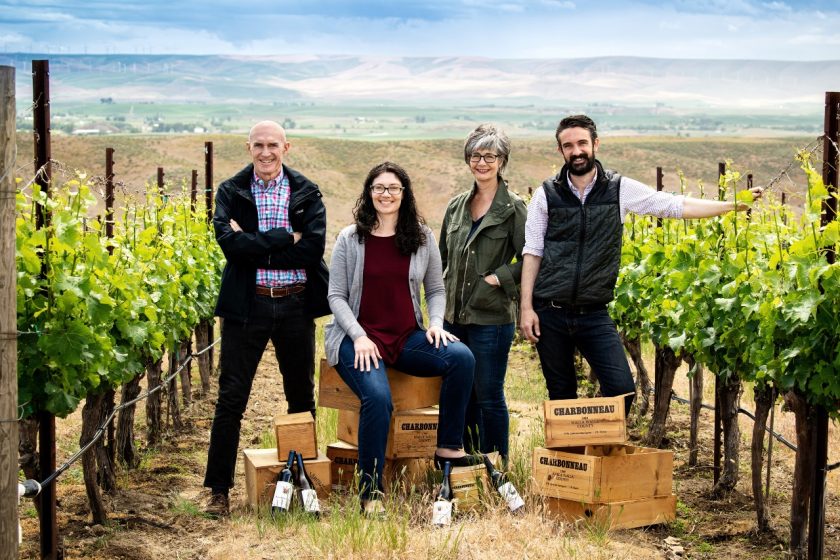 Woodward Canyon Winery was established in 1981 by Rick Small and his wife, Darcey Fugman-Small. The winery was named for the canyon where Rick's family farmed for multiple generations and where the Woodward Canyon Estate Vineyard is now located. Woodward Canyon was the second winery in the Walla Walla Valley, and the Smalls were instrumental in the process of obtaining federal approval of the Walla Walla Valley Appellation in 1984. The winery has consistently produced premium, age-worthy cabernet sauvignons, Bordeaux-style blends and merlots as well as chardonnays. From the outset, it was determined that quality would take precedence over quantity.
The family's roots run deep in the land that they have farmed for four generations. Rick and Darcey's children, Jordan and Sager, share in the ownership of Woodward Canyon and are transitioning into leadership roles in the winery and vineyard as their parents step back from the day to day operations. Winemaker Kevin Mott was made a partner in 2011 as well.
Rick planted the first of forty-one acres of the Woodward Canyon Estate Vineyard in 1976 on his family's dryland wheat ranch. The hillside vineyard now includes cabernet sauvignon, merlot, cabernet franc, sauvignon blanc and chardonnay as well as several experimental Italian and Rhone varieties. The Estate Vineyard is Certified Salmon Safe. The Smalls are also experimenting with organic and bio-dynamic farming practice. The winery purchases grapes from select growers and is a partner in Champoux Vineyard which lies above the Columbia River in the Horse Heaven Hills appellation. Woodward Canyon has a strong belief that the quality of the wine starts in the vineyards; grape-growing and winemaking after all, are still agriculture.
Vineyards & Viticulture
Woodward Canyon Estate Vineyard
Established: 1976
Aspect: North-South
Slope: Up to 15-18% in places
Acreage: 41
Elevation: 750-850 ft.
Appellation: Walla Walla Valley AVA
Location: West most vineyard in the Walla Walla Valley, AVA located on family land in Lowden WA, 15 miles west of Walla Walla.
Soils: Ritzville silt loam over fractured basalt
Certification: Certified Salmon Safe
Ownership / Management: Woodward Canyon Winery
The Woodward Canyon Estate Vineyard was established in 1976, on what was the Small family's 3rd generation dryland wheat farm. Woodward Canyon is the westernmost vineyard in Walla Walla Valley AVA, roughly 15 miles west of Walla Walla Washington. The Vineyard rests within a 320-acre farmstead containing 42 vineyard acres planted and several more acres of green belts supporting native species such as western juniper, ponderosa pine, western sagebrush, arrowleaf balsamroot, and perennial wildflowers.
Champoux Vineyard
Established: 1972
Aspect: South East
Slope: 3%
Acreage: 187
Elevation: 680 ft.
Appellation: Horse Heaven Hills AVA
Location: Near Alderdale, WA, above the Columbia River
Soils: Malaga gravelly fine sandy loam – glacial outwash; warden silt loam – loess over lacustrine deposits; Sagehill fine sandy loam – lacustrine deposits with a mantle of loess
Ownership: Partners consisting of Woodward Canyon Winery, Andrew Will Winery, Powers Winery, Quilceda Creek Winery
Management: Dan Nickolaus
Champoux was founded in 1972 by Don Mercer and originally called Mercer Ranch Vineyards. In 1996 Paul and Judy Champoux along with fellow Washington State producers Woodward Canyon, Powers Winery, Quilceda Creek Winery and Andrew Will Winery invested with Paul and Judy to purchased from the Mercers. Champoux Vineyard is located above the Columbia River within the Horse Heaven Hills AVA. The original Cabernet Sauvignon plantings of the famed "Block One" are regarded as being among the oldest and finest in Washington State and are one of the key components of Woodward Canyon's "Old Vines" Cabernet Sauvignon.
Sagemoor Vineyard
Established: 1972
Aspect: Southwest
Slope: 4.5%
Acreage: 97
Elevation: 572 ft.
Appellation: Columbia Valley AVA
Location: Near Pasco, WA above the Colombia River
Soils: Quncey loamy fine sand – mixed eolian Sands; Ottmar silt loam – loess and alluvium over residuum weathered from sandstone, siltstone or shale; Royal loamy fine sand – sandy alluvium
Ownership / Management: One of the five Sagemoor Vineyard properties
Founded in 1968 through the vision of Alec Bayless, Sagemoor Vineyards was a pioneering effort that helped establish the Washington State wine industry. Its early vineyards are among the oldest large-scale plantings of vinifera grapes in the State. Rick began using Sagemoor fruit in his home winemaking days and we continue to use it today. A significant number of 1972 plantings are still producing Woodward Canyon's highly acclaimed "Old Vines" Cabernet Sauvignon sourced from specific rows in Blocks 3 and 9.
Celilo Vineyard
Established: 1972
Aspect: South-East
Slope:
Acreage: 71
Elevation: 800-1200 ft.
Appellation: Columbia Gorge AVA
Location: Underwood Mountain above the Columbia River just outside of White Salmon, WA
Soils:
Ownership: Corliss Estates
Management: Washington Vineyards
The Celilo Vineyard's location is considered sub-alpine, sitting on the cusp of a wetter maritime climate to the west and the high desert to the east. Soils from the extinct volcanic cone of Underwood Mountain are deep and retain moisture well, allowing the vines to survive without irrigation. The vines' deep roots bring concentration and minerality to the wine, and the high levels of natural acidity bring balance to the wines. Celilo Vineyard produces amazing Wente Clone Chardonnay that goes into Woodward Canyon's Washington State Chardonnay.
Weinbau Vineyard
Established: 1981
Aspect: South
Slope: 2-5%
Acreage: 460
Elevation: 830 ft.
Appellation: Wahluke Slope AVA
Location: 12 miles east of Mattawa, WA, a very level and consistent vineyard, defined as "rangeland"
Soils: Kennewick silt loam – Lacustrine deposited, Taunton silt loam – Alluvial and wind-blown loess
Ownership / Management: One of the five Sagemoor Vineyard properties
Weinbau has a view of the Rattlesnake Mountains to the south, and the Saddle Mountains to the north. The land slopes gently south, with elevation ranging from 710-950 feet. Weinbau is a warm site with excellent air drainage, and soil is dominated by Kennewick silt loam with 2-5% slope. The consistency of soil type shows up in vine growth and subsequently in the wines.
Farming Practice:
Practicing Organic