Cayuse Vineyards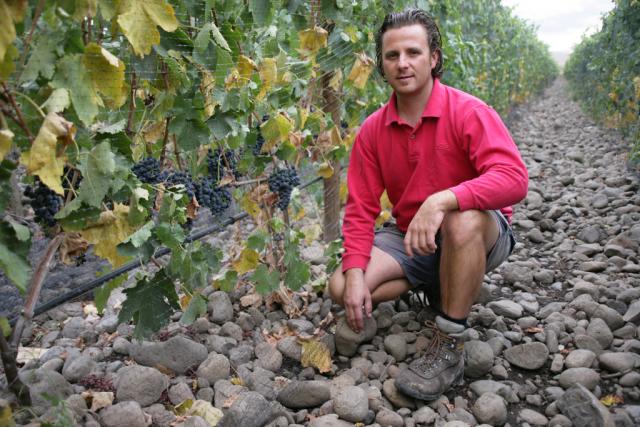 While visiting the Walla Walla Valley in 1996, Christophe Baron spotted a plot of land that had been plowed up to reveal acres of softball-sized stones. He became ridiculously excited. This stony soil, this terroir, reminded him of vineyards he had visited in France and Spain. The difficult ground would stress the grapevines, making them produce more mature, concentrated fruit. Christophe Baron had found a new home.
He named his vineyard after the Cayuse, after Native American tribe who were named by French fur-trappers "Les Cailloux"–which means, of course, stones in French. Hours of back-breaking work later, Cayuse Vineyards has become five vineyards encompassing 50 acres: Armada, Cailloux, Coccinelle [Ladybug], En Cerise [Cherry], and En Chamberlin.
The majority of the vineyards are planted with Syrah, and the rest dedicated to Cabernet Franc, Cabernet Sauvignon, Grenache, Merlot, Tempranillo, and Viognier. All of the vineyards are planted in rocky earth within the Walla Walla Valley appellation. Cayuse was also the first winery in Walla Walla to farm using biodynamic methods.
These highly stressed vineyards average a yield of only two tons or less per acre (30 hectolitres per hectare), resulting in wines true to each vineyard's unique terroir. Cayuse specializes in four estate-vineyard Syrahs, along with Bionic Frog Syrah, Impulsivo Tempranillo, God Only Knows Grenache, Widowmaker Cabernet-Sauvignon, two Bordeaux blends named Camaspelo & Flying Pig and Viognier.
Farming Practice:
Practicing Biodynamic