North Valley Vineyards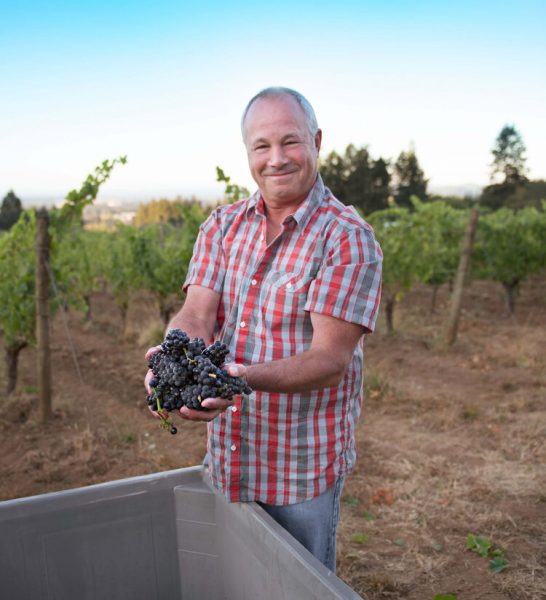 North Valley Vineyards is a geographical reference to the area from where veteran winemaker James Cahill sources, farms and produces artisan Pinot Noirs, Chardonnays, and dry Rose. While the "Willamette Valley" appellation describes a large area – almost 160 miles long, and nearly 45 miles at its widest – it is in the much smaller, northern corner of this region where its overall best vineyards are found. So, whether it is the Dundee Hills, Ribbon Ridge, the Eola-Amity Hills, Yamhill-Carlton District, Chehalem Mountain area, or McMinnville, the North Valley team is spending time with their growers in their vineyards each week, from flowering all the way through harvest.
The North Valley Estate Vineyard, located in Yamhill-Carlton, is adjacent to Shea, Penner-Ash and Beaux Freres. It is one of two Estate vineyards, the other is Aegrina Vineyard in the McMinnville AVA. The two sites produce distinctive fruit and contribute depth and complexity to the regional blends.
About Owner/Winemaker: James Cahill
It was in Austin that James developed a passion for fine wine and while working at the Austin Wine Merchant (a Burgundy specialist) the owner and generous clientele introduced James to the greatest wines in the world: Roumier, Claude Dugat, Dujac, Niellon and Raveneau were among the vinous epiphanies. Over a period of years, he had the opportunity to travel around Europe visiting vineyards with several wine importers including Kermit Lynch and Robert Kacher.
In fact, it was Bobby Kacher who arranged a harvest position for James at Beaux Freres. The harvest job turned in to a full-time position and owner/winemaker Mike Etzel became his mentor. First as assistant winemaker and then Director of Operations, James enjoyed years of work in the cellar and vineyard. This included the development and planting of the Upper Terraces. He and his wife Marie lived at the Beaux Freres Vineyard for almost 5 years and their two sons, Ehren and Douglas Ryan, were born there. In 2001 James was appointed Vineyard Manager and Co-winemaker at Elk Cove where he worked on the development of Mount Richmond Vineyard and transitioned some of the winery's older vineyard sites to organic farming.
The opportunity to work with Tony and Michelle Soter at Beacon Hill would prove irresistible and in 2002 James signed on as Associate Winemaker for Soter Vineyards. He and Tony crafted lovely Pinot Noir and developed the Sparkling wine program at the Estate. It is worth mentioning that James' first interview with Tony was at the Mineral Springs address; the vineyard had not yet been planted but the site clearly had tremendous potential.
Along with the development of the Mineral Springs Ranch there were also ambitions to explore vineyards beyond the Estate. These ambitions inspired the creation of two new projects. He worked with Tony and Michelle to create and launch Planet Oregon wines and created the North Valley brand and partnership. In 2011, James started to focus on developing the North Valley project. The first Chardonnays were bottled along with the first North Valley Reserve Pinot Noir. In 2012 he launched a series of small bottlings focusing on individual AVAs.
Today, James is a veteran of 25 harvest seasons in Oregon and helms North Valley Vineyards as its own, independent brand. He oversees all grower relations and winemaking operations while managing our Estate vineyards in the Yamhill- Carlton and McMinnville AVAs.