Evening Land Vineyards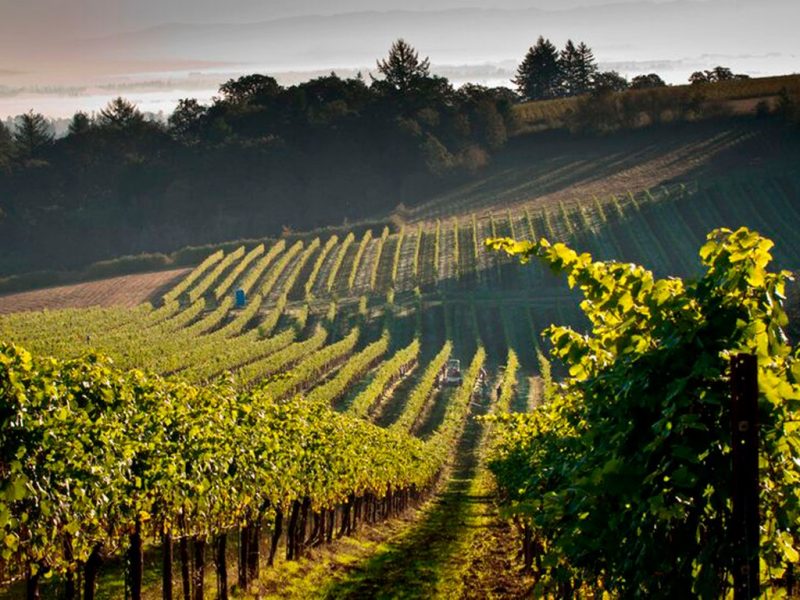 We are, first and foremost, faithful stewards of the historic Seven Springs vineyard, planted by Oregon wine pioneer Al MacDonald in 1984. On this dramatic east-facing slope, in the iron-rich and rocky, volcanic soils of the Eola-Amity Hills, Al MacDonald undertook what would become one of Oregon's most recognized vineyards. Nestled against a forest of Douglas fir with views eastward to Mt. Hood and Mt. Jefferson, it is immediately evident to any visitor why Al chose this site.
Rajat Parr, Sashi Moorman, & Ben DiCristina - Evening Land Vineyards
Seven Springs' eastern exposure ensures the vineyard awakens to the warmth of the morning sun. The vineyard's position opposite the windy Van Duzer Corridor, mitigates hot, sunny afternoons in the Willamette Valley with cool winds from the Pacific. As valley temperatures increase throughout the day, warm air rises, replaced by cooling winds flooding in from the Pacific through the Van Duzer gap and across our vineyard. This daily cooling, along with our eastern aspect, affords our grapes the luxury of extended time on the vine.
Since its inception, Seven Springs has been dry-farmed. The vineyard is LIVE™ certified and was converted to biodynamic viticulture in 2007. We continue to farm Seven Springs biodynamically, encouraging a healthy and sustainable ecosystem in the vineyard.
Seven Springs is planted overwhelmingly to Pinot Noir, followed by Chardonnay, and Gamay. The oldest own-rooted blocks of Pinot Noir and Gamay are a testament to, and daily reminder of, Oregon's incredible history and potential. Benchmark Oregon producers have long sourced fruit from Seven Springs and the wines from this vineyard are the most decorated and award-winning wines in Oregon's history.