Above: Dan Parrott, Kimberly Jackson, & Trent Jackson.
---
Hand-harvested, family-owned, & earth-friendly Napa Valley wines.
---
The team at JAX is innovative, agile, and perhaps best of all, is producing some of the most competitive expressions of Napa and Sonoma out there, a true snapshot into the luxury of California wines at an accessible price point.
The secret is simple: everything produced by JAX is hand-harvested, family-owned, and earth-friendly. The fruit-forward profiles of each of their wines are driven by top-quality fruit from esteemed Napa and Sonoma vineyards.
We interviewed Dan Parrott, CEO of JAX Vineyards, to talk about this family winery's beginnings, the three 'levels' of JAX wines, winemaking, climate change, fires, farming, & the landscape for Napa wine at large.
Give us the story of JAX — the beginnings, the name, & philosophy.
We're up in Calistoga, so the northernmost part of the Napa Valley. The estate was purchased in 1990 by Dave and Jane Jackson. Dave bought the vineyard because he and Jane were in the process of closing down his father's business, which was a printing company. Dave was raised to use his hands, get dirty, and work hard at his dad's cattle ranch in Australia. So he bought the vineyard in Napa which makes our estate wines after looking at Sonoma and Napa at all kinds of vineyard sites. He came across this vineyard which had about six acres planted at the time. His idea was initially to grow the grapes, sell the grapes, and live a great life being a farmer. Then his son Trent came along and said, "why don't we make a bit of wine for friends and family?"
They hired Kirk Venge, started tearing out the vines, re-planted those ten acres. The Jacksons really gave it up to Kirk and said, "Kirk, what varietals and clones would you recommend?"  We got very lucky getting Kirk when he was a twenty–year old, third-generation winemaker and farmer. So we came up with a plan to plant three different clones of Cabernet Sauvignon, a little bit of Petit Verdot, and a little bit of Cab Franc for blending. So in our first vintage, in 1996, we were making one wine, literally 100 to 200 cases.
After that, Kimberly Jackson, Dave & Jane's daughter, graduated from Vanderbilt Business School and started selling their wine to local businesses and restaurants in San Francisco where she lived, in Calistoga, and the Napa Valley. It was her idea to turn this into a business. So JAX became the estate wine, and then she decided to make a little bit of Chardonnay and Sauvignon Blanc. A little later she decided to make another line of wine with purchased fruit from small growers like ourselves — and so that's how she came up with the Y3 brand. She had the idea of creating another line of wines because with ten acres of vineyards you can only produce about 2,000 cases of wine, at the most. So she was thinking about how the business would work five to ten years down the line and came up with the Y3 line, which would use her grandparents' cattle ranch logo, used originally to brand cattle in the 1960s in Northern Australia; the full name of the ranch was Yarrayne 3 which aboriginally meant three rivers originally and could stand for the three generations in her family: her grandfather that had the cattle ranch, her father who owned the vineyard, and Kimberly and her brother who were the next generation.
---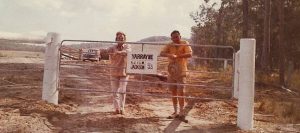 ---
I took over the winery in 2012, and my background was working for importers. So, I worked in restaurants and then went to an import company that focused on importing wines from smaller vineyards in Europe. We were working with fifty producers in Italy, fifty producers in Spain, ten producers in Portugal… and it really got me into the vineyards working with these small little growers and figuring out what the most important aspects were to selling the wines in the States. It all came down to three things, everything was hand-harvested, everything was earth-friendly, so organic or biodynamic, and everything was family-owned. And so we stayed true to this message and when I took over the Y3 program. We work with some of the best growers in Napa and Sonoma (we like to think!). That's because Kirk and I have been around to foster these relationships and choose exactly who we want to work with.
Walk us through the three 'levels' of JAX: the estate line, the Y3 line, and Block 3.
We have a line of wines called Y3. These are wines that we are making from purchased fruit from small growers like ourselves that instead of making a few barrels like our JAX line, our production is more like 1,000 to 4,000 cases. While it's a larger production, the Y3 wines still take the mentality that small, handcrafted, hand-harvested wines are better. They can be poured at higher-end BTG restaurant programs, but they're also perfect for retail wines because they're affordable. They're meant to be consumed in five to seven years, versus our JAX wines that are meant to be consumed in up to twenty years.
We have our JAX line of wines which are our estate and vineyard-designate wines. They're a step above the rest and are a little more traditional Napa Valley and Sonoma in style, which are wines that you can age; they're great upon release or can be aged for several years because they've got good acid, good structure, good tannin… We make small productions of these wines and they've got great press. Still, we're trying to do all of this at a great price point. I do this by limiting our overhead.
Last but not least, there's our Reserve Cabernet, which we call JAX Estate Block 3. We started making this in the 2013 vintage for the first time. It's literally the third block of our vineyard which is all 337 Clone Cabernet. We always knew, even before we replanted at our estate, that there was something special about this piece of the vineyard. Kirk and I went through and said, "okay, these are our best barrels," and then a year later, we looked at those barrels to choose the best barrels again — and we came down to four barrels that really stuck out. So we made four barrels of Block 3 in 2013. I offered it to all my distributors at twice the price of our regular estate Cabernet and not one person bought a bottle. On December 31st, 2015 the phone started ringing off the hook; Wine Advocate had given it a 97-point score! We make four to eight barrels of this. This next vintage that we just started shipping, the 2018, also scored 97 points.
Tell us about you and your partners' farming practices?
When we're making the JAX estate wines, this is the front yard. When we're making the Y3 wines these are our small growers just like us.
All of our wines are sustainable — so we're earth-friendly and everything is hand-harvested. While we have an eye toward sustainability in our soils, but we are also keeping an eye on what's best for the health of the vine. This land is going to be left for generations after us.
How is JAX improving with every vintage?
We've seen in America, and California, and especially the Napa Valley — the people making the Segway towards organic & biodynamic, these are things that have been done in Europe for many generations. I try to make it a point to go to Europe once a year and work with a different producer. I go to some of my favorite producers and visit or revisit to see what they're doing and why. Some things you bring back, and you start experimenting and trying different things. You always try and make the best wine year in and year out.
A good example of doing what's best for the vine/grape, 2011 was the latest year that we picked. Everyone wrote the vintage off because it was such a cool vintage and we had no rain — and then it rained at the very end of the season which then can cause botrytis. We made a stellar 2011. We only made a couple hundred cases because at that time we were very small. Even in strange, or what you would think is a 'bad' vintage, grower-producers can make a great wine. The reason for that is that we left our grapes out there so they would get fully ripe. We picked October 31st. The 400 cases that we made were really great wines.
Tell us about working with Kirk Venge.
Kirk Venge is our winemaker and has been since 2003, and at that time was just making our estate wines: the Cabernet and the Cab Franc. When I came on in 2012, I went to Kirk about Y3 to create an approachable wine at a lower price point than some of the competition out there in Sonoma and Napa, at a certain production, and as far as style would be lower in alcohol, less oaked, and a little bit more European in style — a little bit different than the normal stuff you would see out there this price point. With our combined resources of growers we've been able to create a great program of wines that one can pour by the glass in restaurants.
Can you tell us about your experience with the fires?
The 2020 fires started in September and October. There were fires throughout the Valley all year long, but the big one was the Glass Fire– which really came close to affecting us. And since we also purchase fruit from Sonoma, we had to worry about Sonoma fires as well. In Sonoma we denied fruit from 100 vineyards between myself and Kirk this year.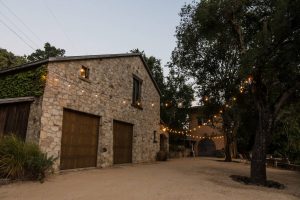 For our estate wines, in vintages like this, we're affected because it's a two-year program: 2020 is going to affect our 2019. If you don't have any fruit in 2020 you need to stretch what you can from 2019 — or hope that 2021 is a big vintage! Luckily, I called the pick on Friday, and the fires that would have affected our vineyard started on Sunday. So we have fruit in 2020 from our vineyard.
In Calistoga, in 2017, the fire burned all the way up to the house. Actually, the fire had come into the house and firefighters had to break the window and put the fire out. That year, we picked the Friday before the Tuesday of the fire. Those wines are in the market now and tasting great. I haven't had one person say, "oh, this is a fire year."
This year the fires were different, coming from a different direction, and they actually got close to the winery but not the vineyard. So we were able to get our fruit off the vine, we were able to get it into the winery, and are going to produce a great 2020. We hope for a great 2021 because a lot of our neighbors and friends are struggling.
What's your favorite part about JAX?
We're lucky enough to be here in the Napa Valley and to be able to make what we want to make.
When I was working on the import side of the business, my job was to help tell the story of those small producers. Everyone has a different story, whether it's focused on a winemaker's background, or how they are making wine, or why they make wine, or where the land comes from if it's passed from generation-to-generation.
---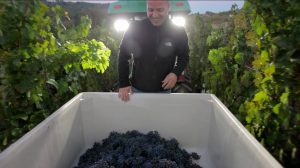 ---
Mostly, I love JAX because it's small. At any time I can pick up the phone and talk to my partners, Trent & Kimberly, and say, "Hey, this is what's going on — this is where I think things should go…" We don't have to have a board meeting, everything is one phone call away. We can be very agile with the business, and with winemaking.
THE WINES