Learn about the glassware we use at the office and at home.
---
It's December, which means it's time to break out your most festive and beautiful holiday gear — including timeless (and functionally perfect, and elegant, and… you get it) glassware. 'Tis the season, after all!
Now through December 10th we're extending 15% off of your next purchase with code 'HOLIDAY15' on Skurnik Hospitality. Members of the trade can explore our wholesale catalogue here; orders can be placed through your sales rep or sent to hospitality@skurnik.com.
SOME OF OUR FAVORITES:
THE GLASS
Jancis Robinson x Richard Brendon Wine Glass – "One Glass for Every Wine"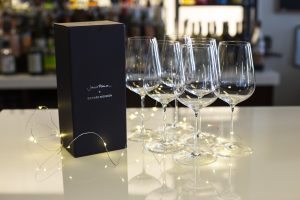 The only stemmed glass you will need to enjoy every wine at its best. Use this glass for every wine, whatever its color, including sparkling wine, port, sherry, sweet wines and anything else you want to savor and enjoy to the fullest.
This shape has been specially designed to maximize your enjoyment of all wines' aromas, flavors and textures in the most practical way possible. Their light and delicate nature must not be mistaken for fragility: even the best machine-blown glass can't be matched in strength by this mouth-blown collection, they are even dishwasher safe.
As well as being functionally perfect, the JR x RB collection has been meticulously designed to look and feel refined, elegant and timeless.
---
THE STEMLESS WINE & WATER GLASS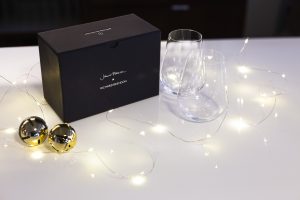 Wine should always be accompanied by water and this stemless glass fits perfectly with the Wine Glass to create a beautiful table setting.
The shape of the bowl mimics the exact curvature of the Wine Glass, meaning this stemless version may be used as a wine glass if desired, retaining all the tasting benefits of the generous tulip shape.
Each piece in the Jancis Robinson collection is expertly mouth-blown in Slovenia, resulting in brilliantly bright and extraordinarily light lead-free glass. However despite their seemingly delicate nature, these glasses are dishwasher safe.
---
THE YOUNG WINE DECANTER
This is a generous and bold decanter for young wines needing aeration and maximum surface area for the wine.
The long neck allows for a strong grip that will allow you to swirl the wine energetically, allowing oxygen to encourage and hasten a young wine's evolution and mellow the flavors. The bowl is also large enough to accommodate a magnum.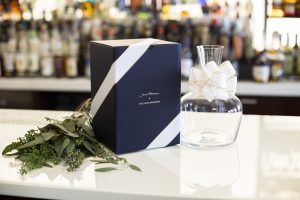 ---
SINGLE OLD FASHIONED TUMBLER
Whilst the Double Old Fashioned Tumbler is the perfect size to enjoy a cocktail on the rocks, The Single Old Fashioned Tumbler has been designed for those who prefer their spirits neat.
Slightly smaller than its larger counterpart but still impressively weighty and wide enough to capture every exquisite aroma, this is the ideal sized glass with which to take your time over a special single serve.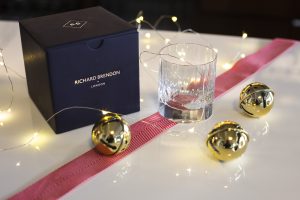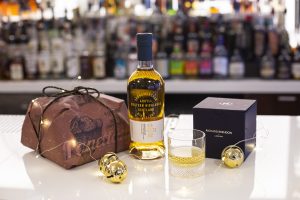 ---
DIAMOND SHOT GLASS
Richard Brendon's shot glasses may be small, but they are certainly still impressive. Made from weighty and mouth-blown cut crystal, they will undoubtedly elevate any spirit drinking occasion.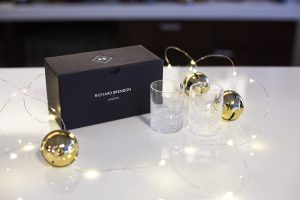 ADDITIONAL DETAILS
CONSUMERS
We are the distributor of the Richard Brendon collection nation-wide, which includes direct-to-consumer
All DTC orders should be placed through our website @ www.skurnikhospitality.com. There is a $15 shipping fee for all orders under $250.
WHOLESALE
We offer fulfillment services for retailers who would like to sell glassware through mailing lists, websites, and elsewhere off the floor. You can send your orders to us and we can ship glassware directly to your customers!
This is a great option for those who do not want to store inventory on hand, but can still sell the glasses and make the extra margin. From now through the end of the year, we are offering this service at wholesale price + $10 shipping per order.