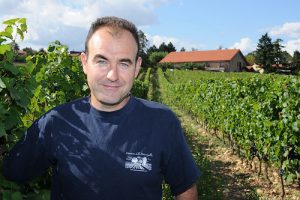 Domaine de la Petite Gallee is an original. Just south of Lyon, France's culinary capital, lies the tiny hamlet of Millery. Found in the heart of the oldest section of the Coteaux du Lyonnais, this idyllic little town and its surrounding rolling hills are home to some of the finest terroir for growing Gamay outside the crus of Beaujolais. However, these bucolic hills hide an unfortunate truth.  This small region of just 240 ha is dominated by industrial farming where 90% of the wine produced comes from negociants and cooperatives. Nestled in the highest altitude section of Millery, just 20 km north from Côte Rôtie, a beacon of conscientiousness and artisanry shines bright in the form of the affable Patrice Thollet. Families from all over Lyon flock to his cellar to purchase what many consider to be the finest wines in the region – perfect accompaniments to the famed dishes of Lyon. With 75% of his production sold directly to the people of Lyon from his cellar, it is not uncommon to find a line of thirsty fans outside his door, eagerly awaiting their turn to bring home these cherished wines. For Patrice, the path towards this glowing reputation was the culmination of his commitment to biodynamic farming and carrying on the legacy that his grandfather started after World War II to elevate this once underappreciated appellation to new heights.
It was Francis Thollet who moved to Millery in 1944 to start making wines from an ancient hillside clos at the highest point in the village. With Gamay vines dating back to 1896, Francis planted his flag in the then unknown region and established Domaine de la Petite Gallee. The winery takes its name from the prehistoric round stones that litter the steep rocky soils of the clos. These rocks are unique to this section of the Coteaux, setting it apart from the more granitic soils to the North. Francis' grandson Patrice grew up among these vines and officially took over the domaine from his father in 2005. From the time he was a young boy, there was never a mystery over the direction his life would take. As he says, "for me, being a winemaker has always been obvious. I can't imagine doing anything else with my life." As soon as he took ownership of the estate's precious old vines, many things became obvious to him, the most important of which was organic and biodynamic farming.
We may take it for granted, but in 2006, the concept of organic farming was still relatively new across France. For this sleepy region, where there are only 20 independent growers, it was almost unheard of. Suffice to say, there was no wave of organic certification sweeping the region. Patrice first tested using organic methods in 2006 with some select parcels. As soon as he saw the results in both the health of the vines and the wines that resulted for them, he needed no extra convincing. In 2007, he converted the entire domaine to the practice. Not stopping there, he switched over to biodynamic farming in 2010. Change like this doesn't occur in a vacuum however, and his neighbors took notice. To say the other growers around town were skeptical, would be putting it lightly. As Patrice remembers it, "at the beginning there is mockery, especially from the other farmers who use chemicals, but when you believe in organic agriculture and see the positive results in the vineyards and the wines, the mockery stops." So despite the efforts of his more obstructionist contemporaries, Patrice never lost faith in his ability to maximize the potential of his privileged vines.
Today, the domaine consists of 90% Gamay, with the remainder Chardonnay. Working these rocky vineyards full of glacial debris that go 30m deep is difficult work and it requires tireless determination. Patrice uses a mix of horses and light tractors to constantly plow the soils, to allow the old vines to dig deep into the rocks underneath. When harvest arrives, the grapes are only picked by hand (one of the few in the area to do so) in small crates to prevent oxidation from grapes being crushed prematurely. Once they arrive in the cellar, Patrice uses open top tanks for fermentation while only using indigenous yeast. Extraction is kept to an absolute minimum with only occasional pump overs to promote elegance over power.  The wines are aged exclusively in large older foudre.
Patrice is never one to stop forging his own path towards excellence. Judging by his local fame from some of France's most discerning eaters and drinkers, he has come very far from the humble beginnings of his grandfather. But standing out from the crowd is not enough. Constant self-improvement is necessary to maintain the sterling reputation he has worked so hard to achieve. "You have to continue to prove yourself", he says. Knowing Patrice, he wouldn't have it any other way.