As the leaves turn among us, and begin to drift from their branches, our thoughts turn to the comforts of fall flavors and a good, strong cocktail. Nothing speaks to the harvest season quite like apples and pears can, and nothing seems to pair quite so consistently with the season's cuisine.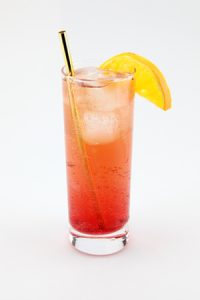 Cider and poire are the place to start, not simply because they are lower in alcohol, but more importantly because they bring with them a strong dose of acidity – ideal in any aperitif! Around the Skurnik Headquarters, we've been especially enamored of simple cider cocktails that underscore the aperitif aspect by adding a touch of bitterness alongside the tart of the apple. A favorite of ours, affectionately dubbed Maleficence, is beautiful in its straightforward preparation, bracing and refreshing on the palate, and low in alcohol (again, ideal as an opening salvo); simply match an ounce and a half of Contratto Bitter with around eight ounces of a dry, acidic cider (we prefer Astarbe Sagardotegia Sidra Natural) over ice and enjoy!
Best of all, that formula is a great jumping off point to experiment with new recipes. For example, try substituting a bit of Bigallet Amer China-China, a bitter French liqueur with bold quinine & orange tones which add tremendous weight and depth to balance in contrast with the cider's brightness. Or try using Domaine Pacory's lovely Poire Domfront, a sparkling pear cider from the southernmost appellation within Calvados, Domfrontais. The poire lends an extra touch of sweetness which makes it an ideal cocktail component, and is eminently quaffable any way you pour it.
Let's stick with the Domfrontais region for a moment, and try playing with another low-ABV ingredient, the lovely Pommeau from Lemorton.  If you haven't had the opportunity to try pommeau before, you're in for a treat.  Similar to fortified French vin de liqueur, pommeau is a blend of two thirds fresh apple cider and one third brandy; in the Domfrontais region, the soil supports the deeper root structure of pear trees, and so brandies distilled in the area are by law required to be at least 30% pear. Lemorton in particular flips that ratio on its head, using around 70% pear and just 30% apple in their distillates. The resulting Calvados is crisp and fruit-forward, with a slightly bitter bite reminiscent of pear skin alongside the sweet weight of the apples.  Lemorton's pommeau thus is both rich and fruity yet clean and refreshing, ideal for sipping with dessert or cheese after a huge Thanksgiving dinner, and (at around $20 a bottle) for mixing into a creative take on a fall-themed cocktail. Because the proof is low and the spirit is well balanced on its own, we recommend trying it out in stirred cocktails without citrus; try using it in place of gin for a seasonal twist on the classic Negroni, or substitute it for vermouth in your favorite Manhattan for a gloriously rich mixture suited perfectly to the dropping temperature.
Of course, apple based alcohol has been a staple in mixed drinks for as long as Americans have been making them.  Few spirits are as deeply embedded in American history.  Thomas Jefferson notoriously had a pint of hard cider with breakfast, and the classic Stone Fence cocktail (simply cider with a shot of apple brandy, rum or whiskey) played a significant role in Ethan Allen's victory over the British during the battle of Fort Ticonderoga.  Apple brandy and applejack are crucial fall cocktail ingredients and play easily with a wide array of your favorite mixers. Combine a little pomegranate grenadine with fresh lime juice, a dash of Argala Pastis and Domaine Montreuil's Calvados from the Pays d'Auge region for a dry and faintly herbal twist on the classic Jack Rose cocktail; or bang out a riff on the "Buck" style of cocktail (the family of drinks that relies on the combination of spirit, citrus and ginger) by substituting the fresh Apple Brandy from the local lads at Neversink Spirits for the vodka in a classic Mule! What's more delicious than apples and ginger holding hands?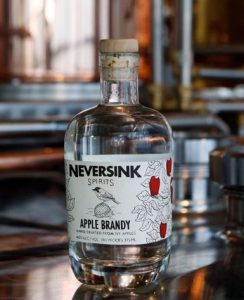 Neversink's Apple Brandy, unaged and gloriously true to its raw ingredients – local apples from Upstate New York – speaks volumes with even a tiny bit of the spirit incorporated into a drink.  Stirring in just a half ounce in your Old Fashioned or alongside some gin for a grown-up Apple Martini is almost too easy, and because their apple eau de vie is so pure and powerful even such a small amount will bring strong apple highlights to any drink you slip it into.  The spirit is also rich and textured, with a mouth-filling texture and soft, smooth body which remains supple alongside the acid of a citrus-driven shaken sour.
By now you may be saying to yourself, all this talk of apples and acidity and aperitifs is fine, but what about the most classic apple pairing of them all? Where's my warm spice? Where's my apple and cinnamon? We've got you covered.  The Basque region of Spain is rightly renowned for their uniquely dry and complex ciders, and they compliment those earthier fall tones with beauty and grace. One of the newest additions to the Skurnik cider portfolio, Astarbe Sagardotegia's "Byhur Sidra Espumosa" is a benchmark example of the category, by one of the oldest continuously operating cideries in the world. The cidery has been lovingly crafting their juice since at least the 16th Century, and the depth of their relationship with the apples in the orchard is clear in every glass.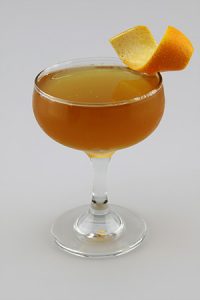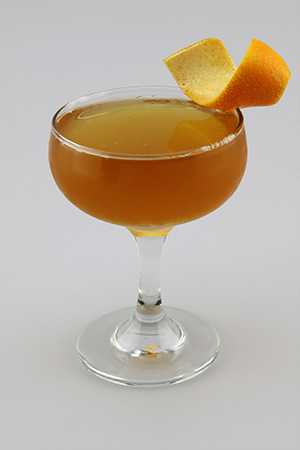 We pay tribute to that epic context, and again to the early American pairing of rum and cider, with a cocktail we've dubbed "History Repeating"…  Though the drink nods to the past, the method of execution is actually a bit more modern. This is one of those rare drinks that breaks time-honored cocktail rules – specifically, this is a stirred cocktail with citrus. Just trust us on this one.  In a mixing glass, combine a solitary barspoon of fresh lime juice, a half ounce of Giffard's Crème de Cacao, another half ounce of Hamilton's Pimento Dram (an allspice liqueur based in rum) and the astoundingly delicious Greek offering, Roots Tentura (a traditional cinnamon and clove spirit)… with an ounce and a half of El Dorado's 8 Year Demerara rum.  Add ice and stir the concoction, then strain it into a chilled cocktail glass and float about a half ounce of Astarbe's Byhur Sidra Espumosa on top. The cider's effervescence brings a tiny lift to the earth and weight of the chocolate & spices of the spirits, brightened still further by that little drop of lime.
While you're at it, try making a hot toddy with a touch of Brannland Barrel-Aged Iscider and that same Roots Tentura (which is traditionally drunk warm in Greece at least as often as not). Another simple idea that is stunning in execution.
Certainly one of the best things about the fall season is the blessed bounty of apple-driven drinks to enjoy, and while they're undoubtedly delicious on their own, the take-away from this little run-down of red cheeked mixtures should make clear something American bartenders have known for centuries: apples can pair with just about anything this time of year. And with all these exciting new apple ciders and brandies to play with, the possibilities are only limited by our imaginations.
The palate of colors and tones of the fall, from foliage to food & drink, invites a reflective warmth into our mouths. For this we can say and keep saying thank you.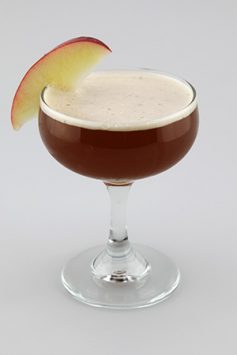 .5 oz black tea syrup
.5 oz fresh lemon juice
2 dashes Angostura bitters
Combine ingredients in mixing tin; add ice and shake. Strain into chilled cocktail glass. Top with Astarbe Basque cider (sparkling, not still) Garnish with an Apple slice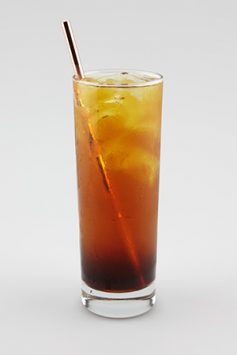 Combine on ice in a glass big enough to hold mixture.