In loving wine, you soon learn this universe has no center. Wine is this great confluence of history and innovation – a snapshot of ancient geologic moments, a bottling of a time and place,  and a canvas for daring risks in the vineyard and cellar. In truth, making wine, serving it, or drinking it often leaves us with more questions than answers. Few winemakers celebrate this ineffability as gracefully as Randall Grahm.
Randall's winery, Bonny Doon Vineyard, has been along for the ride with us at Skurnik since the beginning, as one of our original six winemaking partners. In these thirty years, Randall has been ever-receptive to change – in scale, in style, in technique – but wholly unwavering in his pursuit of wines of place. This pursuit is not a straight path, and for Randall, telling the story of wine requires a chapter, or three, about carboys, screw-caps, and back labels with ingredients listed, no less. Each of these moments in the cellar of Bonny Doon is a gesture of honesty, a stepping stone toward answering wine's questions with humility. Humor, too, is an ingredient at Bonny Doon – a tool that unhinges wine from elitism, and reminds us of the value of experimentation.
Randall's next great experiment is Popelouchum, an estate vineyard in San Juan Bautista. Here he will breed 10,000 new grape varieties – an unusual means to study the intricacies of his site, but also to explore innovations with global implications: he is in search of disease and drought tolerance. Poplouchum is biodynamic and dry farmed, with some rootstock grown from seed, and utilizes biochar – a mineral-rich charcoal. Each decision moves Randall closer to finding his own wines of place: those that possess what he calls 'life force' – a vitality the stands up against the rigors of oxygen and time.
Here, for the moment, Randall has found a center to his universe.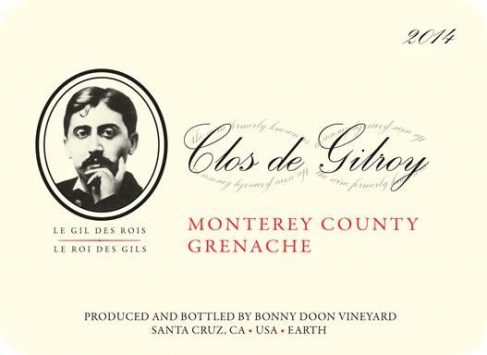 Grenache, 'Clos de Gilroy', Bonny Doon Vineyards 2015
Monterey County: 76% Grenache, 24% Mourvèdre
Sourced primarily from La Ventana vineyard in Greenfield, supplemented with old-vine Mourvèdre from the Sacramento Delta (Del Barba)
Hand-sorted, gently destemmed, and cold soaked – with regular gentle punch downs and an extended maceration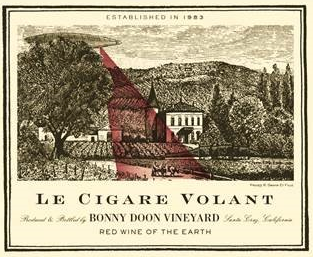 Le Cigare Volant, Bonny Doon Vineyards 2012
39% Mourvèdre, 33% Grenache, 26% Syrah, 2% Cinsault
Syrah is principally sourced from Bien Nacido, and the Mourvèdre is from a selection of 100-year-old Contra Costa vineyards