Single Malt Whisky, 'Filey Bay - Flagship'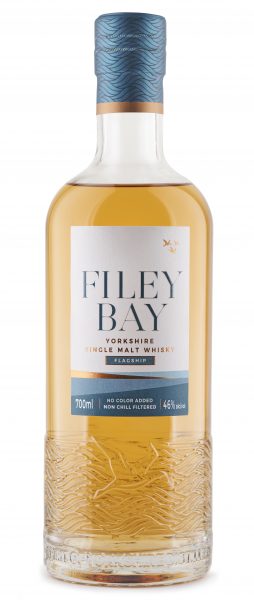 Single malt whisky produced by Spirit of Yorkshire in Hunmanby, North Yorkshire, England, using 100% estate-grown barley from co-founder Tom Mellor's family farm
Barley is mashed and fermented using chalk-filtered water from beneath the Yorkshire Wolds (a range of open country hills that spans East & North Yorkshire), and distilled on Forsyth copper stills
Non-age statement; Aged in first-fill, ex-bourbon barrels
Utilizes fractional blending of previous Flagship batches to maintain the core flavor profile while allowing the expression to evolve
Aromas of strawberry, vanilla, and nutmeg prime the palate for rhubarb, pear, elderflower, and honey with a faint salinity which speaks to the costal proximity of production
Bottled without additives or coloring
Non-chill filtered; 46% ABV
Filey Bay Flagship Single Malt Whisky is the culmination of Spirits of Yorkshire Distillery's bourbon-matured house style. Building upon earlier releases using fractional blending, it is complex and nuanced enough for those with an experienced palate, yet welcoming and approachable for those just discovering single malt whiskies.
Info
Spirit Type:
Scotch / UK Whisky
Spirit Sub Type:
Single Malt / Malt / Pure Malt
Sizes Available
| | | |
| --- | --- | --- |
| Full Bottle | UK-XFB-01-NV | 6/700ml |
Tasting Notes
Filey Bay Flagship Single Malt Whisky is the culmination of Spirit of Yorkshire Distillery's bourbon barrel-matured house style. This core expression is produced in Hunmanby, North Yorkshire, using 100% estate-grown barley from co-founder Tom Mellor's family farm. The homegrown barley is mashed and fermented using chalk-filtered water from beneath the Yorkshire Wolds (a range of open country hills that spans East & North Yorkshire). Filey Bay Flagship is comprised of Spirit of Yorkshire's best and oldest whiskies which have been aged in first fill, ex-bourbon casks before careful selection and blending. A portion of previous Flagship batches are incorporated into the blend in a technique called fractional blending, which maintains the core flavor profile while allowing the expression to evolve. Aromas of strawberry, vanilla, and nutmeg prime the palate for rhubarb, pear, elderflower, and honey with a faint salinity which speaks to the coastal proximity of its production. Bottled in-house without additives or coloring, this complex and nuanced whisky forms the cornerstone of Spirits of Yorkshire's core range. Non-chill filtered; 46% ABV.