Cognac Grande Champagne 'L'Organic 10'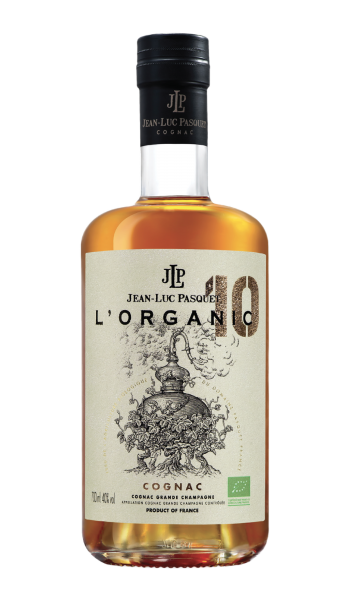 A blend of 10-year-old and 12-year-old eaux-de-vie distilled from 100% Ugni Blanc grapes
Aged in a combination of 35% new and 65% ex-Cognac Limousin oak barrels
Twice distilled in a Charentais pot still in accordance with traditional Cognac methods
On the nose, confectionary aromas of cinnamon, vanilla, and nutmeg mingle with a floral bouquet of elderflower and honeysuckle. A round and luscious palate echoes the nose with the addition of raisin and nougat, which add a deep, rich complexity all the way through to the finish.
Certified organic
No added caramel or sugar
Non-chill filtered; 40% ABV
Pasquet's L'Organic 10 is an exceptional XO style Cognac which balances layers of depth and complexity in a lighter, drier style Cognac.
Info
Appellation:
Grande Champagne
Sizes Available
| | | |
| --- | --- | --- |
| Full Bottle | FR-XPA-10-NV | 6/750ml |
Tasting Notes
Pasquet's L'Organic 10 Cognac is a blend of 10-year-old and 12-year-old 100% Ugni Blanc eaux-de-vie aged in Limousin oak barrels, 35% of which are new. It is distilled twice sur lies in a Charentais pot still in accordance with traditional Cognac methods. As with all Pasquet Cognac, L'Oragnic 07 is certified organic with no added caramel or sugar, resulting in an unadulterated expression of terroir. On the nose, confectionary aromas of cinnamon, vanilla, and nutmeg mingle with a floral bouquet of elderflower and honeysuckle. A round and luscious palate echoes the nose with the addition of raisin and nougat, which add a deep, rich complexity all the way through to the finish. Non-chill filtered; 40% ABV.