Cognac Grande Champagne 'L'Organic 07'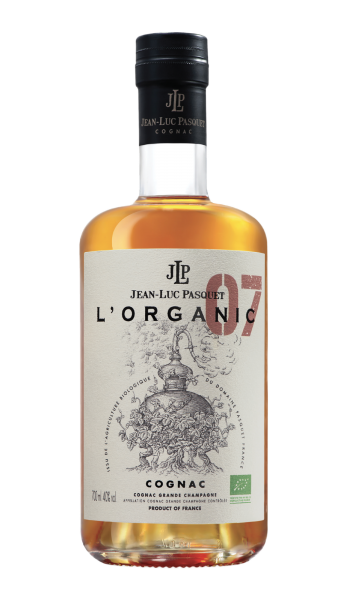 A blend of 7-year-old and 8-year-old eaux-de-vie distilled from 100% Ugni Blanc grapes
Aged in a combination of 30% new and 70% ex-Cognac Limousin oak barrels
Twice distilled in a Charentais pot still in accordance with traditional Cognac methods
The nose reveals cascading aromas of ripe apricot, dried fig, cedar wood, and vanilla with a hint of dark chocolate. The palate is silky, soft, and exceptionally clean with semi-sweet notes of stewed apricot, allspice, passion fruit, and ginger. A bit of racy acidity recedes into a gently warming finish with tannic oak and lingering crème brulée.
Certified organic
No added caramel or sugar
Non-chill filtered; 40% ABV
Pasquet's L'Organic 07 Cognac most closely resembles the unofficial "Napoleon" Cognac designation which sees the eau-de-vie aged for at least 6 years. While still dry and mildly acidic, this robust and luscious Cognac is bursting with layer after layer of tropical and stone fruits.
Info
Appellation:
Grande Champagne
Sizes Available
| | | |
| --- | --- | --- |
| Full Bottle | FR-XPA-07-NV | 6/750ml |
Tasting Notes
Pasquet's L'Organic 07 Cognac is a blend of 7-year-old and 8-year-old 100% Ugni Blanc eaux-de-vie aged in Limousin oak barrels, 30% of which are new. It is distilled twice sur lies in a Charentais pot still in accordance with traditional Cognac methods. As with all Pasquet Cognac, L'Oragnic 07 is certified organic with no added caramel or sugar, resulting in an unadulterated expression of terroir. The nose reveals cascading aromas of ripe apricot, dried fig, cedar wood, and vanilla with a hint of dark chocolate. The palate is silky, soft, and exceptionally clean with semi-sweet notes of stewed apricot, allspice, and ginger. A bit of racy acidity recedes into a gently warming finish with tannic oak and lingering crème brulée. Non-chill filtered; 40% ABV.