Chairman's Reserve 'Legacy' Rum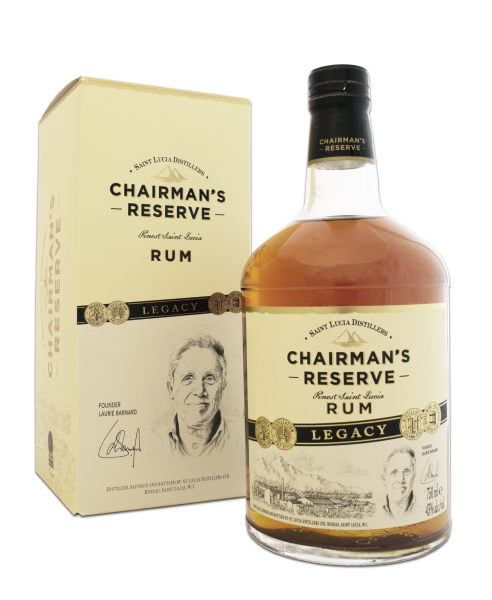 Blended rum produced by St. Lucia Distillers, St. Lucia's last remaining distillery, located in Roseau
Created to commemorate Laurie Barnard, the creator of the Chairman's Reserve brand
A blend of rums distilled from both molasses and fresh sugarcane juice
Fresh sugarcane is distilled on Chairman's "John Dore 1" copper pot still and rum from molasses is distilled on both the "John Dore 2" copper pot still and hybrid copper Vendome still
5- and 6-year-old rum is aged separately by batch and still type in ex-bourbon barrels before blending
Proofed with rainwater treated at the distillery's reverse osmosis plant
Fresh pineapple, banana, and vanilla on the nose transition to intense grilled fruit and spice on the palate with a long finish
43% ABV
Chairman's Legacy is made with both molasses and fresh sugarcane—a rarity within the Chairman's lineup. Fresh sugarcane distillate is added in a nod to the Chairman, who cultivated sugarcane around the distillery to create its signature proprietary yeast.
Sizes Available
| | | |
| --- | --- | --- |
| Full Bottle | LC-XCR-06-NV | 6/750ml |
| Alternate | LC-XCR-06-NVA | 12/750ml |
Tasting Notes
This commemorative edition of Chairman's Reserve was created in tribute to Laurie Barnard, the "Chairman" himself, who inspired the brand. While other distilleries were purchasing column stills to increase production, Barnard invested in eclectic barrel types, small pot stills, a proprietary yeast strain, and sugarcane. He believed that the best rum was not achieved from one barrel, but by blending different components together of varying ages, finishes, styles, and base materials.
Chairman's Legacy is a blend of pot and column-distilled rum made with both molasses and sugarcane distillate. These rums are aged separately for 5–6 years in ex-bourbon barrels before blending. Fresh pineapple, banana, and vanilla on the nose transition to intense grilled fruit and spice on the palate with a long finish. 43% ABV