Ryan Patrick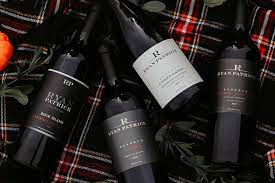 From its beginnings as a family winery named after its grape-growing family founders' two sons, to today's incarnation as a Columbia Valley AVA star with a Leavenworth landmark tasting room, Ryan Patrick continues to make approachable wines with a serious edge.
Intuitive winemaking is the art of letting the fruit speak for itself. It's minimalist intervention combined with consistency of style. That's the heart of the Ryan Patrick promise: artisanal winemaking where the grape is at the center. Many wineries use static recipes for their wines; instead, the winemaking team, headed by Kendall Mix, does daily fermentations with different yeast or temperatures to achieve a specific effect.
Batch-tinkering approaches have resulted in varietals and blends that have justifiably become famous for how they out-perform their price point. Ryan Patrick is known for its Naked Chardonnay, Redhead Red and Rock Island Red labels, and for its Reserve wines.