Domaine Les Garcons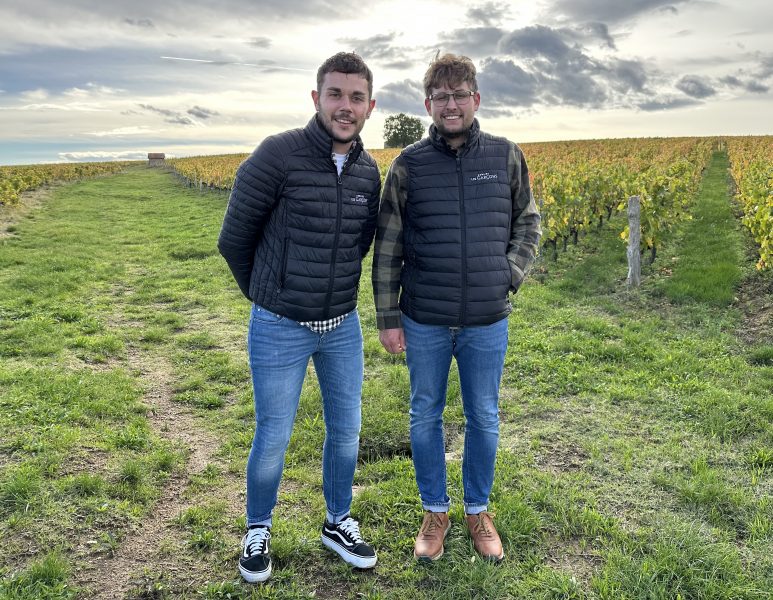 Beaujolais is in many ways the most dynamically evolving wine region in France. With land being exponentially less expensive compared to regions like Burgundy or Champagne, a new generation of talented young growers have been able to inject this historic region with a qualitative burst of energy. With the masters as their inspiration, these new growers have turned Beaujolais into a hotbed of organic/biodynamic/regenerative farming and thoughtfully measured winemaking.
 Loïc Crispin and Fabien Pinguet of DOMAINE LES GARCONS are two friends who have taken over a portion of Loïc's family's vineyards in the village of Charentay, within the Brouilly appellation, and established their domaine in 2020. In advance of their first vintage, they converted all of their parcels to biodynamic farming, gaining Demeter certification in 2021. The duo is actively engaging with agroforestry, planting trees and hedges in the vineyards to improve biodiversity, provide shade to the vines, and lower yields. They are also implementing more cover crops to help recolonize the fauna and flora in the soil and reduce the amount of tilling required.
Loïc and Fabien inherited very old vines for their domaine, with an average around 45 years old, including a 1ha parcel planted in 1919 that goes into their spectacular Beaujolais-Villages. The vineyards in this section of Beaujolais sit on a complex terroir of clay, limestone, sand, and lots of marine fossil debris. It is a very cool micro-climate, with the east and northeast facing sites adding to the already crunchy nature of the wines. Only indigenous yeasts are used for fermentation and whole clusters with carbonic/semi-carbonic macerations are employed. Their goal is to make bright, perfumed mineral bombs, with modest alcohol levels. In just a few years the pair are already making gorgeously high-toned, crispy, succulent Beaujolais that can compete with the best of the region.
Farming Practice:
Certified Biodynamic